Blue Dog Hits the Beach
by Erin Z. Bass
Last week, Lafayette/New Orleans artist George Rodrigue, best known for his paintings of the now iconic "Blue Dog," released his latest print, "The Emerald Coast." It depicts the blue waters, white sand beaches and a row of striped umbrellas that is instantly recognizable to Southerners as Destin, Fort Walton and the surrounding areas of Florida. Blue Dog of course lounges under an umbrella. Rodrigue's wife, Wendy, says George began working on the Emerald Coast way before the oil spill, so the print is not associated with it, but fans on his Facebook page see the print as an opportunity to purchase a beautiful depiction of our coastline. "We all should buy one so we will remember what the coast looked like before the oil," says one fan.
Wendy does say that George considered an oil-spill related piece and stayed up nights creating some (one is pictured below.) She explains on her blog why we won't see any of those for sale. "In the past month, the shrimp industry, a coastal parish government, environmental organizations, and even the oil industry approached him for a print benefiting their cause. This is a political monster he cannot address, and his efforts regarding non-profits are fully committed these days to another cause close to his heart and within his control, integrating the arts into all areas of childhood education through the George Rodrigue Foundation of the Arts."
Instead, Rodrigue chose to make his statement about the oil spill in Metairie, Louisiana. His 28-foot-high Blue Dog with "Save the Gulf" painted across its chest can be seen on Veterans Boulevard.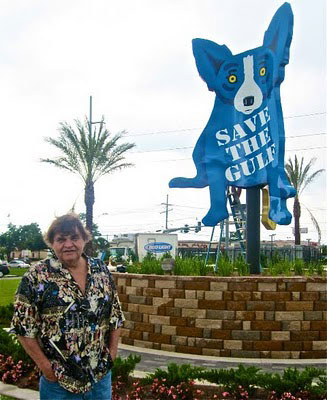 The Emerald Coast 2010 original silkscreen is a signed and numbered edition of 90 measuring 16×38. It is available online for a limited amount of time for $1,800 unframed. Can't afford your own Blue Dog? You can still visit Rodrigue's galleries in Lafayette and New Orleans, Louisiana, and Carmel, California, or his restaurants in Lafayette – Blue Dog Cafe and Jolie's Louisiana Bistro.