Camp Crab-Que
by Erin Z. Bass

Some Gulf waters may still be closed to fishing, but in Cypremort Point, Louisiana, the blue crabs in the bay are biting. We caught over two dozen this past Saturday with nets hung from the wharf and turkey necks as bait. This usually means a crab boil is in our future after sunset, but this time, a camp guest proposed a new idea. My brother's girlfriend's dad (take a second to process that) offered to put the crabs on the barbecue. We took him up on the idea and may not want to eat boiled crabs again. With the backs off, gradoux cleaned out and the shells basted with Cajun seasoning, the crabs soak up some smoky flavor from the pit and peeling them to get to the meat inside is worth every minute. (Scroll down to get the recipe.)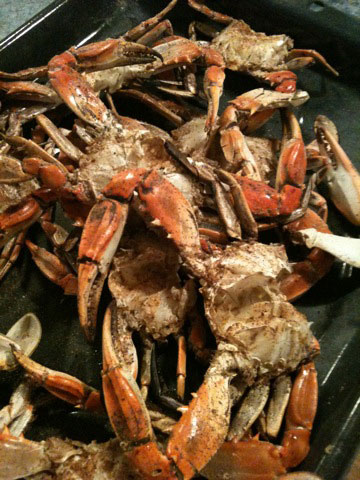 Barbecued Crabs
1-2 dozen fresh, live crabs
Cajun seasoning blended with butter or oil or favorite brand of Cajun basting sauce

Place crabs on ice to shock so that backs can be removed. Using a knife, remove the underside of the crab and clean out gills and guts. Baste with sauce, then place back side down on a hot pit. After a few minutes, turn over and baste with more sauce. Allow to cook for a few more minutes (cook time depends on size of crabs), basting one more time, then remove and serve with cold beer.

Note: An Internet search for "barbecued crabs" revealed that they were invented at Granger's in Sabine Pass, Texas, during the 1940s. Much like barbecued shrimp, which aren't barbecued at all, Granger's crabs are deep fried, but get their name from the seasoning used to dust them. Granger's burnt down in 1958, but Sartin's Seafood, with locations in Nederland and Beaumont, Texas, carries on the tradition today.