Comeback Coast
Biloxi's Ohr-O'Keefe Museum opens this weekend, signaling the Mississippi Gulf Coast is alive and well – and ready for holiday travelers.
by Erin Z. Bass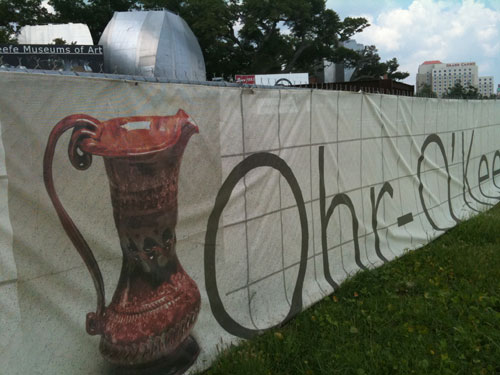 Five years after Hurricane Katrina, Mississippi's Gulf Coast is still busy rebuilding and re-inventing itself, and there's no better time than now to plan a trip to view its progress. With the much-anticipated opening of the Ohr-O'Keefe Museum of Art this weekend, locals and travelers will have the opportunity to visit a Frank Gehry-designed space that celebrates the self-proclaimed "Mad Potter of Biloxi" on Beach Boulevard. Joining new hotels, plush casino spas, thriving downtowns, historic homes and restaurants that have stood the test of time, the Ohr-O'Keefe Museum is just another reason why the Mississippi Gulf Coast is making a comeback and here to stay.
In 1994, a group of Mississippi citizens opened the George Ohr Arts and Cultural Center. Ohr was born in Biloxi in 1857 and studied to be a potter in New Orleans, exhibiting his work at the 1884 World's Fair. Having created more than 10,000 pots in his lifetime, Ohr's style was described as abstract and without perfection; his pots are thin with metallic glazes and twisted, pinched shapes. Much of his clay was dug locally in Southern Mississippi from the Tchoutacabouffa River, and Ohr's pots are now rare and highly sought after.
Not appreciated in his time, Ohr's hometown of Biloxi wanted to pay tribute to him, and in 1998 the Jeremiah O'Keefe family contributed $1 million to a capital campaign to kick off the building fund for a new museum. Also that year, Los Angeles architect Frank Gehry, whose works include the Guggenheim Museum in Bilbao, Spain, and Walt Disney Concert Hall, agreed to take on the project. In 2000, the city of Biloxi purchased four acres on Highway 90 for the site, and the museum broke ground in 2003. Eleven months before the Ohr Museum was set to open, Hurricane Katrina hit the coast, destroying much of the construction when a casino barge washed on shore. Reconstruction began in 2008, and tomorrow, November 6, the museum opens three out of five buildings to the public.
"It's been a longtime coming," says museum Development Manager Julie Gustafson. "We started in 1998 and here we are in 2010. It's wonderful to see it come to fruition."
Saturday's ribbon cutting to officially open the museum will be held at 2:30 p.m., with Jeremiah O'Keefe, Mayor A.J. Holloway and Frank Gehry himself in attendance. Visitors will be able to see the Mississippi Sound Welcome Center (pictured), which houses the ticket office, café, museum store and an introductory exhibition, as well as the IP Casino Resort Spa Exhibitions Gallery, featuring 27 Andy Warhol silkscreens, and the Gallery of African American Art, where 85 pieces of Ohr's work will be on display.
Visitors will also notice the interesting architectural "pods" on the property. Four sculptural volumes clad in stainless steel panels and connected by a glass-enclosed gallery, they will house the George E. Ohr Gallery in phase two. A Center for Ceramics is also in the plans and will serve as an arts education center and community meeting space.
While the Ohr will strive to promote and preserve the rich cultural heritage of the Mississippi Gulf Coast, many other communities and businesses are rebuilding for the same reason. Temporarily housed in Edgewater Mall, the Maritime and Seafood Industry Museum is also in the process of rebuilding. With a $31 million fundraising campaign in progress, the new museum, to be located next to the Ohr-O'Keefe, is scheduled to be complete in December 2012. For now, those interested in the coast's maritime history and its shrimping, oystering and wooden boatbuilding industries can visit the mall space, located outside the entrance to Belk.
Down the beach road, the town of Gulfport kicked off its rebirth during October's Cruisin' the Coast event. With an influx of new businesses coming into downtown and a waterfront harbor and park in the works, the city's Main Street Director Lisa Bradley says Gulfport is coming back bigger and better than it was pre-Katrina. "We have new businesses, mostly entertainment and dining, so nightlife has become a specialty," she says, "and buildings are being renovated that haven't been open in 30 to 40 years. We've had lots of new offices come in, and we're kind of getting that mix of what you need to make a downtown work."
Bradley cites The Half Shell Oyster House and The Quarter Bar, The EO Club, which expanded after Katrina and Tony's Brick Oven Pizza as downtown businesses that are thriving. A $20-plus million police headquarters and municipal courts facility is also opening this month and will do double duty as a much-needed storm shelter and emergency operations center should another hurricane hit.
As part of the Main Street program, which acts as an economic development tool for communities to revitalize their commercial districts, Gulfport received federal money for a new streetscape, gutters, curbs, sidewalks and trees. This beautification stretches down historic 25th Avenue's boulevard running through downtown and lined with palm trees. The boulevard leads directly to the port, small craft harbor and Jones Park, all under renovation themselves. Once complete by next year, this area will be a center of activity, with comfort stations located along the beach and a trolley traveling along Beach Boulevard.
"Downtown Gulfports's not been anywhere tourists have visited in quite a while," adds Bradley. "Our strategy is to start marketing to an external audience and recruiting festivals downtown."
Long Beach was also hit hard by Hurricane Katrina and has been slow to rebuild, but Public Relations Manager for the Mississippi Gulf Coast Janice Jones predicts a lot more activity in Long Beach in the coming year. Residents are starting to see progress in shops and boutiques popping up, like Craze, which opened on Pineville Road in September, the re-development of main thoroughfare Jeff Davis Avenue and basic infrastructure of streets and roads. A new City Hall cuts the ribbon at its grand opening Dec. 6, and University of Southern Mississippi's Gulf Park campus's famous friendship oak survived the storm.
Other coast communities like D'Iberville, which is rebuilding with the principles of Smart Growth and New Urbanism in mind, are celebrating their own victories each month as businesses, town greens and waterfront projects reopen to the public.
Coastal Living magazine featured Bay St. Louis earlier this year, saying, "For beach lovers with a penchant for old architecture, affordable renovation spaces, and a mix of Southern grace, mystery, and heat, Bay St. Louis is like a blank canvas at the junction of marsh, river, and Gulf of Mexico beach." Having established itself as the artsy, quirky beach town along the coast, Bay St. Louis is home to quaint businesses like The Mockingbird Café, where coffee is served in front and Lazy Magnolia beer on tap in the back room. A second Saturday Art Walk in old towne also brings out visitors and locals perusing shops and galleries.
In the same vein, the town of Ocean Springs, on the other side of Biloxi, has maintained its charming, beachside feel, with shops and restaurants lining either side of Washington Avenue. In some places, oaks hang down so low into the street, you may wonder if your car will fit under them. It's best to just park at the Tourism Bureau at the beginning of the street and take it all in on foot. You'll pass Lovelace Drugs, where milkshakes are still served at the counter, The Candy Cottage for a sweet treat or the original Foote's Solid Pecan Log and the Walter Anderson Museum of Art, a small museum with a big impact and lovely, whimsical styling inside.
Back in Biloxi, pampering and fine dining await with plenty of casino restaurants and spas on hand. The Isle Capri Spa offers a Deep South Healing Massage that's one of the best in, well, the Deep South, along with other Southern-themed treatments like the Mississippi Mud Wrap and Southern Rose Body Polish. For those planning to take a walk on the beach, Isle Spa's Seashell Manicure and Beach Walk Pedicure will get you ready.
This casino also celebrated the opening of new restaurant Café at the Point in August. We haven't had the chance to dine there yet, but their Blue Plate Specials with fare like red beans and rice, smothered pork and shrimp and grits sound like they'd hit the spot, as do bar drinks with names like the Muddy Mississippi and Bloody Mary Moonshine served in a Mason Jar.
Down the road, Beau Rivage is always a favorite, and the new Four Points by Sheraton, also on Beach Boulevard, has 195 guest rooms with views of the Gulf and downtown Biloxi. Unfortunatley, Jimmy Buffett's Margaritaville Hotel, under construction by Harrah's, is on hold and doesn't have an opening date scheduled.
Visitors looking for a taste of pre-Katrina Biloxi can still find family-owned restaurants like Gulf Coast landmark Mary Mahoney's, owned and operated by the Mahoney family since 1964, and Ole Biloxi Schooner know for its poboys. Biloxi has also become more international over the years, with an influx of Vietnamese families making their living in the shrimping business and opening up restaurants. Jones recommends Le Bakery on Oak Street, which serves up French Vietnamese-style poboys, curry, bahn mi and more.
Check out our events calendar below for more reasons to visit the Mississippi Gulf Coast. Jones explains why fall and winter are a great time to come: "It's cooler, there are a lot of outdoor events taking place, and there's just a lot of reasons to come," she says. "And that's not even mentioning the restaurants and gaming."
Upcoming Events on the Mississippi Gulf Coast
Farmers Markets in Bay St. Louis, Long Beach, Ocean Springs, Biloxi, Pass Christian, Gulfport, D'Iberville and Pascagoula are held weekly. See the schedule here. http://www.gulfcoast.org/events/index.cfm?EventID=2770
Ocean Springs holds its annual Peter Anderson Festival November 6-7 to coincide with the opening of the Ohr-O'Keefe. Celebrated potter Peter Anderson is honored each year when hundreds of potters, painters and craft makers come out to downtown Ocean Springs.
Pass Christian's First Annual Oyster Festival will be held in the harbor November 12-14. Come see the "Pearl of the Pass" be crowned, enjoy a lit boat parade, run in the 5K or 1-mile fun run.
Gulfport's Scottish Games & Celtic Festival takes place November 13-14 with live music, Irish dance workshops, a parade, Scottish food, a medieval village and athletic competitions at the Harrison County Fairgrounds.
Kiln welcomes Hancock County's "America's Got Talent Winner" Michael Grimm and Martina McBride and Marc Broussard to town for Concerts for the Coast November 19 and 20 respectively. Tickets are available through Ticketmaster.
Ocean Springs lights its Christmas Tree December 2 in Marshall Park.
Pass Christian kicks off the holidays with its 25th annual Christmas in the Pass downtown December 3. Lighting of the tree, a lighted boat parade and holiday shopping will take place.
Biloxi lights its Town Green on December 3, and attendees are asked to bring an ornament to decorate the tree. Hot chocolate and cookies will be served.
Biloxi's Beauvoir Victorian home celebrates Christmas at Beauvoir. The house will be decorated and tours available December 3-5.
Biloxi's Christmas on the Water celebration and boat parade will be held December 4.
Long Beach presents its third-annual Estates of Penny Lane Holiday Lights & Decor Gala with Christmas lights synchronized to music, holiday décor and carriage rides through the upscale neighborhood of Penny Lane Estates December 4-January 1.
Gulfport's Christmas on the Bayou includes a lighted boat parade down Bayou Bernard December 11.
Bay St. Louis's Holiday Tour of Homes includes eight decorated homes in downtown December 12.
Biloxi's Beau Rivage presents New York-style Christmas spectacular "Spirit of Christmas" with high-kicking chorus girls and glittering costumes December 17-28.
Biloxi presents The Nina & Pinta Live December 21-January 3 at the Schooner Pier Complex. See near-perfect examples of the type of sailing ships used by Columbus to discover the world.
For a full list of events and more details on these, visit www.gulfcoast.org.