Peppers & Problems
By Amanda Burleigh
This past year my husband and I thought we would try our hands at a garden for the first time. We had a nice sized section of yard and filled it with a variety of veggies, including tomatoes, eggplants, cucumbers and chili peppers. As the months went by and our schedules got busier, the garden received less and less attention. Some plants held on longer than others, but unfortunately most of them died. However, one group managed to thrive, and that was the chili peppers. Now I am faced with dozens of peppers and no clue what to do with all of them.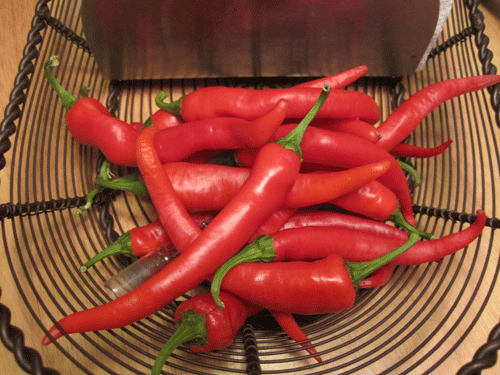 My first attempt to use the peppers was in homemade salsa. Not realizing how spicy these peppers actually are, I made a small batch and used my poor family as guinea pigs. The salsa was downright inedible. I tried desperately to tame the fiery dish by stretching it with anything and everything I could find. My once small batch of salsa suddenly filled my largest gumbo pot, and was still too hot to eat. Sadly, I had to throw it down the drain.
Back in the kitchen a second time, I'd learned from my previous mistakes and was not going to underestimate the potency of the peppers again. Using a much smaller amount of peppers and cooking them a shorter amount of time, I was able to create a traditional salsa that I served at my daughter's second birthday party. It was a huge hit!
I also decided to do something a little different with the peppers and try my hand at c
anning pepper jelly. Having never made any type of jelly or canned anything before, I was skeptical about the outcome. I searched my cookbooks for recipes and decided to try one from the "Better Homes and Gardens New Cook Book." It called for cranberry juice, which I had never heard of being used in pepper jelly, so I was intrigued. I went shopping for my ingredients and canning supplies and wouldn't you know it, the store was out of plain cranberry juice so I decided cran-raspberry would have to do.
After a few overflowed pots, some burned fingertips and a whole lot of stickiness, I had produced two jars of dark pink pepper jelly. When it was finally time to taste it, we broke out the cream cheese and poured a hefty portion over the top. It was delicious, a bit runny, but still good. The tanginess from the juice was unusual to me but tasty.
As the pepper saga continues, next I plan to try a recipe from one of my Louisiana cookbooks, which does not call for fruit juice. Also, I plan to use a bit more of the peppers themselves. The first recipe said to use only the juice from the peppers after boiling them and throw the pulp away. My husband and I both found that this didn't give the pepper jelly quite enough kick so we're leaving some in next time. Hopefully, this will not turn into a repeat of the first salsa attempt.
While I now have a few jars of salsa and pepper jelly in the pantry, only three-four peppers are called for per batch so I still have dozens of peppers left over. And my husband continues to walk into the kitchen with more, fresh from the plant. Much to my dismay, a neighbor also came by a few days ago with a grocery store bag full of banana peppers!
With every day that goes by, the pile of peppers on my table grows dramatically and I'm getting desperate. Please help a gal who has more peppers than she can handle by sharing some of your recipes or suggestions. Until then, you can find me eating pepper jelly on anything and everything.
Red Pepper Jelly
Adapted from "Better Homes and Gardens New Cook Book"
1 cup cranberry or cran-raspberry juice
1/2 cup water
1 cup vinegar
6 fresh chili peppers, halved (remove seeds)
Handful of Clementine oranges (peeled and sliced)
5 1/2 cups sugar
1/2 of a 6 oz. package of liquid fruit pectin
In a medium saucepan, combine cranberry juice, water, vinegar, oranges and peppers. Bring to a boil, reduce heat. Simmer, covered, for 10 minutes. Strain through a sieve, pressing with the back of a spoon to remove all liquid. Set liquid aside (should yield 2 cups), and discard most of pulp. In a larger pot, combine liquid and sugar. Bring to a full rolling boil over high heat, stirring constantly. Quickly stir in pectin and return to boil. Boil for 1 minute, stirring constantly. Remove from heat and skim off any foam. Can add a few drops of red food coloring for added color. Ladle immediately into hot, sterilized canning jars, making sure to leave 1/4-inch headspace. Wipe jar rims and adjust lids. Process in a boiling water canner for 5 minutes. Remove jars and cool on a wire rack until set (2-3 days).
Amanda's Salsa
4-6 chili peppers finely chopped with seeds and veins removed (depending on size and desired heat use more or less)
5 Roma tomatoes, chopped (any tomatoes will work, just maintain the basic quantity)
1 small can plain tomato sauce (use the roasted garlic flavored sauce for extra flavor)
1 can diced tomatoes
1 can petite diced tomatoes
2 1/2 cups frozen or fresh seasoning blend (onions, bellpeppers, celery)
1 Tbsp cilantro
1/8 cup lime juice
1/8 tsp chili powder (optional)
Salt to taste
In a large pot, cook seasoning blend until tender. Add fresh tomatoes and sauce, cook until simmering. Add all other ingredients except peppers. Bring to a slow boil, stirring occasionally. After reaching desired consistency, add peppers. Combine thoroughly and remove from heat. Cooking brings out the heat of the peppers so be cautious of letting them cook too long. If salsa is too spicy, add more canned tomatoes, cilantro, salt and lime.