Cooking With Gena Knox
Georgia cook Gena Knox gets back to her roots in redefining Southern cuisine.
by Erin Z. Bass
With a new cookbook out, plus an existing line of grilling products, Georgia gal Gena Knox may be the new face of Southern cuisine. Growing up on a farm in the middle part of the state, outside of Macon, Gena spent her days helping her mother and grandmother in the kitchen, selling lemonade and boiled peanuts in town and checking the fields with her dad. Some of her earliest memories are of food, whether it be her grandmother's caramel cake or fried catfish and butterbeans for dinner.
"Growing up we lived on traditional Southern foods," she says. "Every Sunday, fried chicken, chicken fried steak. My mom made everything." In starting her own career, first with a fresh salsa company in Colorado, followed by a catering business and now the company Fire and Flavor, Gena wants the world to know that healthy cooking doesn't mean a compromise in taste. This is an especially hard sell to Southerners, used to cooking with that stick of butter, frying oil or pack of bacon. But Gena's goal with her latest cookbook, "Southern My Way," is to show people around the country what the South has to offer.
"A lot of people think Southern is all about fried chicken, which it is, but I wanted to show people there's kind of a new Southern out there and we have lots of farmers and food artisans, some who have been around for generations. I want to show people the South is very fresh and there's kind of a young, New South arising."
Gena's Southern cuisine incorporates lots of grilling, aided by her line of planks, rubs, salts and brines, and while "Southern My Way" does have plenty of recipes that call for butter, bacon and cheese, her cookbook also features a number of healthier variations on Southern classics like chicken salad made with light mayonnaise and yogurt and oven-fried catfish. Gena also throws in a few really personal recipes among the gorgeously photographed pages. We don't want to give them all away, but Joanie's Toasted Pecans, which she recalls roasting in the oven every time her parents had a dinner party, and Mrs. Dull's Icebox Cookies, the specialty of a friend's grandmother, make an appearance.
With the holidays coming up, we're excited to try Fire & Flavor's Turkey Perfect Brining Mix. A process that greatly improves the flavor and moisture content of lean meats, brining results in a turkey that's perfectly juicy. "Definitely brine, that's one of the best ways to cook a turkey," says Gena. "Once you try a brined turkey, you never want to eat anything else."
For Thanksgiving, Gena and her own family are looking forward to eating on her parents' farm. "We'll have a grilled quail supper with broccoli casserole and baked apples and bananas with homemade biscuits," she says. Joanie's Pecans will also be roasting this year. "That smell fills up the entire house. Smells like that really remind me of the family holidays at the farm," Gena continues.
Another family tradition is her dad making his cane syrup the day after Thanksgiving. He skims the pot throughout the day, as Gena and her family gather around to wait for it to be bottled and served over her mom's homemade biscuits (recipe below). Sounds like the perfect Southern Thanksgiving to us.
Deep South will be giving away a copy of Gena's cookbook, "Southern My Way," at the beginning of December, so check our homepage for details after Thanksgiving. We've also recommended her Southern My Way Gift Package in our Holiday Gift Guide. It includes the cookbook, plus a bag of old-fashioned stone ground grits and a bottle of her dad's pure cane syrup. You can also order the syrup separately and plan to drizzle it over her mom's Homemade Biscuit Recipe below.
Homemade Biscuits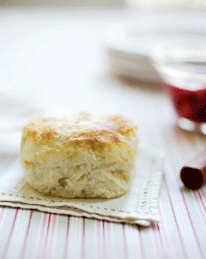 Guests at Gena's parents' farm are sure to wake up with a fresh batch of her mom's biscuits waiting for them, and now your holiday houseguests can get the same treatment. Pile these on a plate with country ham and grits and douse them with cane syrup for a breakfast your friends and family will be talking about for years.
2 cups self-rising flour, preferably White Lily
1/3 cup shortening, plus more for greasing pan
About 3/4 cup buttermilk
2 1/2- to 3-inch biscuit cutter
Preheat oven to 500 degrees F. Sift flour into a large bowl. Using a pastry cutter or the back of a fork, cut shortening into flour until it resembles small peas. Slowly pour enough buttermilk into flour mixture to make a sticky dough and lightly stir with a fork until dough comes away from the sides of the bowl. (You may not use all the buttermilk.)
Place dough on floured work surface and carefully roll dough a couple of times until coated with flour (do not handle too much or biscuits will be flat). Gently press dough to a 1- or 1 1/2-inch thickness. Flour a 2 1/2- to 3-inch biscuit cutter or the rim of a small drinking glass, and cut out biscuits. Lightly knead the remaining dough and repeat until all dough has been used. Place biscuits on greased cookie sheet, with edges touching (this will ensure soft biscuits). Bake for about 12 minutes until lightly browned.