Homemade Biscuits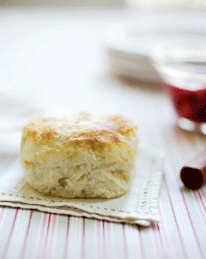 Guests at the childhood farm of Georgia Chef Gena Knox are sure to wake up with a fresh batch of her mom's biscuits waiting for them, and now your houseguests can get the same treatment. Pile these on a plate with country ham and grits and douse them with cane syrup for a breakfast your friends and family will be talking about for years.
2 cups self-rising flour, preferably White Lily
1/3 cup shortening, plus more for greasing pan
About 3/4 cup buttermilk
2 1/2- to 3-inch biscuit cutter
Preheat oven to 500 degrees F. Sift flour into a large bowl. Using a pastry cutter or the back of a fork, cut shortening into flour until it resembles small peas. Slowly pour enough buttermilk into flour mixture to make a sticky dough and lightly stir with a fork until dough comes away from the sides of the bowl. (You may not use all the buttermilk.)
Place dough on floured work surface and carefully roll dough a couple of times until coated with flour (do not handle too much or biscuits will be flat). Gently press dough to a 1- or 1 1/2-inch thickness. Flour a 2 1/2- to 3-inch biscuit cutter or the rim of a small drinking glass, and cut out biscuits. Lightly knead the remaining dough and repeat until all dough has been used. Place biscuits on greased cookie sheet, with edges touching (this will ensure soft biscuits). Bake for about 12 minutes until lightly browned.
Recipe from "Southern My Way" by Gena Knox.