Attack of the Killer Tomato!
Celebrating summer's most coveted fruit, the Attack of the Killer Tomato Festival returns to Atlanta on July 17 for the third year in a row. Since its inception, the festival has drawn a variety of the Southeast's best chefs, farmers and mixologists. JCT. Kitchen & Bar, an Atlanta-based restaurant whose specialty is what Chef/Owner Ford Fry calls "Southern farmstead cooking" –  think buttermilk-brined fried chicken, fried apple pie, chopped salad and a citified version of chicken and dumplings – plays host for the tomatoey shindig.
When I talked with Chef Fry, he explained what led to the creation of such a killer event. "Georgia has amazing tomatoes in the summertime, from heirlooms to little cherries and sungolds," he says. "Typically in late July, our local farmers have tons of tomatoes and need to sell them. And, I've always wanted to hold a crazy fun food event at JCT. and our surrounding property."
In addition to showcasing the state's bounty of tomatoes, the festival pits chef against chef, mixologist against mixologist, in a competition for the best recipe. Chefs pair up with local farmers to create unique, tomato-based dishes for festival goers to sample, while mixologists fashion some accompanying tomato-based cocktails. After the slicing, dicing and simmering are done, both attendees and judges, such as Food & Wine Restaurant Editor Kate Krader, Bon Appétit Restaurant Editor Andrew Knowlton and CNN.com Features Editor Cybil Wallace, vote on who has the best dish. The list of participating chefs continues to grow, but with names like Hugh Acheson, Kevin Rathbun, Kevin Gillespie, Chris Hastings and Joe Truex, competition will be stiff.
Last year's chefs' creations will be hard to top though. Chef Ford is still talking about his Tomato Jelly Doughnuts with bacon fat mayonnaise. And why wouldn't he be? Pura Vida's Hector Santiago cooked up a batch of steamed coconut bun BLTs. Steven Satterfield of Miller Union concocted a tomato aspic. Aria's Gerry Klaskala prepared mouth-watering grilled cheese sandwiches with rooftop dried tomatoes, applewood smoked bacon and chipotle dipping sauce – a dish that won him the "King of Taste" award. Restaurant Eugene's mixologist, Nick Hearin, also made a name for himself after mixing up a tomato and Mexican Coca-Cola based cocktail.
More than just a celebration of the summer fruit, the Attack of the Killer Tomato festival helps to raise funds for Georgia Organics, a nonprofit organization that promotes fresh and sustainable local food in the state. "I do think chefs are waking up to keeping it simple and focusing on seasonality and locality," says Chef Fry. "This is the only way to stay true to Southern heritage."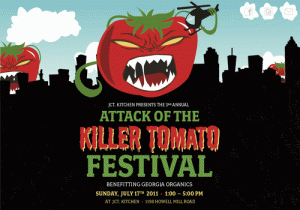 Last year, the festival raised $17,000 for Georgia Organics, and with over 1,400 attendees expected at this year's event, that number should rise. With live music from The Spazmatics and local chef band Five Bone Rack, the 2011 Attack of the Killer Tomato Festival is a surefire way to enjoy as much of the ripe fruit as you can handle before the chill of fall.
The Attack of the Killer Tomato Festival will take place at JCT. Kitchen & Bar's location on 1198 Howell Mill Road, Suite 18, from 1-5 p.m. Sunday, July 17. Tickets are $70 a person.
To see more mouthwatering photos from last year's event, check out Foodie Buddha's set on Flickr.