Louis Armstrong Essentials
5 Essential Albums
Building a solid Louis Armstrong collection necessitates digging through endless singles collections. Such is the nature of music made before the fifties and even beyond. The lack of truly definitive box sets for Armstrong's material, or at least official or in-print box sets, makes the task all the more difficult. (This, however, is finally being rectified with the upcoming release of a 10-CD monolith titled Satchmo: Louis Armstrong, The Ambassador of Jazz, due out August 8 in Europe and hopefully making its way across the Pond shortly thereafter.) There are a handful of truly solid albums out there that fans should own in addition to the various compilations. These five a affordable packages are musts for those seeking to introduce themselves to Satchmo.
1. Hot Fives & Sevens
Bypass Columbia's shoddily produced (and slightly more expensive) box set for JSP's more-than-affordable four-disc set that not only stands as the document of Armstrong's early years, but the definitive statement of jazz as an emerging art form. With these recordings, Armstrong rapidly evolves jazz from a staccato, folk-inspired group sound to a spotlight for elegant solo improvisation. Armstrong strains on some notes, but that is the price for innovation, and though he would later perfect and improve upon some songs, the set as a whole is still one of the building blocks of even the most casual jazz collection.


2. Louis Armstrong Plays W.C. Handy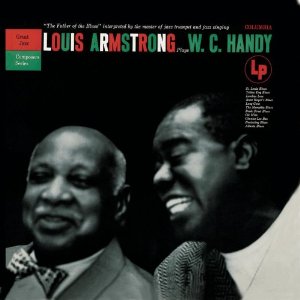 The first of Armstrong's works with Columbia Records and George Avakian, and, based on the strength of it, you'll hate Armstrong's manager Joe Glaser forever for ending that partnership prematurely. Armstrong's pop for Decca was far from artless, but Avakian knew how to extract the full power of Armstrong and his All-Stars for a studio recording. It feels like a live album, from the joking interplay between Armstrong and Thelma Middleton to the overwhelming power of the playing. Armstrong treats the blues composer with respect, but he adds power and élan to the work to make his single strongest LP.


3. Porgy & Bess

Any of the three Verve collaborations between Armstrong and Ella Fitzgerald deserves your money, but this dynamite recording of George Gershwin's opera is the best pure jazz recording of the work along with Miles Davis' instrumental version. The contrast between Ella's "whipped cream" vocals and Satchmo's "sandpaper" was never more marked, nor more compelling. Ira Gershwin herself cried after the final song played, but the the track before, Armstrong's devastating aria for "Bess, Oh Where's My Bess?", may also leave you teary eyed. Arguably, the greatest vocal collaboration in jazz from unarguably the most exciting vocal pairing.


4. The Real Ambassadors

Dave Brubeck also toured for the state department, and he recognized Armstrong's seemingly ingratiating style to be subversive. But when Brubeck and his wife tapped Satch for a satirical concept album concerning racial topics and politics, they could not have expected how seriously Armstrong would take his lyrics. The resulting album is still funny and even jaunty in places, but its moments of poignance, particularly "Summer Song" and "They Say I Look Like God," are among the most wrenching performances Armstrong ever gave.


5. The Great Chicago Concert

The mid-'50s offered a deluge of live Louis, from the studio-tampered Ambassador Satch to the critic-silencing recording of a Crescendo Club gig, but this 26-song performance can't be topped. Though it clocks in at less than two hours, it feels like a 'til-the-morning-light extravaganza by the likes of Springsteen. At a time when jazz audiences were starting to treat a gig in a smoky nightclub like a night at the opera, Armstrong's crowds couldn't contain themselves. Their roars of approval inspired yet harder blowing, and anyone who felt Satch was coasting on his old arrangements need only take a listen to this incendiary set.


10 Essential Recordings
Armstrong's habit of re-recording old songs with new arrangements ensures that anyone looking for his best songs must not only contend with nearly 50 years' worth of material, but also multiple versions of classic songs. The following list, arranged chronologically by the recording of the specific version chosen, offers a broad cross-section of Armstrong's work, from the 1920s hot jazz to later pop hits. Each has something to win over any crowd.
1. West End Blues (1928)
This defining track is the highlight of the endlessly rewarding Hot Fives & Sevens years. Armstrong's virtuosity is on proud display, and in eight bars he crafts a solo that wouldn't even be challenged until the bop maestros, and even they can't touch its magnificence.


2. St. James Infirmary (1928)
A funereal bit of jazz-blues, Satch's first, certainly not last, recording of "St. James Infirmary" is perhaps the best early showcase of the emotion he could pack into his horn. As his trumpet moans, Jimmy Strong's clarinet screams, and even the improvisation after the sung verses is dour. In deciding on the best version, it's a close race between the original and a more stately 1959 version with the All Stars, but this sounds more like a 'Nawlins funeral while the later, more polished, recording has a classical-sounding dirge.


3. I Gotta Right to Sing the Blues (1933)
Why Armstrong's big-band era receives so much indifference is perplexing — after all, it was his smoother style that effectively paved the way for swing in the first place — but "Pops" author Terry Teachout gives the period a boost by calling this his favorite Armstrong record. Satch's voice, ever-rough but here pre-gravel, is lovely, while his trumpet is at once a part of the big band and the clear leader. The vocal slides downward are juxtaposed by soaring trumpet lines, particularly on the thrilling glide up to the high note during a solo.


4. Struttin' With Some Barbecue (1938)
From the moment Satch squeals in over his band, he establishes this vibrant remake as the clear superior to the original Hot Seven cut. Armstrong's playing is a constant series of peaks, broken up by an equally fiery clarinet solo. If anything, this demonstrates Armstrong's adeptness with the big band format better than "I Gotta Right to Sing the Blues."


5. St. Louis Blues (1954)
Handy's tune has been endlessly recorded, and Armstrong already had a hand in two of the most essential ones before he even got out of the '20s. But this rollicking version, complete with Trummy Young's blaring, barroom trombone, Velma Middleton's come-hither teases and Satchmo's seemingly endless, powerhouse soloing make this the truly definitive reading of the song, by Armstrong or anyone else.


6. Mack the Knife (1956)
Bobby Darin would make the more enduring version of the number, but Armstrong's is the one that carries the menace of Brecht's original lyrics. Overall, Armstrong was far too positive an individual to really explore the dark side in his music, but he certainly had the voice to pull off a song about murderers, and he channels the sights of his rough childhood even in his upbeat playing and bouncy singing. Not your average pop tune.


7. Let's Do It, Let's Fall in Love (1957)
A solo vocal on Ella and Louis Again, "Let's Do It" is one of Armstrong's greatest vocal showcases in a studio. Teasing but plaintive, you can practically hear him smiling in the tape hiss, but that smile cannot hide a deep sense of longing poking through Cole Porter's gentle lyrics. It cannot be coincidence that Verve used the song as the title of their compilation of Armstrong's greatest hits album for his work with the label.


8. Hello, Dolly! (1964)
"Hello, Dolly!" is not merely Armstrong's biggest hit, but the best demonstration of his ability to spin thread into gold. Everything about the song, from its trite lyrics to simple orchestration, is pat, but Armstrong infuses it with a certain je ne sais quoi that elevates everything. Add the ingenious, off-kilter banjo opening, and you've got the first song crazy enough to unseat Beatlemania from the top of the charts, even if only for a moment. Oh, and it settles the "Louis vs. Louie" debate on Armstrong's name pronunciation once and for all.


9. Black and Blue (1965)
After nearly four decades in Armstrong's repertoire, "Black and Blue" got its definitive take in East Berlin, to a crowd that may not have been particularly multiracial but knew all too well the feeling of being divided from neighbors. Satch could always infuse his work with his uplifting attitude, but the facade cracks here, and his pained vocals are book-ended by tortured, furious playing that draws out every smooth, morose note in the song into agonized wails. This recording does as much to demonstrate Armstrong's true beliefs on inequality as his Little Rock comments or his boycott of New Orleans' draconian segregation.


10. We Have All the Time in the World (1968)
The most touching Bond theme to complement the most (only?) touching Bond movie, "We Have All the Time in the World" cannot hide behind its lighter arrangement and Louis' optimistic vocal tone, betraying its fragility in his dying voice. An unsettling, ironic counterpoint to the completely sincere "What a Wonderful World," "We Have All the Time in the World" horrifies and inspires in equal measure, the very weakness that makes Satch's voice so haunting and broken also demonstrating his unflappable dedication to the very end.


Honorable Mention: The Bucket's Got a Hole in It (1956)
This scorching "Great Chicago Concert" version of an old favorite plays out as a series of climaxes, the finale stretched into a virtuosic showcase for Armstrong's undiluted energy. It's almost baffling to consider he was 55 at the time as he trades solos with Trummy Young. Sadly, audio from this piping-hot version was not available on YouTube.