Bourdain's Cajun Country
On August 29, The Travel Channel's "No Reservations" in Cajun Country episode aired. Much to the delight of Cajuns and natives of South Louisiana, chef and TV personality Anthony Bourdain revealed to the rest of the world why our region is such a special place – and why so many people visit and never leave. Bourdain ate his way from New Orleans to Eunice and back, and while live tweeting during the episode wrote, "I'm struck dumb looking at the food on my own damn show."
Want to know where Tony ate, went and who he met? See our travel guide below. We promise you'll experience the same quality of hospitality that he did and may just decide to put down some roots and stay.
EATS
Yakamein Lady
Also known as Ms. Linda's Catering, the Yakamein Lady Linda Green serves up her version of Asian noodle soup from the back of her truck in New Orleans. Bourdain and Wendell Pierce visited with her and tasted her soup at the beginning of the show. She doesn't have a physical location, but look for her during Mardi Gras parades, at local festivals and other events.
Willie Mae's Scotch House
THE place in New Orleans for fried chicken, Willie Mae's on St. Ann St. is no secret. Bourdain and Lolis Eric Elie had lunch here, and Tony quipped that he was just waiting for Andrew Zimmern to show up. The restaurant re-opened in 2007 after being damaged during Hurricane Katrina and is now run by founder Willie Mae Seaton's great-granddaughter Kerry. Open Monday-Saturday, the restaurant's red beans and rice are also a must-eat.
Boiled Crawfish
Bourdain attended a private crawfish boil while in Cajun Country, but if you make your way to Lafayette and surrounding areas during crawfish season, there are plenty of restaurants serving the bugs. The season begins in January and runs through early summer, with the peak being around Easter time. We recommend restaurants Louisiana Crawfish Time, Randol's, Dwight's and Gator Cove in Lafayette, Crawfish Town USA in Breaux Bridge and Hawk's in Rayne, or make friends with a local, and they'll probably invite you to one.
Glenda's Creole Kitchen
Bourdain had lunch here with local sculptor and artist Toby Rodriguez, who tells him he has to order the stuffed turkey wing. Glenda's is open seven days a week from 10 a.m.-2 p.m. and serves daily specials, from smothered pork chops to shrimp stew and red beans and sausage. According to the restaurant's website, smothered turkey wings are available Monday-Thursday. Visitors can either dine in the restaurant or drive through the window on the Main Highway in Breaux Bridge, located about 10 minutes from Lafayette off I-10.
Boudin, Cracklin, Sausage & More
While boucheries like the one Bourdain attended don't happen all the time in South Louisiana, visitors can still taste the products they produce at plenty of local shops and gas stations. In fact, it's hard to find a gas station in the region that doesn't serve boudin and cracklin, but other places known for their "piggie porn," as Tony would call it, include Johnson's Boucaniere, The Best Stop, Don's, Eunice Superette and the Mowata Store. Visit boudinlink.com for information on South Louisiana's boudin and cracklin trails, Boudin Cook-Off and ratings for all locations. Visit plateluncher.com for information on where dishes, like the backbone stew Tony ate at the boucherie, are served throughout Acadiana.
Nor-Joe Importing Company
Before leaving Louisiana, Bourdain made a quick stop by cab at this Metairie muffaletta shop, open Monday-Saturday. A sandwich stuffed with Italian meats, cheese and olive mix, the muffaletta is a Big Easy staple, and Tony washed it down with a drive-thru daiquiri. Quite possibly the perfect meal.
CHARACTERS
Wendell Pierce
Playing musician Antoine Batiste on HBO's "Treme," Wendell Pierce has become a spokesman for his hometown of New Orleans. He also hosts the radio program "Jazz at Lincoln Center" and starred in "The Wire." In the episode, he schools Bourdain on the origins of New Orleans music.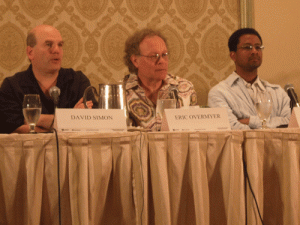 Lolis Eric Elie
Bourdain's guide through the Treme neighborhood, Lolis Eric Elie (pictured on the right with David Simon and Eric Overmeyer) is a New Orleans-based writer and filmmaker currently writing for the HBO series "Treme." Elie has also written for The Times Picayune, Gourmet, The New York Times and Bon Appetit and is the author of "Smokestack Lightning: Adventures in the Heart of Barbecue Country." He co-produced the PBS film "Faubourg Treme: The Untold Story of Black New Orleans."
Toby Rodriguez
Part-owner of Lakeview Park, where the boucherie was held, Toby Rodriguez is also a local artist and furniture maker who was featured throughout the show. Find him out at Lakeview in Eunice or lunching on turkey wings at Glenda's in Breaux Bridge.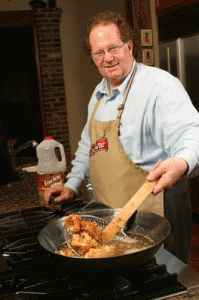 Chef Pat Mould
Cooking in Acadiana and educating locals and visitors about Cajun cuisine for more than 22 years, Chef Pat Mould currently serves as executive chef at City Club restaurant in Lafayette's River Ranch. Chef Mould also guides culinary tours of Cajun Country, much like the one he developed for Bourdain and his crew, complete with cooking lessons and meals. Photo courtesy of www.louisianaschoolofcooking.com.
The Red Stick Ramblers
Featured on stage during the boucherie, The Red Stick Rambers have been part of the South Louisiana music scene since their college days at Louisiana State University and play a blend of Cajun fiddle tunes, Western swing and traditional jazz from the 1920s and '30s. Their fifth album, "My Suitcase is Always Packed," was released in 2009, but we're still partial to their first CD. Check the Ramblers' website for tour dates and purchase their music on iTunes.
Mayor Jennifer Vidrine
The mayor of Ville Platte, Vidrine is featured prominently during the boucherie, and Bourdain referred to her as "best politician I ever met" on Twitter. The first African-American and female mayor of Ville Platte, located just a town over from Eunice, Vidrine presents Tony with the tail of the pig after she helps skin the fur off.
PLACES
Treme Neighborhood
The focus of HBO series, "Treme," this neighborhood is featured in the New Orleans portion of the episode when Bourdain walks down the street with Lolis Eric Elie. The best place to see the city's Caribbean influences and get a taste of jazz history, Treme is off the beaten path, and several tours are available for visitors.
Breaux Bridge
Located on I-10 about 10 minutes from Lafayette, Breaux Bridge is the "Crawfish Capital of the World" and home to the annual Crawfish Festival. While here, Bourdain attended a crawfish boil at Maison Madeleine, a restored Creole cottage and bed and breakfast on Lake Martin.
Lakeview Park
The site of the boucherie in Eunice, Lakeview is located on Hwy. 13 and was once a premier campground with a famed dancehall. It was brought back to life and officially re-opened in 2009 as a campground with a park, beach and barn for live music. Barn dances, like the one by The Red Stick Ramblers, are held on weekends, and cottages and campsites are available year-round.
L'Acadie Inn
Bourdain and his crew stayed at this hotel in Eunice while filming the boucherie portion of the show. Run by Lance and Kelly Pitre, the inn offers guest rooms on the Cajun prairie. Call 337-457-5211 or e-mail [email protected] for reservations.
Buchanan Lofts & Tsunami
While in Lafayette, Bourdain and his crew stayed downtown in Buchanan Lofts, a recently renovated warehouse turned hotel. The lofts are located adjacent to Tsunami Sushi, and Bourdain was spotted at the restaurant bar not long after his arrival. Lofts range from $130-$250 a night.
Bourdain photo at top taken from The Travel Channel's "Behind the Scenes in Cajun Country" photo journal.