Calvin Coolidge Slept Here
Georgia's Cabin Bluff opened to the public last year after decades of serving as a private retreat for presidents and sporting enthusiasts. 
By Bill Bauer
A retreat can often be described as a haven or refuge, a place where individuals or groups venture to seek solitude and escape the hustle and bustle of their everyday lives. Nestled in a forest of towering pines and majestic oaks, bordered by Georgia's Cumberland River near the border of Florida, sits Cabin Bluff — a hunter's paradise dating from the days of Calvin Coolidge.
Established in 1928 as a sanctuary for distinguished sporting enthusiasts from around the world, Cabin Bluff earned a reputation as a world-class hunting and fishing destination. The addition of championship golf in a unique setting, hiking, biking and kayaking, sporting clays and an inviting lap pool has turned the remote compound into a luxurious Southern getaway.
Hidden from the sights and sounds of civilization, but easily accessible, Cabin Bluff's rustic, elegant environment quietly rests at the end of a long and narrow private drive, that, without warning, opens to an idyllic setting. Seven cabins and a main lodge blending perfectly with the natural surroundings afford 20 private rooms, accommodating only 40 guests at a time, each with its own upscale private bath, satellite television, beverage-filled refrigerator and wifi.
The astonishing natural beauty of Cabin Bluff is only surpassed by its staff's desire to satisfy your every need. (Two- and three-night packages include all meals, beverages and a number of activities.) A hearty, homestyle breakfast and lunch, followed by cocktails, pave the way for a distinctly Southern, chef-prepared dinner. The hours in between and after the sun goes down are filled with possibilities.
"Cabin Bluff is one of the most unique places along the eastern seaboard," says Sales and Marketing Manager Andy Ippensen. "We're just 30 minutes north of Jacksonville, Florida, and adjacent to Cumberland Island, and it's a very historic place. It's a sporting lodge, it's a hunting lodge, it's a great place to come for families and outdoorsmen."
Cabin Bluff was a hunter's paradise in the late 1920s, and President Calvin Coolidge, often frequented the retreat with other noted
outdoorsmen. Once co-owned by Sea Island Corp. and Mid West Daco, Cabin Bluff was used exclusively for corporate functions, outings and the companies' private guests. (Gen. Schwarzkopf's daughter was married there.) It slowly transitioned to more of a retreat space and was finally made available to the public last year. Reservations are required, so not just anyone can drive up and shoot clays or play a round of golf.
"We're opening up more for people to come down and really take advantage of what we do," says Ippensen. "We have a lot of groups that take over Cabin Bluff, but we're also doing some select weekends, especially during holidays, where couples and small groups of friends can come down and enjoy Cabin Bluff on a very individual basis as never before."
In season, October through March, quail, wild boar, turkey and whitetail deer are a highlight at Cabin Bluff. Seasoned hunters or complete novices can take advantage of skilled guides and championship hunting dogs, as well as top-of-the-line Berretta firearms in pursuit of their quarry. Utilizing the "Steady to Wing & Shot" technique, highly trained pointers and Labradors play out their respective roles providing a superior quail hunting experience. Regardless of the hunt, all game is dressed, packaged and frozen, if necessary, for the journey home.
"Skilled hunters appreciate the steady to wing and shot training of our dogs," says head dog trainer and quail guide Chuck Dean. "Novice and first-time individuals are able to relax and enjoy the overall hunting experience. Our dogs, guides and facilities make for a great combination to introduce newcomers to the sport of quail hunting."
The Cumberland River provides the perfect setting for gamefish, like redfish, sea trout, bluefish and tarpon, while on-site ponds are stocked with bass, bream and trout. All tackle is furnished whether you charter a licensed captain for an in-shore or offshore excursion or simply choose to cast a line from the dock. Full-day sport fishing pursuits as well as light tackle trips to the inlets that meander through the shoreline of Cumberland Island promise an exciting day on the water. An added attraction might be an unexpected sighting of the island's famed wild horses.
If you're a golfer, teeing it up on the Davis Love III layout at Cabin Bluff will not only test your skill, but also treat you to an unusual round. Six mammoth, but thoughtfully designed, greens, each sporting three pins, combine to create a unique 18-hole layout that is one of a kind. Complete with bunkers and water hazards, each green is played in three distinct ways, made possible by the strategic placement of three distinct tee boxes. Challenging par 3's, demanding par 4's, and winding par 5's built along the waterfront and through the pine forest will impress low and high handicappers alike.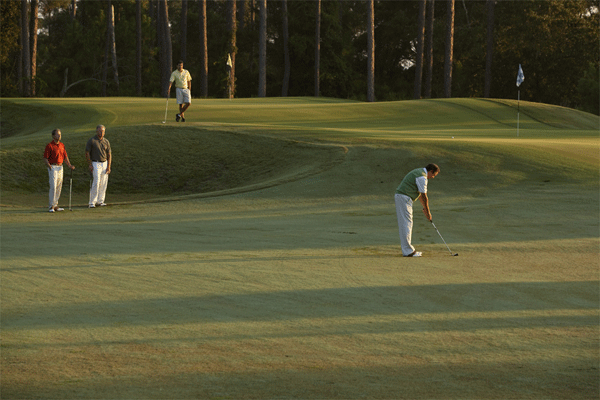 The outdoor setting at Cabin Bluff is expansive and can provide you with a full day of activity or offer a mixture of adventure and rest. Hiking, biking, kayaking, clay shooting, a swim in the lap pool, a few sets of tennis or a scenic boat ride to historic Cumberland Island in search of the wild horses are all part of the experience. Your hosts simply invite you to step off the world for a short while and enjoy a simple, uncomplicated experience with no sacrifice of comfort, privacy or luxury.
Typical Day at Cabin Bluff
5:30 a.m. – Wake up to watch the sun rise
7 a.m. – Breakfast of fried fish caught the previous night with grits and scrambled eggs
9 a.m.- Load on to bird buggy to go quail hunting
Noon – Return from hunting to fried chicken lunch
1-3 p.m. – Play 9 holes of golf
4 p.m. – Ride out to Cumberland Island and fish for sea trout
6 p.m.- Cocktails on the deck before sunset
7 p.m. – Dinner of beef tenderloin with mashed potatoes and green beans at Coolidge Tavern
9 p.m. – Game of bocce ball
10 p.m. – Retire to the cabin for the evening
How to Get There
Cabin Bluff lies along the Intracoastal Waterway, adjacent to the historic Cumberland Island National Seashore, in Woodbine, Georgia. The resort is 30 minutes north of Jacksonville, five hours from Atlanta, three and a half hours from Charleston and a short drive from Savannah.
Pricing
From April 1 to the end of September (summer season), packages are available from $400/night (3-night stay) to $450/night, double occupancy. This includes all meals, drinks, lodging and activities for two. Some special activities such as off-shore fishing charters are à la carte. The hunting season begins based on the seasons for each species (quail, deer, boar, turkey) on October 1 and runs through March. Rates vary based on the number of days, number of hunters and species being hunted. Hunting packages are also all inclusive (with all the non-hunting activities, too), and include firearms if desired.
At any given time, pending availability, the entire retreat can be booked (up to 40) for a corporate outing, family reunion, wedding, etc.
All photos courtesy of Cabin Bluff. 
Bill Bauer is a freelance writer based in Fair Play, South Carolina. He's been writing about golf, travel and adventure for nearly eight years, is a member of the Carolina Golf Reporters Association and has published articles on destinations like Daufuskie Island, the Florida panhandle and North Carolina High Country. Bauer attended a press trip to Cabin Bluff over the summer and describes it as "a remote retreat, once private, rich in tradition." Visit his website to learn more about his work.