One Night Stand
Oxford photographer Erin Austen Abbott proves art isn't just for four-star hotels.
by Erin Z. Bass
15 artists. 12 rooms. 1 night only. It's Oxford, Mississippi's fifth-annual One Night Stand Motel Art Show. On October 29, the Ole Miss Motel will double as an art gallery for the evening, when 15 up and coming artists from Mississippi and Tennessee each transform a hotel room into their own gallery space. Beds and nightstands will be moved around and tasteful landscapes hanging on the walls replaced with original paintings and photographs. It's part parking lot party, part art show, and you'll want to be sure to check-in if you're in the area.
Under the direction of photographer Erin Austen Abbott (pictured above), who owns the design shop Amelia in Oxford, the show kicked off in 2007, followed by one in Los Angeles the next year. "I was taking pictures at an old Travelodge-style motel, the type that you drive up and park outside your room, set in a u-shape," says Abbott. "All the doors had these wooden red hearts on them. I had heard rumors that the walls inside the rooms were brown wood paneling, and I suddenly had visions of T. Model Ford sitting on the edge of the bed, playing his hill country blues while fine art leaned against the furniture or replaced the current art hanging in the rooms."
Abbott immediately went out and found 10 artist friends who were having a hard time showing their work locally. They made up the first show, and, in 2008, she took her motel art show on the road to Los Angeles. Over a thousand people showed up for "The One Night Stand at The Beverly Laurel Motel," and the show was featured on Yelp and in the Los Angeles Times.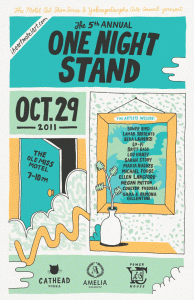 "In a town where it could have been a bust, it proved to be just the opposite," says Abbott. She knew she was onto something and brought the show back to Oxford in 2009 and 2010. This year's artists include Bowerbird, Lamar Sorrento, Beka Laurenzi, Lo-Fi, Britt Bass, Lou Haney, Sarah Story, Maria Hughes, Michael Foose, Ellen Langford, Megan Patton and Coulter Fussell and Gara and Ramona Gillentine.
For art lovers who don't live near Oxford, Abbott has good news. Next year, the show will be presented by The Yoknapatawpha Arts Council (named after Faulkner's fictional county) and, in addition to being held in Oxford each October, travel to other locations in the spring and fall. For 2012, the Motel Art Show is scheduled to hit Brooklyn, New York, in May and Nashville in September.
The 2011 Motel Art Show will be held from 7-10 p.m. Saturday at the Ole Miss Motel, located at 1517 University Ave. For more info, visit the show's Facebook page or follow @iheartmotelart on Twitter.