Trace of Spirits
Travel the Natchez Trace and discover the 444-mile parkway's haunted past this fall. 
by Judy Smith
As All Hallow's Eve draws near, the veil between this world and the spirit world becomes thinner and thinner, allowing the way for spirits and ghosts to walk among the living. Nowhere are there more spirits who are forever searching, longing or seeking revenge than along the Natchez Trace. This historic piece of land has a storied past, colored with much evil, deceit and heartache.
Tales of murder and thievery committed by pirates, bootleggers and savages, tales of secret trysts and love lost and found. The story of the Natchez Trace is just as exciting and intriguing as the trail is long and winding. The Trace is steeped in legend and lore, inviting visitors to learn more about this beautiful, mysterious trail, and there's no better time to explore than in the fall. Whether you're hunting for ghosts or merely wanting to take in the brilliant fall color, a drive down this stretch of land won't disappoint.
Listed on the National Register of Historic Places, the Natchez Trace is one of the most notable landmarks and tourist attractions within the state of Mississippi. The 444-mile parkway from Natchez to Nashville connects the Cumberland, Tennessee, and Mississippi rivers and offers visitors a chance to slow down and experience the South the way it was hundreds of years ago. This notable piece of land saw its share of American history, ranging from bloody battles to acts of deceit and mischief. When such treachery and evil happen in an area, spirits are often trapped there, forced to replay their moment of death or face their heartache over and over again.
The Trace has played host to many a ghostly tale—spine-tingling stories that will spur you to move out beneath the shadows of the majestic pines and head toward the sunshine.  This stretch of road was often referred to as the Devil's Backbone for the evil and murderous mayhem that occurred along its paths. As riverboats docked in Natchez, travelers and businessmen often used the Trace as a quick route through the countryside, but it also became the haunt of many a pirate and highwayman lurking in the shadows.
One of the most notable highwaymen was Samuel "Wolfman" Mason, who wrought a mighty resume of woe. When a reward was offered for his capture, his own men are said to have killed him and returned his head rolled in clay as proof of his death. It's rumored that his mournful cries can still be heard and felt through the whispering pines.
Natchez's Under-the-Hill Saloon is known as one of the most haunted sites along the Trace. Amid the barrooms and brothels of days of yore, many a notorious outlaw and bandit sought refuge here and used this little village as his own personal playground for countless numbers of shootouts and battles. The Harpe Brothers were infamous on the Trace, torturing, mutilating and robbing victims who used the route in their travels. When one of the brothers was captured, he was beheaded and his skull posted along the trail as a warning to others. Since then, his spirit has been forced to walk the trail throughout all of eternity.
Joseph Thompson Hare was also a notoriously brutal outlaw who used the trail to terrorize travelers. Before Hare was hung in 1818, he reported that he had seen ghosts along the Trace, most notably a phantom white horse. Visitors have reportedly heard Hare's laughing spirit and seen him at Natchez-Under-the-Hill with his unfaithful mistress. He's believed to have been buried alive wearing jewelry he gave her.
King's Tavern was a popular bar in Natchez and a retreat where weary travelers sought rest, but this historic place is not without its ghostly apparitions. Constructed in the 1760s and turned into a bar in 1789, this watering hole is believed to be the sanctuary of a fair maiden named Madeline (pictured below). The story goes that when Richard King bought the bar, the beautiful, dark-haired Madeline was a serving girl. King was so enchanted by her that he swore to take her as his own. Madeline was equally enamored with King and soon became his mistress. Rumors abounded that King's jealous wife killed Madeline and bricked her body behind the fireplace. Nothing was ever confirmed, but in the 1930s, three mummified bodies were found beneath the floor of the tavern—two men and a young woman, believed to be Madeline, lying next to a jeweled dagger.
Employees and guests of King's Tavern, now a bar and restaurant, have reported seeing the hauntingly beautiful young spirit and often been the victims of some of her mischievous pranks. Madeline is notorious for walking on freshly mopped floors. While you're standing at the edge of the Mississippi River, turn quickly to see if you can catch a glimpse of her in the upper windows, peering forlornly out over the water. But be careful. Many have reported feeling a push in the back that threatens to knock unsuspecting victims into the swirling depths of the Mighty Mississippi. It's not Madeline though. The pusher is believed to be the malevolent spirit of King's wife, forever staking her claim to the tavern.
And that's not all the paranormal activity associated with the tavern. Although the upper bedrooms have not been used for years, it's said that when you hold your hand above the mattress upstairs, it feels warm as if someone has just been lying there. Spirits have been seen walking up the staircase, and you can often feel warmth emitted from one of the fireplaces in the building that has never been used. As if that's not enough, a baby that was murdered in a fit of rage by an outlaw can still be heard crying from one of the bedrooms.
Further along the Trace, a spirit whose name is recognizable can be found where a monument was erected at the border of Tennessee to honor Meriwether Lewis of the Lewis and Clark Expedition. This is the location where a distraught Lewis stopped at Grinder's Stand for the night. The next morning, he was found dead with a shotgun wound to the head, and it is still debated whether it was self-inflicted or he was the victim of a burglary gone wrong. Lewis is buried near the inn, where a bronze bust has been erected to honor his memory, but the wale of a sorrowful man can still be heard on moonlit nights.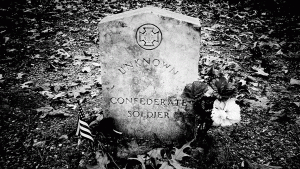 Many a secretive pact and private message was sent under the cover of night down the Trace, and Andrew Jackson used the road during the War of 1812 to lead his troops home to Tennessee, resulting in his nickname of "Old Hickory." North of Tupelo, where the last major Civil War battle was fought in Mississippi, there are 13 headstones facing away from the road. They mark the graves of unknown Confederate soldiers, but no one knows why the tombstones are located there or why they face away from the Trace. People have reported seeing spirits carrying bayonets marching along the path as if they are keeping sentry over their fallen soldiers.
The Natchez Trace was also the scene for many a love story in its time, some sweet and some filled with sorrow. A picturesque peak along Mackey's Creek was the secret meeting place of two young Cherokee lovers. The Cherokee soldier had promised to run away with the lovely Cherokee maiden, but when he saw his true love talking to a white soldier, he thought he had been betrayed. Distraught, the Cherokee man threw himself off a large rock overlooking the creek. Heartbroken, his maiden jumped as well, and to this day, the rock is known as "Lover's Leap."  There are times, when the wind is just right, that you can hear the maiden's soft cries and feel an overwhelming sense of sorrow.
Witch Dance, a bicycle-only campground outside of Tupelo, was the meeting ground for those that practiced the dark arts. Oldtimers say that where the witches danced and touched the ground, the grass withered under their feet and refused to grow again. There are still scorched patches of earth not touched to this day by a blade of grass. Locals steer clear of these patches, believing that evil will befall you if you set foot on them. It's said that chanting and the beating of drums can be heard on nights lit by a full moon. If you hear that evil screeching and wailing, make sure you head the other way, fast.

Further down the Trace, you enter into a hazy world that whispers of foreboding danger and uncertain fears. Cypress trees and Spanish moss reach out to pull you into the swamp, and enveloped in a silvery fog, there's an eerie silence only interrupted by the chirp of insects or the splash of a smiling alligator. The main sound you'll hear is the thundering of your own heart. It's been rumored that only the most evil of acts were committed within this watery grave—acts so horrible they were never repeated. For those faint of heart, you might want to skip out of the shadows of the swamp pretty quickly before the spirits try to take you home with them, or avoid this part of the Trace all together.
If you're not into ghost hunting, the Natchez Trace still has plenty to offer, especially this time of year. In fall, as you travel along the tree-lined path under a canopy of majestic pines, oak and various other trees, brilliant orange, crimson and yellow leaves flitter and float down to quiet hideaways, beckoning you to learn of their past. When you hear the peaceful trickling of waterfalls making their way to the river, you'll swear that you're in the presence of God.
Another plus to traveling the Trace during the fall is the cooler temperatures that make the walks and picnics in this beautiful wonderland that much more pleasant. The sights and sounds of the Natchez Trace during October and November are simply breathtaking and will make you stop and appreciate the glorious creations right in our Southern homeland. Even if some of them are no longer of this world.
You might want to make sure you make tracks before the sun goes down, because you never know what spirits are just waiting for an unsuspecting traveler to come along. That whispering in the pines you hear may not be the wind after all, but a ghostly spirit from another world, trying to take you back with them to their lonely grave.
Photo credits, from top: Leaf-strewn path and stepping stones by Tony Dellorfano, portrait of Madeline by Jo Amelia Finlay, grave of unknown soldier and swamp by Dellorfano and Mississippi River bridge by Judy Smith. 
Judy Smith is a freelance writer living in Laurel, Mississippi. Her work has been featured  in South Mississippi Living, The Talon Magazine and Beach Boulevard Magazine, and she also writes an insider blog on things to do in Jackson for VisitSouth.com. A version of Smith's Natchez Trace article previously ran in Mississippi Agriculture Monthly Magazine.