How to Drink with a Southern Accent
South Carolina's Firefly Distillery introduces a new line of liqueurs based on Southern desserts. 
by Rebecca Lynn Aulph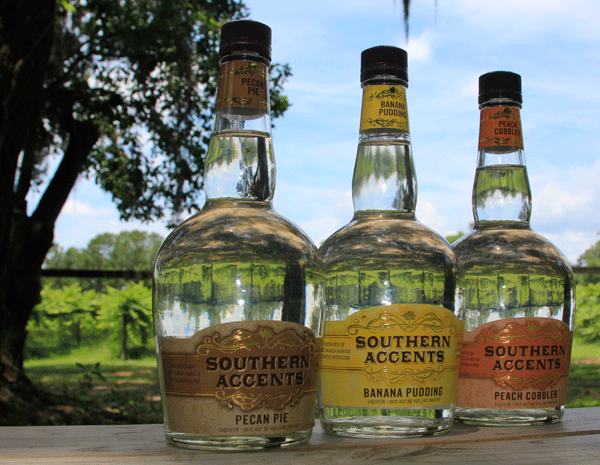 Stop choosing a cocktail over dessert to conserve calories. Have both with Firefly's Southern Accents Liqueurs. The South Carolina distillery's new line comes in classic Southern dessert flavors, like pecan pie, banana pudding and peach cobbler. If you still feel guilty, know you'll be drinking an all-natural and purely Southern product.
Firefly Distillery, a vineyard and the largest micro-distillery in South Carolina, opened its doors four years ago and has been bottling up tastes of the South ever since. Scott Newitt and Jim Irvin (pictured on the right), the two Southern Gents behind Firefly, started with the Original Sweet Tea Flavored Vodka. There have been many copycat tea-flavored vodkas since, but they were the first and now sell four additional flavors (lemon, raspberry, mint and peach), light versions and a bourbon.
Asked why Firefly decided to transform the classic Southern refreshment into an alcoholic beverage, Newitt says, "Tea is the second-most consumed beverage in the world. I grew up drinking sweat tea and had been in the liquor business for 20 years. It all came together as an opportunity to express the South in liquor."
While paying tribute to the region – and the fireflies that light up the night sky along the Carolina coast – Firefly's spirits also contain ingredients direct from the South. "I like to use American ingredients, but if it's from the South, that's better," Newitt adds. "The sugarcane we use comes from Florida and Louisiana, and the only tea plantation in North America is next door to the distillery."
Firefly products are available at some national chains, such as Texas Roadhouse, Cheddar's, Outback Steakhouse, LongHorn Steakhouse, Red Lobster, and Wild Wing Café, and in liquor and grocery stores across the country.
Inspired by Irvin's grandmother's recipes, Southern Accents Liqueurs were only available at the distillery but are now being distributed throughout South Carolina. Pecan pie and peach cobbler will also be available in North Carolina and Virginia from October through December for the holiday season (move over eggnog!)
To get a taste of Southern Accents, you can also consider making a special trip to the distillery on Wadmalaw Island, 30 miles south of Charleston. For only $6, you can sample the liqueurs Tuesday-Saturday from 11 a.m.-5 p.m., as well as Firefly's flavored vodkas and other specialties, under the cover of hundred-year-old oak trees.
"We're always creating new ideas and recipes that enhance the Southern charm that Firefly Distillery, the South and our products are all about," says Newitt. "We're going to stick to our Southern roots no matter what." If the current three Southern Accents flavors continue to succeed, Firefly plans to add coconut cake, key lime pie, praline and beignet to the line.
Once you get your hands on some product, the possibilities for sipping outside the distillery are endless. While it's popular to mix the Original Sweet Tea Flavored Vodka with fresh brewed sweet tea or fresh squeezed lemonade in half-and-half proportions, recipes that utilize different mixers and products are available on the Firefly website.
If Southern Accents Liqueurs do come your way, they can be enjoyed straight up or with mixers. Below are three cocktail recipes to try this summer.
Additionally, you could also try preparing sweet tea margaritas or slushies using a frozen drink machine.
Banana BBQ-Tini
1.5 ounces Southern Accents Banana Pudding
1 ounce heavy cream
Shake with ice and strain into a martini glass. Float half an ounce of Firefly Sweet Tea Bourbon on top and garnish with a dried banana chip.
Peach Cobbler Smash
1.5 ounces Southern Accents Peach Cobbler
1 ounce heavy cream
1/2 ounce fresh orange juice
Shake with ice, pour into preferred glassware and garnish with an orange slice.
Pecan Souffle

1 ounce Southern Accents Pecan Pie
.5 ounces Firefly Sweet Tea Bourbon
1 ounce cream
Blend ingredients and dust with nutmeg.
Related Content: