It's Shark Week!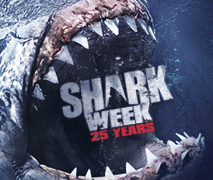 Nothing signals the end of summer more than Shark Week on The Discovery Channel. This year marks the 25th anniversary of the bitefest, and we're glad we got that beach vacation in before watching. Check out the Shark Week website for all the gory details, including a slideshow of the Top 20 Shark Attack Stories, including one by a surfer in Daytona Beach, Florida, often called the Shark Bite Capital of the World. There's also info on shark conservation, a shark cam in the Ocean Voyager exhibit at the Georgia Aquarium in Atlanta and the Top 25 Shark Moments in Literary and Pop Culture. Ernest Hemingway's "The Old Man and the Sea" is No. 24, and we're sure y'all can guess what No. 1 is. Here's a hint: The blu-ray version of the hit shark movie comes out August 14.
See the full Shark Week TV lineup here.
If you're in the Lafayette area, celebrate Shark Week at Jolie's Bistro with the "Charc Platter," a create-your-own charcuterie board of salty piggy bits. Shark bait for sure!