Sweet Potato and White Chocolate Cookies
MasterChef Season 3 finalist Josh Marks learned about cooking Southern comfort food from his grandmother. A native of Chicago, Marks attended Tougaloo College in Jackson, Mississippi, where he helped the school win its first basketball conference championship as one of the tallest centers in its history. After graduating in 2009, Marks chose the kitchen over the court and is now working in Jackson as a private chef. He agreed to share a holiday recipe with us, and we think his cookies make the perfect Thanksgiving dessert.
Sweet Potato and White Chocolate Cookies
courtesy of Josh Marks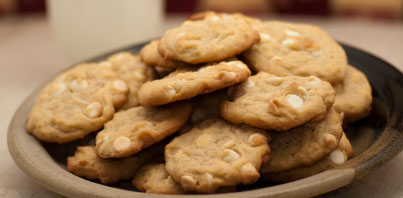 1 1/4 cups all-purpose flour
1 1/2 tsp baking soda
1 1/2 tsp baking powder
1/2 tsp salt
1/4 tsp cinnamon
4 oz. unsalted butter, softened
3/4 cup granulated sugar
1 large egg, room temperature
1 cup well-mashed or pureed sweet potatoes
1/4 tsp vanilla
1 tsp orange zest
1/2 cup white chocolate chips
Sift together the flour, baking soda, baking powder, salt and cinnamon into a bowl, and set aside. In another bowl, cream together the butter and sugar. Beat in the egg, sweet potato, vanilla and orange zest. Gradually beat in dry ingredients. Stir in white chocolate. Drop batter by teaspoonfuls onto lightly buttered cookie sheets, leaving about 1 1/2 inches between them. Bake in a preheated, 400-degree oven for 12-15 minutes, or until lightly browned. Cool on racks and store in an airtight container.