Chef Todd Richards' Greens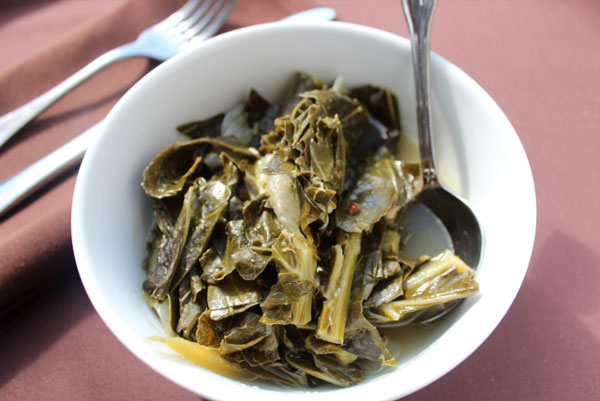 "If you're putting more than six ingredients in your greens, you're doing way too much," says Atlanta Chef Todd Richards of The Shed at Glenwood. Read more about Richards' philosophy on cooking Southern food in The Real Roots of Southern Cuisine. 
Bunch of seasonal greens
Cider vinegar to taste
Smoked meat, such as turkey
Crushed red pepper flakes
Sorghum (optional)
In a heavy bottomed pot, simmer cider vinegar with some water. Add a bit of smoked meat (Chef Richards prefers turkey) and continue to simmer. Add crushed red pepper flakes to taste, then add seasonal greens (collards are good for fall). Depending on the bitterness of the greens, finish them with a bit of sorghum. Cook until almost tender, then turn off as they will continue cooking.
Chef Richards prefers to prepare his greens a day ahead, but only refrigerates if serving them more than 24 hours later, since the vinegar is a preservative. If refrigerated, heat in a heavy bottom pot.
Photo courtesy of Chef Todd Richards.