Zelda Gets Her Day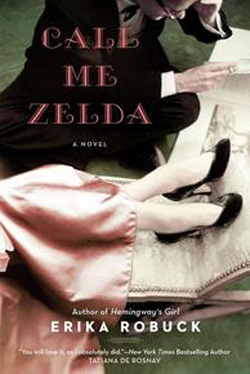 Two new novels pay homage to Zelda Fitzgerald in fictional accounts of her life and marriage. 
by Erin Z. Bass
"He thinks expression ruins me," a fictional Zelda Fitzgerald says in Erika Robuck's new novel "Call Me Zelda." "Why?" her nurse asks. "Because he thinks he should be enough for me. He needs me to orbit him. He wishes to pluck me from orbit when he needs me and then send me back once he's used me up."
In this way, Robuck sums up what so desperately plagued Zelda Fitzgerald after the party had ended as well as the fiercely competitive and tumultuous relationship between she and husband F. Scott Fitzgerald.
"Call Me Zelda" opens with Scott dropping Zelda off at Phipps Psychiatric Clinic in Baltimore in February of 1932. Zelda is worn out, in poor health and afraid of Scott. Subsequently, Scott is near a breaking point himself, chain smoking, worried about Zelda, drinking all the time and threatened by the novel she's writing.
Robuck sets the scene for the portrait of a once loving marriage that's become controlled by money, fame, alcohol and ambition. This is Scott and Zelda at their wit's end, and Robuck portrays it all through the eyes of Nurse Anna, who meets Zelda the day she enters the clinic.
As Zelda heartbreakingly struggles to find a creative outlet and identity that's separate from her husband, Nurse Anna tries to rebuild her own tragic life and not succumb to the glamour and fame of the Fitzgeralds. Anna is increasingly drawn into their relationship, remaining a loyal friend to Zelda while also sympathizing with Scott as he struggles to provide for his family financially and protect daughter Scottie from all the madness.
As Anna becomes privy to Zelda's most intimate confessions and learns that her precious diaries, stolen by Scott, are now lost, she sets out on a mission to try and save Zelda and give her back at least a small piece of herself.
A beautiful story about friendship, the trials of marriage and a woman clinging to her sanity, "Call Me Zelda" is a great introduction for those who want to get to know Zelda Fitzgerald. Following last year's "Hemingway's Girl," Robuck once again draws the reader in with great attention to detail, historically accurate anecdotes and the ability to tell a good story about a once-famous couple with an important place in literary history.
In a different way, Therese Anne Fowler's "Z: A Novel of Zelda Fitzgerald" also tells Zelda's story. Beginning with a 17-year-old Zelda in 1918 Montgomery, Alabama, Fowler goes step by step in chronicling Zelda's relationship with Scott. Written in the first person from Zelda's point of view, "Z" reads more like a fictionalized biography and at times feels cliche, but as the honeymoon for Scott and Zelda ends and the drama escalates, readers will want to find out what happens.
Of course, most fans know how the lives of Scott and Zelda end, but Fowler offers up all the juicy details. From Zelda's unwanted pregnancies to Scott's early dalliances with other women, their struggle to manage their money and attempts to find peace by moving around the country, the breakdown of the Fitzgeralds' marriage plays out like only the best romance stories can.
What's important to note about both of these books is that they show both Scott and Zelda at their best and at their worst. Both were human, flawed and each loved the other one completely. Theirs is a love story that will continue to be told over and over. The old adage they couldn't live with each other but couldn't live without each other applies. As much as Zelda struggled to find her own voice and identity, she also supported her husband, his work and his dreams.
As Scott's "The Great Gatsby" opens in theaters once again, he'll get his day but so will Zelda this time thanks to two authors who took the time to tell her story.
See more books about Scott and Zelda in our Gatsby Companion Reading List. 
Related Content: 
Blame It on Scott and Zelda
Superzelda to the Rescue
New Year, New Montgomery