Welcome to the St. James Hotel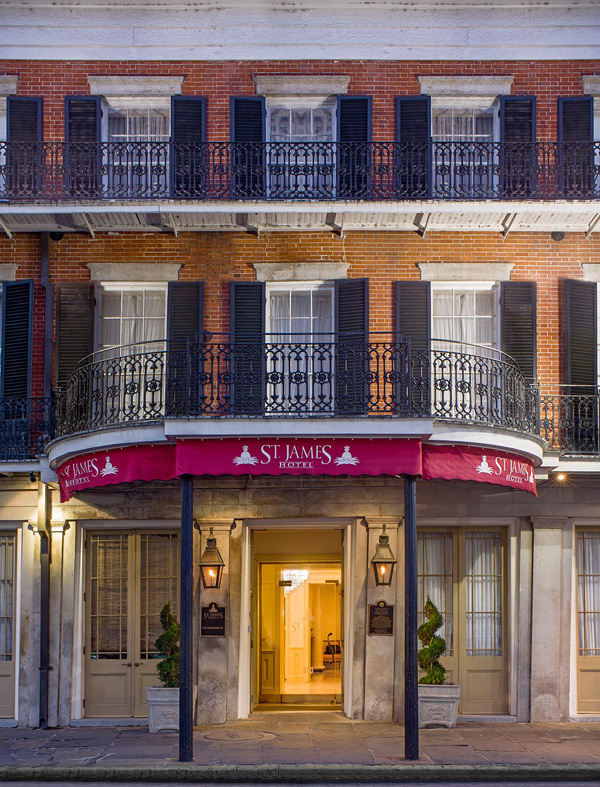 Spend the night in what was once the heart of New Orleans coffee and sugar trade. 
Review by Erin Z. Bass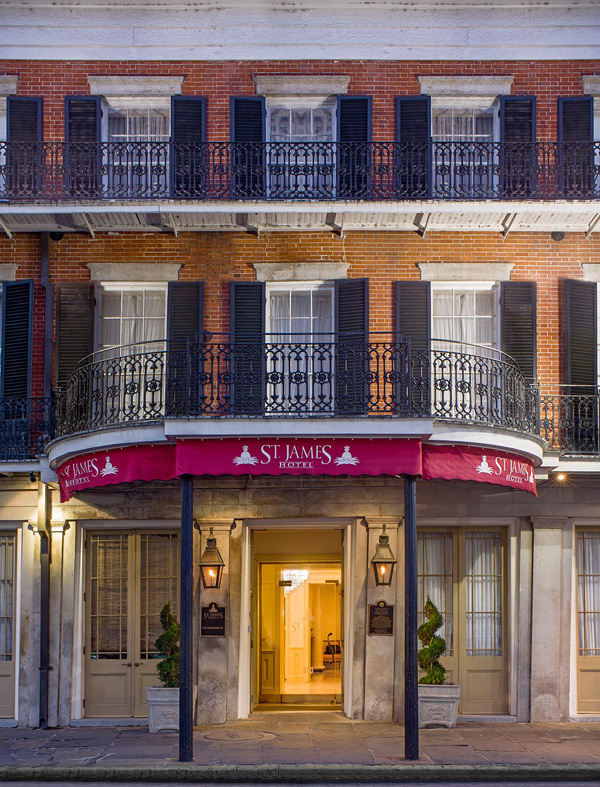 Like most buildings in New Orleans, the St. James Hotel has a legend of its own. The story goes that during the early 19th century, trade between New Orleans and the West Indies brought thousands of immigrants from the Caribbean, among them a merchant named Che.
In 1833, the Banks Arcade was built for Thomas Banks to give American merchants a place to trade. Che leased a shop on Magazine Street there and became notorious for having insider information on the French merchants. One night in 1851, French merchants set fire to his store. After the flames were out, there was no sign of Che. The news of his death led the highest voodoo priestesses to conduct rituals that would deliver his spirit home to the Caribbean, but this procession was abruptly interrupted.
Eight years after Che's disappearance, the Banks Arcade was renovated and the original St. James Hotel built. It was a fine hotel, but the grandeur was short-lived. During the Civil War, from 1861 to 1865, the hotel became a Union hospital. In their last moments, soldiers described visions of island heavens so beautiful that it seemed they were drawn into death willingly. It is believed that the passage voodoo priests opened for Che's spirit remained open and became a port through which spirits of soldiers traveled into the next life.
Today, the St. James Hotel is located in the Banks Arcade on Magazine Street and next door to the grand Board of Trade Plaza. Its British West Indies theme honors Che, so his legend can live on in the beauty of the island heavens.
The 86-room hotel received a top to bottom interior makeover in October of 2012 that resulted in new mattresses, bedding, televisions, wood floors and a new lobby. Rooms still retain their Caribbean charm with the hotel's original parrot lamps on bedside tables and wood beams on the ceiling in the upper floors.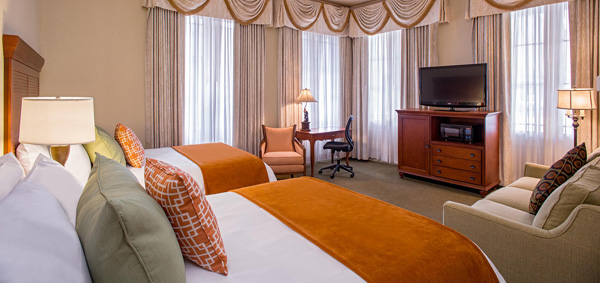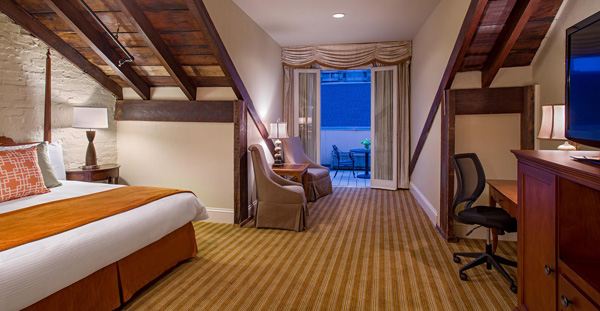 Five rooms have their own balcony overlooking downtown New Orleans, and phase two of the renovation will landscape an outdoor courtyard and pool area. Next door, the Chophouse Restaurant is open for dinner and happy hour in the courtyard. Complimentary wifi is available throughout the hotel, an onsite business center is in the works and free passes are available to a nearby gym for those guests wanting to work off that shrimp poboy.
A night or two at the St. James will put you about two blocks from the French Quarter and a short stroll from the streetcar line, a desirable location for peace and quite and restful sleep before exploring the city. We didn't see any sign of Che during our stay in March, but a woman in a floral dress is also said to roam the halls, leaving a sweet floral scent in her wake.
The hotel's pineapple logo (the robes are printed with them) calls to mind its West Indies roots but also its spirit of hospitality. All are welcome at the St. James, even the spirits.
Rates at the St. James Hotel average $129 a night. Guestrooms range from standard with a king or queen bed to executive suites with a parlor and pullout sofa bed. Each come with cable TV, a mini-refrigerator, free wifi, in-room safe, complimentary newspaper, a coffeemaker and more. Check-in is 3 p.m. and checkout is 11 a.m.
Photos courtesy of St. James Hotel.
Related Content: 
Biking New Orleans' Northshore
The Elusive Ramos Gin Fizz
It's a Good Night at The Alluvian