Carl Hiaasen's Most Memorable Characters
With the release of "Bad Monkey" today, Florida author Carl Hiaasen adds yet another cast of characters to his repertoire.
Longtime reporter for The Miami Herald and Florida native Carl Hiaasen's 13th novel "Bad Monkey," one of our Summer Reading List picks, comes out today. Always fun summer reads filled with zany casts of characters, Hiaasen's books are hard to forget. Starting with 1986's "Tourist Season," about a terrorist cell led by a renegade newspaper columnist named Skip Wiley that believes the only way to save Florida's natural beauty from the destruction of tourists is to stop them from coming, Hiaasen continues to weave in themes of environmentalism, overdevelopment, corruption and tourism into his stories.
Traveling from small Florida counties to the Everglades, Keys, Miami Beach, the Bahamas and all points in between, Hiaasen's stories are hilarious romps through the state with a lesson thrown in to make his point. His latest novel, "Bad Monkey," centers around a human arm found in the freezer of a Miami police officer and includes characters like a voodoo witch whose lovers are blinded-unto-death by her particularly peculiar charms, a kinky medical examiner and of course Bad Monkey, who's already said to be on his way to becoming one of Hiaasen's greatest characters.
In celebration, we rounded up some of our past favorites, ranging from a former Florida governor who has a recurring role in Hiaasen's work to a security guard disfigured by an electrolysis freak accident and a single mother irritated by telemarketers.
1. Chemo – Our favorite by far, Blondell Wayne Tatum, called "Chemo," was orphaned at the age of 6 and committed his first crime at 16. Now an adult, he's been disfigured in a freak accident during an electrolysis procedure to remove two ingrown hair follicles from the tip of his nose. He killed the doctor at fault, but his appearance is described as "breakfast cereal, like someone had glued Rice Krispies to every square centimeter of his face." In 1989's "Skin Tight," Chemo is being helped by plastic surgeon Rudy Graveline who offers him a discount on dermabrasion treatments in exchange for killing former state investigator Mick Stranahan. During his second failed attempt, Chemo must dive off the balcony of Stranahan's stilt house in Biscayne Bay and his hand is bitten off by a barracuda. Instead of a conventional prosthesis, he chooses a portable weed whacker. (Readers meet Chemo again in 2010's "Star Island.")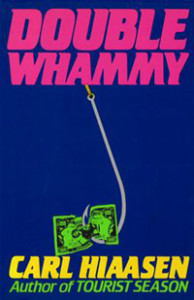 2. Skink – Clinton Tyree, known as Skink throughout several novels, was governor of Florida in the 1970s. Vehemently opposed to unregulated growth in his home state, he becomes so discouraged by bribery and corruption that he becomes a wild hermit and adopts the name Skink. He first appears in 1987's "Double Whammy," working as a bass fishing guide and living off roadkill. Readers find out more about him in "Native Tongue," "Stormy Weather," "Sick Puppy," "Skinny Dip" and "Star Island." Wherever he goes, he travels with a library of books, listens exclusively to music from the 1960s and '70s, and he has a glass eye.
3. Honey Santana – The star of 2006's "Nature Girl," Honey Santana is a most likely mentally ill single mom not to be messed with. Irritated by telemarketers, she invites Boyd Shreave, who has the nerve to call during dinnertime, and his mistress Eugenie Fonda to Florida under the guise of a free trip. At the same time, she's dealing with her perverted ex-boss and owner of the fish market Louis Piejack, who wants to kidnap her and make her his sex slave. She's already used a crab hammer on his testicles after he groped her. Honey proceeds to teach the telemarketers a lesson during a kayaking trip but lands on Dismal Key, where she's snatched by Piejack. She escapes and goes back home, but the next time the phone rings during dinner, her son, Fry, worries it will start all over again.
4. Jimmy and the Slut Puppies – The fictitious band of lead singer Jimmy Stoma, who suspiciously died diving in the Bahamas in 2002's "Basket Case," Jimmy and the Slut Puppies are thought to be based on Nirvana. Jimmy's wife, Cleo Rio, may have killed him to help promote her upcoming album, and newspaper obituary writer Jack Tagger tracks down other band members to find out what they think happened to him. The Slut Puppies bass player tells him Cleo killed her husband because she wanted a song from the album he was working on. ("Basket Case" is the name of Jimmy Stoma's former hit song, and in real life, Hiaasen's friend Warren Zevon recorded it on his 2002 album "My Ride's Here.")
5. Chaz – Introduced as "[maybe] the only marine biologist who doesn't know which way the Gulf Stream runs" on the jacket of  2004's "Skinny Dip," Chaz, aka Dr. Charles Regis Perrone, is young, lazy, obsessed with his sexual stamina and driven by greed. He enters into a deal with a crooked farm owner to forge water sample test results for polluted fields next to the Everglades. Chaz becomes afraid his wife might find out what he's up to, so he throws her overboard during a cruise. Unbeknownst to Chaz, she survives and is rescued by Mick Stranahan (making a return appearance from "Skin Tight"). She sneaks into their house and leaves traces of herself to scare him, causing Chaz to become impotent for the first time. Just as he prepares to fake his death and start over in Costa Rica, he's kidnapped and taken to the Everglades, where he escapes into the swamp.
6. Cherry Pye – The "star" of 2011's "Star Island," Cherry Pye became famous after appearing in a Nickelodeon after-school special and is now an inflated pop star. Her parents are partly to blame for encouraging her despite her lack of talent, but now at 22, she's addicted to alcohol and drugs and sexually promiscuous. Her body double, Ann DeLusia, stands in when Cherry is too intoxicated to make public appearances, but when Ann is mistakenly kidnapped by an obsessed paparazzi photographer, Cherry's parents and publicist agree to let him photographer the real star. The shoot takes place at Star Island, and Cherry is told she's posing for the cover of Vanity Fair. When things don't go as planned, Cherry ends up in rehab again and eventually the star of her own reality show on TLC. (Skink and Chemo both make return appearances in this novel, with Skink trying to rescue Ann and Chemo guarding Cherry from herself.)
Illustration of Carl Hiaasen from Columbia Journalism Review.