Missy Raines and Her "New Frontier"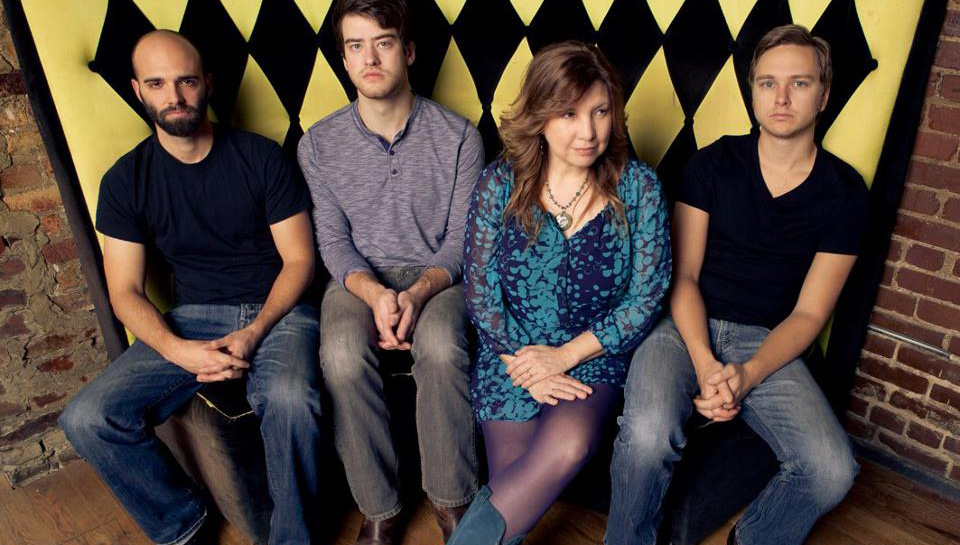 Bluegrass star Missy Raines and her band leave their comfort zone in the dust on a new album. 
"It's been a long time coming, but I knew you'd find me here." – title track of "New Frontier" 
On Missy Raines And The New Hip's "New Frontier," Missy Raines presents a drastically changed sound that's more Radiohead than Earl Scruggs. In a move that Raines attributes to her natural musician's curiosity, she hops on the indie Newgrass train to light out for new territory, along with bands like The Avett Brothers, The Civil Wars and The Lumineers, who have helped to popularize Americana and bluegrass by seamlessly blending their mandolins, banjos and heartfelt lyrics with harmonic guitars and pop sound structures.
A West Virginia native, Raines alone boasts impeccable bluegrass credentials, as a seven-time winner of the International Bluegrass Music Association's Bass Player of the Year Award. After touring as a bassist with Jim Hurst and the Claire Lynch band, Raines formed a band of her own with Ethan Ballinger, Dillon Hodges and Michael Witcher, who released "Inside Out" in 2009. While "New Frontier," a Kickstarter-supported effort, serves as a definitive departure from her bluegrass roots, Raines and the New Hip, along with guests such as Zach Bevill of The Farewell Drifters, sound like indie veterans, seamlessly incorporating Americana, garage rock and acoustic jazz.
"New Frontier" serves as the first all-vocal album from the Nashville-based outfit, where Raines's voice, at times plaintive and pleading, fierce and blustery, really shines. The New Hip also makes excellent use of a ringing, almost distant electric guitar, layering Strokes-esque solos with bluegrass staples, such as mandolins and acoustic guitars. It makes for an incredibly interesting, multi-faceted sound, where Raines really proves that polished experimentation is possible. "New Frontier" is most impressive in its ability to pay homage to the band's bluegrass roots while incorporating a panoply of new influences and instruments.
Raines comes out strong, baptizing old fans with fire on the first track, I Learn. With a noticeable absence of traditional bluegrass instrumentation, The New Hip starts with a garage rock-inspired number with a throbbing bass line and blistering guitars. What's the Calling For also features driving guitars, along with a brilliant incorporation of the mandolin – like a Newgrass Black Dog. Raines's self-professed love for indie rock can also be heard on Kite, Where You Found Me and the title track New Frontier, with the latter seeming like an outtake from a Bon Iver album.
As you might expect from an album called "New Frontier," many of the songs are devoted lyrically to the idea of moving on, from not only bad boyfriends and relationships, but also the stagnant, the toxic, the former. On the mostly acoustic Long Way Back Home, Raines hearkens back to the spiritual imagery often found in bluegrass while also acknowledging the uncertainty that comes with moving forward. "Sometimes the only difference from a pilgrim and a prodigal son is the dream that you began and the thing that you've become," she croons.
Many of Raines's more contemplative pieces feature minor tonality and jazzy, ringing guitars, like Nightingale and When The Day Is Done. The latter features a killer stripped-down verse, with Raines carrying the song in her dusky alto almost alone. Long Way Back Home and American Crow are also largely stripped-down affairs, while also paying homage to The New Hip's bluegrass roots. American Crow in particular closes the album magnificently by bringing the sound back around to its roots, finishing "New Frontier" on a drastically different, much softer note than opener I Learn.
"New Frontier" covers a ton of ground, as Raines experiments with sound and expands her musical horizons, inviting listeners to ride along with her on this artistic expansion. Raines's voice really sets the album apart, keeping the feel at times fierce and almost aggressive and then dialing down to a much more vulnerable, contemplative place. The juxtaposition of pop orchestration, lo-fi guitars and mandolins make for an incredibly interesting, layered sound.
The New Hip not only tag along with bands such as the Avetts and Churchill, but also add their own brilliance to the swiftly growing collection of Newgrass artists that have brought Southern music to the mainstream. The New Hip leaves fans and listeners at a fantastic crossroads: the Missy Raines they're used to, and her New Frontier.
"New Frontier" will be digitally released by Compass Records on August 27 and is currently available for pre-order here. See Missy Raines and The New Hip on September 14 in Nashville for their CD release party, September 16 in Knoxville and October 4 in Juliette, Georgia.