American Horror Story: Coven Location Guide
Filmed in New Orleans, this season of "American Horror Story" takes viewers to some of the city's oldest mansions, a notorious haunted house and possible fountain of youth in City Park. 
Compiled by Anne Wheeler 
Scroll down for a map of all the locations, and see our Facebook album with pics of Emma Roberts and Evan Peters spotted in New Orleans here. Enjoy our complete American Horror Story Coven: Location Guide.
 EPISODE 1: BITCHCRAFT
Miss Robicheaux's Academy aka Buckner Mansion
1410 Jackson Ave. in the Garden District
The Buckner Mansion was built in 1856 by cotton magnate Henry S. Buckner. The mansion was built to outdo his ex-business partner's well-known Stanton Hall mansion in Natchez, Mississippi. The Buckner Mansion has galleries on three sides, an amazing honeysuckle motif cast iron fence and a triple ballroom. The mansion served as a home to the Buckner family until 1923, when the prestigious Soule Business School moved in. Soule was the best business school in the South until it closed doors in 1983. The mansion is now a private residence, available as a vacation rental for the tidy sum of $20,000. According to the show's Facebook page "Extreme precaution was taken to not damage the 156-year-old mansion." It's a popular photo spot in the Garden District though, so join the other fans parked in front for a photo opp.
 Buckner Mansion in a promo for the show (via American Horror Story)
The plaque outside the gateway
Tau Omega Alpha Fraternity House aka Round Table Clubhouse
6330 St. Charles Ave. across from Tulane University
The property located at 6330 St. Charles Ave. sits across the street from Tulane and borders Audubon Park. The building has served as a clubhouse for The Round Table Club since 1919 and provides ample meeting and social space on the lower floor and has housed club members in the bedrooms over the social space. The Round Table Club was founded in 1898 as a social club with interest in literature, art and science. The club is still active, hosting lectures each Thursday evening, from October through June, and is available as an event venue for weddings and other social occasions.
The adjacent Audubon Park is an active production site for "American Horror Story: Coven," as evidenced by the large hospitality tent located on the park grounds. The tent is visible from St. Charles Avenue and the park grounds.
Lalaurie Mansion aka Madame Lalaurie's House of Horrors
1140 Royal St. in the French Quarter
The highlight of every French Quarter ghost tour, the Lalaurie Mansion (pictured above) stands at the corner of Royal and Governor Nicholls. The mansion was finished in 1832 and included an attached slave quarters. Madame Lalaurie owned the property in her own name and lived in the house with her husband and two of her daughters. The story goes that a fire ravaged the Lalaurie Mansion in 1834. Bystanders broke down the doors and found several mutilated slaves imprisoned in the attic and at least one chained to a stove in the kitchen. After the tortured slaves story circulated throughout New Orleans' high society, the mansion was ransacked by a mob. Madame Lalaurie fled the city, likely to an apartment in Paris, never to be seen again. The mansion remained in a ruined state until 1836, when it was restored in a manner that made the building unrecognizable by 1888. The building eventually became a furniture and barber shop, girls' high school, music conservatory and, at some point, the Haunted Saloon and luxury apartments. The mansion was converted back to a private home and has been owned by the likes of Nicholas Cage, who lost the property due to back taxes in 2009. A few years ago, several graves were found on the property, but Madame Lalaurie's whereabouts are still unknown. Texas energy trader Michael Whalen is reported to be the new owner of the home. See nola.com's interview with his interior designer and photos here.
THE REAL MADAME LALAURIE AND OTHER LEGENDS FROM AMERICAN HORROR STORY: COVEN
 On a recent weekend, the house was modestly decorated for Christmas and it wasn't uncommon to see two or three ghost tours stopped in front at night.
Gallier House aka the exterior of Madame Lalaurie's Mansion
Nan stops at the Lalaurie mansion during the witches walk. Exterior shots used in the show are the Gallier House, a mid 1850s building, designated as a National Historic Landmark, and operated as a historic house museum. The house was built by prominent New Orleans architect James Gallier Jr. and features full furnishings typical of 1850s New Orleans, a courtyard garden and slave quarters. The house is open to the public for tours.
Hermann-Grima House aka the interior of Madame Lalaurie's Mansion
In the episode's opening scenes in Madame Lalaurie's parlor, the Hermann-Grima's yellow walls, red curtains and crystal chandelier are noticeable. This house is an 1831 Federal mansion, designated as a National Historic Landmark, and also operated as a historic house museum. The Hermann-Grima House has the only 1830s open-hearth kitchen and horse stable still in existence in the French Quarter and has been painstakingly restored to depict the lifestyle of an affluent Creole family in 1830s New Orleans. The house is open to the public for tours.
 Parlor at the Hermann-Grima House
Kathy Bates as Madame Lalaurie
Popp's Fountain
30 Zachary Taylor Dr. in City Park
Mentioned at the tail-end of the episode as "a kind of holy place for our order" by Jessica Lange during the witch walk through the French Quarter, Popp's Fountain wasn't shown but could become a symbolic spot in the future. John F. Popp, a prominent businessman, donated money to City Park in 1917 for the City Park Bandstand. He died shortly after the bandstand's dedication and, upon his death, his descendants donated additional money to the park to build a fountain in his memory. The fountain and a promenade supported by 26 Corinthian columns was dedicated in 1934. The Works Progress Administration added tile walkways and landscaping and contracted Enrique Alvarez to sculpt a bronze fountainhead in the design of leaping dolphins. Popp's Fountain was restored in 1999 but suffered extensive damage in 2005 from Hurricane Katrina. The fountain flowed again in 2007 and is now fully restored and available as an event space for weddings and galas.
Vacherie Restaurant from the Witches Walk 
827 Toulouse St. in the French Quarter
Located on the first floor of the Hotel St. Marie, at the corner of Toulouse and Dauphine Streets, Vacherie consists of a restaurant, bar and cafe. Its little gold sign was readable when the witches walk through the French Quarter. The restaurant is named for a small community situated on the banks of the Mississippi River west of New Orleans in Plantation Country. Chef Jarred Zeringue grew up there, and his menu is inspired by his hometown. The cafe serves breakfast, sandwiches, salads and carryout items. The restaurant's dinner menu includes items like Gritcake and collards, fried green tomato and shrimp remoulade poboy, boudin-stuffed deep fried hen and Oysters Rockefeller with French bread. The bar also serves up a good selection of starters, along with cocktails of course. The bar and cafe are open seven days a week, while the restaurant serves dinner Monday through Saturday.
EPISODE 2: BOY PARTS 
New Orleans Adolescent Hospital where Zombie Kyle Rises Again
210 State St. Uptown
This hospital was once a pre-Civil War plantation brickyard and shoddy cottage fronting Tchoupitoulas Street. The site became the New Orleans Marine Hospital sometime in the mid-1800s and has since served as the Public Health Service Hospital and New Orleans Adolescent Hospital. The site is enclosed in a brick and iron fence with manned gaurdhouses. It's also overgrown and home to several feral cats since the New Orleans Adolescent Hospital left in 2009, so basically the perfect spot to stage the morgue Frankenstein boyfriend scene in episode 2. It was announced earlier this year that Children's Hospital has acquired and wants to reopen the old hospital, but not timeline for reopening has been set.
Update: In the comments, someone let us know that the interior morgue scenes were shot in the basement of International High School at 727 Carondelet Street. 
Maison Vitry aka Marie Laveau's Cornrow City Salon  
Corner of Dumaine and N. Prieur streets in Treme
Maison Vitry is a splendidly decaying manor located in New Orleans' Treme neighborhood. The house was built in 1855 by a free woman of color and features all the accoutrements of New Orleans' Golden Age: 14-foot ceilings, faux-bois treatments, cast ironwork and original moldings. The house is furnished with an eclectic mix of antiques, lots of gold-leaf and truly reflects the decaying splendor that is New Orleans. The house is available for rental at $350 a night, with a minimum three-night stay, and open for tours by appointment.
We've seen Maison Vitry in many episodes now, including when Fiona visits Marie Laveau at her salon/voodoo parlor and Cordelia does the same seeking help with her fertility problem.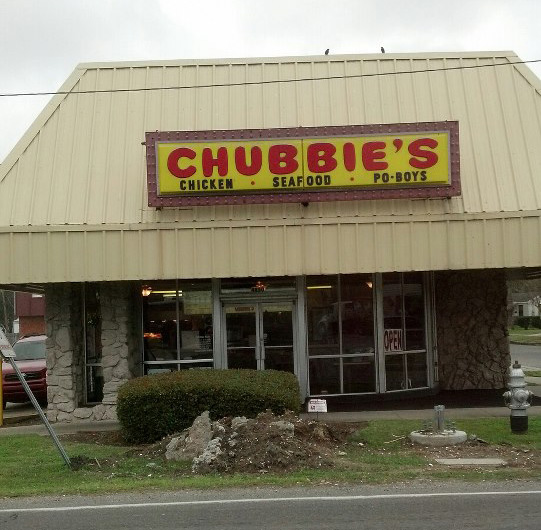 Chubbie's Fried Chicken where Queenie worked
4850 General Meyer Ave. on the Westbank
In this episode, we find out that Queenie is at Miss Robicheaux's Academy because she used her witchy voodoo to hurt a rude customer at Chubbie's by sticking her hand in hot frying oil. Later, in the second to last episode titled "Go to Hell," she goes back to the restaurant and is visited by Papa Legba, who tells her that frying chicken is her "hell" because it was the worst time in her life.
Crescent City Connection where Zoe drives Zombie Kyle to the swamp 
The Crescent City Connection (CCC) spans the Mississippi River, connecting the east and west banks of New Orleans. The CCC is the furthest downstream bridge on the Mississippi River and the busiest bridge on the lower Mississippi. The original span of the bridge was built between 1954 and 1958, with the second span completed in 1988. The bridge has been used in several films and television shows including, "Déjà Vu," "Treme" and "A Love Song for Bobby Long."
Bridge featured in a promo for the show (via American Horror Story)
The CCC serves as the background for the second episode scene in which Zoe is driving with the newly assembled Kyle, when Misty Day appears in the backseat, prompting their drive to the swamps. If the trio were driving across the Crescent City Connection in real life, they would instead wind-up in the land of pho restaurants, strip malls and Target.
Royal Street at the end of episode 2 
Royal Street is a block off of, and runs parallel to, Bourbon Street, from Canal Street to Jackson Barracks at the edge of Orleans Parish. Royal Street is home to posh antique shops and art galleries, selling centuries-old treasures, with prices much too rich for the averages tourist's blood. But the window shopping is exquisite. Royal Street of today could easily be confused with Royal Street of 200 years ago. Buildings along Royal are still graced with gorgeous wrought-iron galleries and balconies, making it easy to fancy seeing Madame Lalaurie, who lived at the corner of Governor Nicholls, or Marie Laveau passing behind a partially shuttered window.
In this episode, Fiona and Madame Lalaurie are shown sitting against a building on Royal Street, and then walking up the street toward Canal in the closing scene.
Same view down Royal Street
EPISODE 3: THE REPLACEMENTS
Cure where Fiona has a martini at the bar 
4905 Freret St. Uptown
Cure is a hip (it doesn't have a sign!), fancy-pants bar located on New Orleans' up-and-coming Freret Street. Cure is constantly topping "best" lists for its innovative craft cocktails and cool atmosphere. The bar's menu offers an ever-changing list of artisanal cocktails, and the shirt-sleeved bartenders can concoct anything to suit your pallet. Be sure to try the labor-intensive, but best in the city, Ramos Gin Fizz (tip your bartender well for this one), the daily $5 punch or seasonal White Witch.
At the beginning of episode 4 and in episode 5, Cure appeared once again and seems to be Fiona's favorite spot for a cocktail.
Atchafalaya Restaurant where Fiona and Madison have brunch  
901 Louisiana Ave. in the Irish Channel
According to the restaurant's website, Atchafalaya is New Orleans' only five "A" restaurant (get it?!). Atchafalaya is housed in an old shotgun house, beautifully renovated to reflect the building's history. Oh, and there's a giant cast-iron skillet plastered to the building's exterior. Atchafalaya's menu focuses on seafood and New Orleans fare. Be sure to visit for brunch (with live music) and dine on the likes of Duck Hash, Eggs Treme (with local boudin) and the Fried Green Tomato BLT, while repeatedly visiting the awesome Make-Your-Own Bloody Mary Bar.
Fiona and Madison have brunch and mimosas on the sidewalk at Atchafalaya Restaurant while out and about on their witchy girls' day.
Ninth Ward aka Kyle's home
The Ninth Ward is a geographic area of New Orleans. It is the largest ward in New Orleans and is the easternmost, downriver part of the city. The Ninth Ward is divided into three neighborhoods: Upper Ninth Ward, Lower Ninth Ward and New Orleans East, with the Industrial Canal separating the Upper and Lower Ninth Wards. The Ninth Ward was originally cypress swamps, which became the lower end of several plantations spanning from Lake Ponchartrain to the Mississippi River. The area has always been swampy and susceptible to flooding and, also, historically been home to a large black and immigrant population.
During the late 1800s, the Ninth Ward saw the birth of several African American benevolent associations and social clubs which birthed the activism that would later become key in the Civil Rights Movement. The neighborhood was a cornerstone in the desegregation of the Deep South with the arrest of Homer Plessy, and The McDonough Three's US Marshall-led integration of the formerly all-white McDonough 19 taking place within its boundaries. Several prominent figures in the arts hail from the Ninth Ward, including musicians Fats Domino, the Batiste family and Kermit Ruffins.
Hurricane Katrina brought the Ninth Ward into the national spotlight, when several levee breaches and the storm surge destroyed most of the area, including most housing stock. Since Hurricane Katrina, the ward has experienced a sort of rebirth with several prominent projects helping to rebuild the area, including the Musician's Village, spearheaded by Harry Connick Jr. and Branford Marsalis, and Brad Pitt's Make it Right.
In the first episode, Kyle offhandedly mentions he hails from the Ninth Ward. Episode 2 features a scene set in present-day Marie Laveau's Cornrow City Salon (see Maison Vitry above), located in the Ninth Ward, in which we are treated to a taste of New Orleans bounce, and Marie and Fiona practice a sort of voodoo vs. witchcraft brinksmanship that results in Fiona asking for an elixir of youth before being expelled from the salon. Also, wigs on fire. But we don't actually go there until Episode 3 when Zoe visits Kyle's cracked out mom in her shotgun house and later returns him to her.
EPISODE 4: FEARFUL PRANKS ENSUE
No new locations.
EPISODE 5: BURN, WITCH. BURN!
No new locations.
EPISODE 6: THE AXEMAN COMETH
The Victorian Lounge Bar where Fiona meets the Axeman
3811 St. Charles Ave. in The Columns Hotel
Thanks to the commenter who identified this bar as the one where Fiona meets The Axeman at the end of the episode. Known for its mahogany bar and 15-foot ceilings, this is a romantic spot for a classic cocktail or meeting with a serial killer. Happy hour is seven days a week from 5-7 p.m., and you can also spend the night by booking one of the hotel's 20 period rooms. We assume the flashbacks of the Axeman playing his saxophone in episode 7 were filmed here too.
We also wanted to address the Axeman of New Orleans and his ties to jazz in this episode. Believed to be a serial killer who was active in the city from 1918-1919, the Axeman attacked his victims with an axe, often their own. In a March 13, 1919, letter to The Times Picayune, he mentioned his fondness for jazz music. "I swear by all the devils in the nether regions that every person shall be spared in whose home a jazz band is in full swing at the time I have just mentioned," he wrote. "If everyone has a jazz band going, well, then, so much the better for you people. One thing is certain and that is that some of your people who do not jazz it on Tuesday night (if there be any) will get the axe."
Needless to say, people began filling the city's jazz clubs during that time. New Orleans still has some excellent places to hear jazz for those who continue to be afraid of the Axeman's wrath. He was never caught.
Snug Harbor
626 Frenchman Street in the Faubourg Marigny
This club has been serving up live jazz for more than 30 years and is popular with both Louisiana locals and tourists. Cabaret-type seating ensures an intimate musical experience with two shows nightly. Recent shows have featured Ellis Marsalis, Charmaine Neville and Uptown Jazz Orchestra.
Preservation Hall
726 St. Peter St. in the French Quarter
Founded in 1961 to protect and honor New Orleans jazz, this venue opens at 8 p.m. each evening and welcomes all ages. The Preservation Hall house band usually takes the stage along with guest musicians, and shows run until 11 p.m. Seating is also intimate here in a dancehall-type atmosphere.
EPISODE 7: THE DEAD 
Hell or High Water Tattoo Shop
2035 Magazine St. in the Lower Garden District
This episode opens with Kyle and his frat brothers in a tattoo shop. Toto's "Rosanna" is blaring, and a singing Kyle's pallor denotes that this is pre-zombie. As he and his friends decide what tattoos to get, Kyle leaves us with a few memorable one-liners, including "Toto is amazeballs" and "I don't want to walk into some big meeting with the mayor or governor and roll up my sleeves and have a little Saints logo or Wile E. Coyote or anything."
Ted's Frostop aka Queenie and Madame Lalaurie's late-night stop for fast food
3100 Calhoun St. Uptown
Queenie and Madame Lalaurie get the late-night munchies and head to Ted's Frostop for burgers, fries and Strawberry Cyclones. This is Madame's first experience with fast food, and she daringly suggests they supersize their order. She then goes on to proclaim it the most delicious food she's eaten in her entire life. Just look for the enormous mug of root beer in the sky, and you're there.
EPISODE 8: THE SACRED TAKING
No new locations.
EPISODE 9: HEAD
No new locations for the American Horror Story Coven: Location Guide.
EPISODE 10: THE MAGICAL DELIGHTS OF STEVIE NICKS 
We are looking into the location used for St. Ignatius Hospital. Please comment if you have information on this.
Lafayette Cemetery No. 2, site of the jazz funeral 
Washington Avenue at Loyola
Misty and Madison join a jazz funeral procession to the cemetery, where Madison proves she's just as powerful as Misty by waking a man from the dead and then hitting her over the head with a brick and leaving her in his coffin. Madison then dances through the cemetery twirling the shawl Stevie Nicks gave to Misty.
We see the cemetery again in the next episode during Nan's funeral. (photo from nola.com)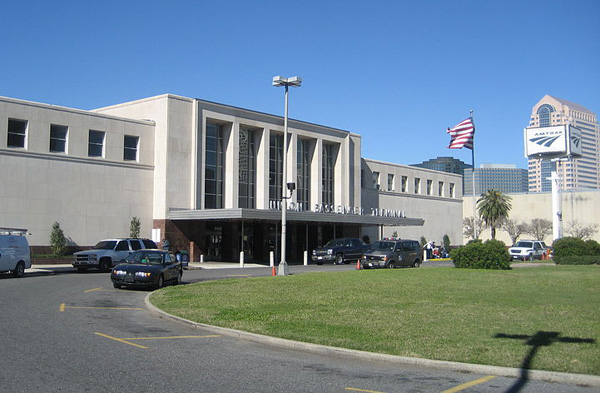 EPISODE 11: PROTECT THE COVEN
Greyhound Bus Station aka where Zoe and Kyle run away together into the night
1001 Loyola Ave. in the Central Business District
As trouble at Miss Robicheaux's escalates amid Zoe figuring out who killed Nan and Madison putting her powers to use, Myrtle Snow advises Zoe to take Kyle and leave the coven. "If you stay here, your life is in grave danger," Myrtle tells her. "Go, you and Kyle run away together and start your life over. If Madison doesn't end you, Fiona will." In what was one of the best sequences this season, the two lovers run through the bus station, luggage and tickets in hand, and hop onto a Greyhound. The episode ends with them smiling in their seats.
EPISODE 12: GO TO HELL
Hermann-Grima House, aka Madame Lalaurie's Mansion 
820 St. Louis St.
You can read more about this historic house and the Lalaurie Mansion in the episode 1 entry above, but when Kathy Bates is giving the tour of what is supposed to be the Lalaurie home, she is really in the Hermann-Grima. The Lalaurie Mansion is privately owned and not open for tours, but the Hermann-Grima is open Monday, Tuesday, Thursday and Friday from 10 a.m.-2 -p.m. for tours on the hour.
GENERAL INTEREST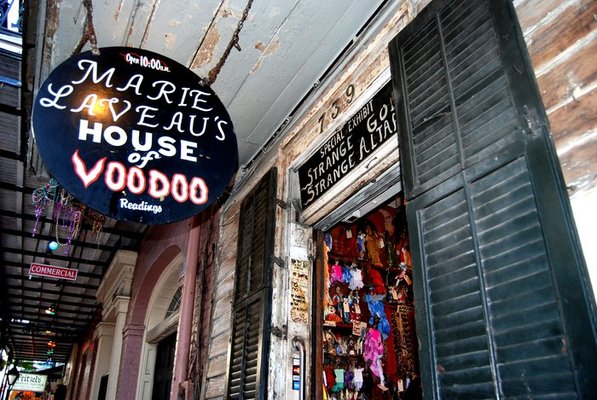 Marie Laveau's House of Voodoo
739 Bourbon St. in the French Quarter
Not mentioned specifically in the show, but this is the place to learn more about Voodoo Queen Marie Laveau and her potions and spells. Played by Angela Bassett, Marie Laveau is sure to become a more prominent character, and this shop carries spell kits, ritual and seance bags, spirit wangas, skeleton keys, talismans, candles, voodoo dolls and lots more. You must be respectful when entering the shop, and photography is not allowed. Readings are also offered here every day from noon until closing.
Tomb of Marie Laveau
St. Louis Cemetery No. 1, Crypt No. 3
Basin at St. Louis Street in Treme
Marked by a small plaque and several X's, the voodoo symbol that's part of a ritual for granting wishes, Marie Laveau's grave is a large, white, above-ground tomb. Laveau was a hairdresser by trade but became the most famous voodoo priestess in the country during the nineteenth century. She sold charms, pouches of gris gris, told fortunes and was even said to save condemned prisoners from execution. She was also Catholic, attending mass daily at St. Louis Cathedral and mixing holy water and incense in her voodoo rites. She is believed to have died in 1881, although her daughter, named Marie, continued to practice voodoo, so details can get confusing. She was buried in the tomb of her family husband. Some dispute this to be her final resting place and say it is her daughter who is buried there, but it's this gravesite that fans visit and leave all kinds of offerings. Tours of the cemetery are offered daily at 10 a.m. and also at 1 p.m. on weekends. Buy tickets here.
Update: In mid-December, Marie Laveau's tomb was vandalized and painted pink. It's believed the vandal wanted to paint over all the X's, but the type of paint used was latex and doesn't allow moisture to escape. Save Our Cemeteries is working on removing the paint and preservationists are also asking fans to refrain from marking the tomb with any more X's. 
Musee Conti Historical Wax Museum
917 Rue Conti in the French Quarter
Learn more about New Orleans history and some of its legendary characters, including Madame Lalaurie and Marie Laveau, at this hidden gem. Only a block and a half from Bourbon Street, New Orleans' wax museum has all the elements of a good ghost story: low lighting, chilly temperatures and even a hall of monsters. You'll find Madame Lalaurie torturing her slaves and Marie Laveau dispensing potions not far from the Battle of New Orleans, and the museum also has a general depiction of voodoo complete with wild dancing and snakes. The museum is open Monday, Friday and Saturday from 10 a.m.-4 p.m., and admission is $8 for adults.
The Swamp aka where Misty Rocks Out to Fleetwood Mac 
We realize this is pretty broad, but since we're not sure which swamp Misty is hanging out in while she blares Fleetwood Mac day and night, we thought we'd give visitors a few locations to choose from. There are swamps located just outside of New Orleans and then there is the Atchafalaya Basin, which stretches from Simmesport, Louisiana, to the Gulf of Mexico. A good starting point to explore the basin is around Lafayette, west of New Orleans, but there are also several excellent swamp tours not far from the city.
Honey Island Swamp 50 minutes from New Orleans is one of the least-altered river swamps in the country. Two-hour tours offered daily, year-round, are $23 for adults and $15 for children. An interesting tidbit from this tour is that before making "Song of the South," the Disney folks toured Honey Island Swamp and used it as the model for the movie. Cajun Pride Swamp Tours are accessible only 25 miles from New Orleans and travel through the Manchac Swamp with native Cajun captains. A 1.5-hour tour is $19 if booked online ($13 for children) seven days a week, year-round. Highlights of this tour include a haunted graveyard and authentic Cajun cabin like the one Misty lives in.
There are lots of tours available in the Atchafalaya Basin, many that include paddling, airboats and even houseboats for rental, but we recommend McGee's Atchafalaya Basin Swamp Tours. Three tours depart daily, and sunset cruises are also available. Cost is $20 for adults, $18 for seniors and $15 for children under 12.
Now that the show has ended, we are done live tweeting, but you can still follow @AynW for dispatches on life in New Orleans.