Tearing Down Tara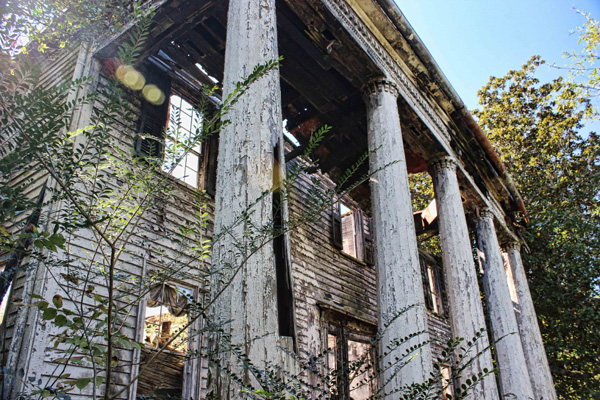 A Georgia preservationist and author seeks to save the South's architectural history one crumbling structure at a time.
Michael Kitchens approaches the front door as if he'd done it a million times before. He respectfully turns the rickety knob and walks inside, pointing out the craftsmanship of the door block moldings as he wanders from one room to the next. The original 1840s hardwood pine floors, oddly accessorized by deteriorating modern conveniences, speak to its once-upon-a-time strength and optimism for endurance. This Walton County, Georgia, home is unique; although abandoned, four walls still stand, and with a little investment love, it could be brought back to life. Unfortunately, many Antebellum homes share this problematic destiny, one of neglect and desertion. Michael Kitchens (pictured with his dog Bonnie) wants to change that fate.
It was in his 2012 book Ghosts of Grandeur that Georgia attorney-turned-author Kitchens took readers inside 94 Georgia Antebellum structures that only live in state historical sites and family memories. His compilation took over 17 years of research, which continues today as Kitchens widens his scope to include the entire South.
"For me, it's like hunting," he explains. "Some people like to kill a 10-point buck. I like finding a place that nobody knows about and finding the history of it."
Endless research in the library connects him to family histories, which lead to images that finally transport him back to in time. With his "only focus on what's gone" philosophy, Kitchens relies on information that has been preserved by families as well as state archives. Many times, neither source has evidence of a home's existence.
He remembers being 11 years old, rummaging through his grandmother's dresser drawers and old pockets books, eager at the thought of finding change or other treasures. He found himself asking questions and actually writing down the stories as she told them. This is what he hopes will be the result of people reading his books.
"My ultimate goal is a kind of  'Scared Straight' for houses," he says. "If you can see what we've lost, then hopefully more people will have more interest in either joining their local preservation society and working to save what's in their region or taking the documents and photographs in their own collection, chronicling them as to what they understand they are, and then make them available to archives."
As a young man, Kitchens fell in love with Antebellum houses, "the style, the symmetry, the columns, the Greek and Roman aspects." He also was intrigued with this particular moment in time, realizing that its dark side made it even more fascinating.
"Ever since I was little, I've read nothing but nonfiction about that period of the South," he says. "It's not just the houses; it's the entire atmosphere. No one wants to think about or contemplate slavery, but the houses were more than a building surrounded by a bunch of slaves. The way people lived fascinated me. They did have a genteelness. There were some that were mean as snakes, like in every society everywhere, but you could be a complete stranger and show up at the front door and these people would take you in. There was one case, they took a visitor in for seven years and never made him feel uncomfortable. To do that, and to do it on a grand scale and given what they had of tools and technology, to build these grand homes out in the middle of nowhere, the atmosphere around them – plants, trees, shrubs – compelling."
Certain homes and plantations stir Kitchens more than others, and he speaks of them more as children than designs of wood and stone. Their stories have become personal.
"There's the Hopeton out of Savannah," he says. "The owner [James Hamilton Couper] was Georgia's version of Thomas Jefferson. There's no photographs, not even a footprint of the house. It was built of tabby and burned in the late 1800s. The tabby was torn down and crushed to make roads." He continues, "I love Southend, the Thomas Spaulding house on Sapelo Island. I'm most infatuated by houses I can't get photographs on like Silvan Grove in Jackson County. Then, there's Captain Gartrells House in Atlanta, that was burned by the Yankees during the war. . . "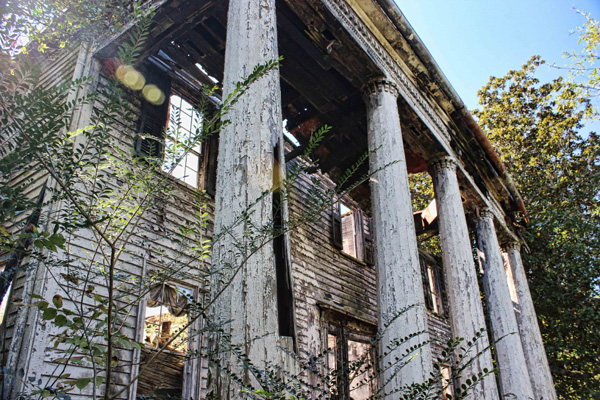 With each breath, Kitchens' excitement amplifies as he recalls the families, the homes, the gardens, the irrevocable loss.
". . . and Casulon Plantation [pictured] has one of the oldest gardens in North Georgia. They are still there but are consumed by weeds."
Although there is no accurate count of how many houses [in danger] that still stand, Kitchens proposes that the South has about 15 percent of its Antebellum homes remaining, and we are "losing them quickly."  He understands that restoration depends on funds, and in a bad economy these once glorious gems are not priorities.
"One thing a tourist wants to see is Tara," he contends. "We're tearing them down and letting them rot. What will people come to look at in the South in the years to come?"
This pre-1864 Southern, agrarian based society "tried to live up its ideal" in the midst of an ugly time. With the construction of these homes, they focused on the beautiful – the intricate gardens and landscapes and elaborate houses, plus the carpentry and beautiful wood carvings shaped primarily by skilled black labor. And, with their deterioration, that ideal crumbles.
"To me one of the great tragedies of the American South is that Southerners have been made to feel ashamed of their heritage predominantly because of the issue of slavery. Slavery was wrong; no one likes the idea of this. But let's remember that every large prosperous society in the world up to that point had slaves, all the ancient societies, no one denies that, but for the American South, they do. Because of that, they've let an entirely beautiful society be sullied entirely by one bad aspect. Every society has bad aspects. We're all human and do bad things, but those societies are rarely sullied by theirs."
It is not a time to become reticent to this adverse time in history. With the preservation of these homes, it becomes a chance to salvage the best of this era, to produce a living pathway for future generations to identify with the South.
As it becomes more and more rare for Kitchens to walk through these endangered homes, he attempts to photograph their history before it inevitably fades away. His desire is that people will understand the importance of preserving these structures, for it is not enough simply to view them in a book. The history lesson lies in being able to walk through the halls, into the living rooms, and essentially through another era.
As he does in the final pages of Ghosts of Grandeur, Kitchens elicits a call to action, a plea to record the words of older generations, identify photos and allow documents that are securely tucked away in trunks or boxes to see the light. He reiterates that same plea here.
Kitchens is currently working on future publications. His next book will be a continuation of Georgia homes, followed by one on Alabama, then Ghosts of Grandeur of the Deep South (the best of Georgia, Alabama, Texas, Florida, Mississippi, Louisiana) and Ghosts of Grandeur of the Upper South (the best of South Carolina, North Carolina, Tennessee, Kentucky, Arkansas, Virginia). He continues his research, primarily focusing on finding photographs to accompany his facts. If there are no photos, the home will not be included because the "reader won't get an adequate sense of the house."
Kitchens' holidays, weekends and vacations continue to be filled in search of these ghosts of grandeur as he attempts to save "Tara" and preserve an important part of the South's history at the same time.
Photo credits, from top: Michael Kitchens and his dog Bonnie on the porch of a historic home in Walton County, Georgia, that is in need of restoration; Birdsong Plantation in Oglethorpe County, Georgia, is a typical plantation home with columns replaced by poles and a roof that's caving in in back; Casulon Plantation in Walton County, Georgia, was included in Ghosts of Grandeur and the facade is all that remains of this stately mansion currently for sale; a historic circa 1790 home in Oglethorpe County that is one of the first houses built in the country, with a brick basement and log cabin built on top that's also for sale.
All photos by Full Circle Fotography.