The Legend of Frank Stanford
Revisiting an Arkansas cult poet whose work reads like a Southern tall tale. 
Down in the Ozarks, in the classrooms at the University of Arkansas, and in literary circles throughout the Deep South, one may come across the name Frank Stanford. But with little national recognition or acclaim in his lifetime, it's easy for this name to fall flat. Who was Frank Stanford? The answer is one shrouded in mystery and inaccuracies.
Like most great artists, Stanford was a complicated man, yet through his work, a reader can begin to deconstruct his thoughts, his experiences and follow the myth-making process of one of the South's greatest poets of the 20th century.
Frank Stanford was born in 1948 in Richton, Mississippi, the son of a widow, but was soon adopted by Dorothy Gilbert Alter. Alter then married Albert Stanford, a prominent levee engineer, and in 1961, the family moved to Arkansas. This would prove to be an important moment in Stanford's life, as the countryside of Arkansas, the rivers and backwoods, served as a constant source of inspiration for the young poet. Taking Stanford out of Arkansas is akin to extracting Faulkner from Mississippi; the writer and the place rely on one another intimately.
First discovered in a poetry class at the University of Arkansas, Stanford was quickly moved to a graduate writing workshop. His professor, James Whitehead, immediately recognized that he was no common student, and helped Stanford develop his talents. Despite this recognition, Stanford never did receive a diploma, leaving school to travel, marry his first wife Linda Mencin and focus more intently on his writing.
In his first book, The Singing Knives, published in 1971, Stanford introduces the world to his powerful, raw and distinctly Southern voice. In the title poem, Stanford details the life of Jimmy, one of his many reoccurring characters: "When Jimmy cut a throat / the eyes rolled back in the head / Like they was baptized / I tell you / When he cut a throat / It was like Abednego's guitar / And the blood / Flew out like a quail." The marriage of beauty and violence is a common theme throughout Stanford's work, almost as if one could not exist without the other.
Stanford's poetry reads like wild, Southern folklore. There are pigs and guns, levees and live oaks, and a cast of recurring characters who populate this strange, yet familiar, Southern Gothic landscape. In one of Stanford's longer poems, "The Snake Doctors," he recounts a long, twisting tale of redemption after a cast of outlaw men slaughter his pig. In return, the speaker of the poem extracts revenge on the gang, hunting them down one by one with the help of his own collection of friends. This long poem focuses on the characters of the South, those who oppose and aid the young speaker.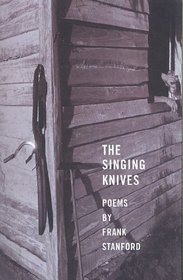 At the end, exhausted and injured, the speaker retreats into the comfort of others: "I was sleeping in the Negro's lap / He was spitting snuff on my wounds / Born in the Camp With Six Toes cut me with a knife / Baby gauge sucked the poison out / Oh Sweet Jesus the levees that break in my heart."
If it's not the stunning imagery that grabs the reader, it's Stanford's frankness (no pun intended). In a similar vein to the William and Frost tradition, Stanford is a poet ruled by his images, providing very little contemplation or explanation for his often bizarre imagery, but instead, allowing the actions to speak for themselves. Stanford is a storyteller, constructing his Southern tall tales out of dark, intriguing characters, a rural landscape and the unexpected following every line break.
In just 29 years, and only a decade of those doing serious writing, Stanford published 10 books of poetry, including his magnum opus, The Battlefield Where the Moon Says I Love You, which was published just a year before his suicide at home in Fayetteville. With such productivity in a short span of time, one can only wonder how many other books Stanford could've penned had he lived a longer life. With his unique and region-driven style and voice, Stanford will always be remembered as a true poet of the South.
In his best work, it is his unbridled wildness, the spirit and vitality of his lyric that will remain with the reader. In "The Pump," Stanford demonstrates this spirit as the poem ends on one such example of the poet's freedom and will: "Sometimes the pump seemed like Jesus. / I liked bathing buck naked / Under the pump / Not in a goddamn washtub."