Nashville's Coffeeshop Culture
Where to find the best cup of brew, along with a few celebrities and a light lunch, in Music City.
by Sara Mitchell
Nashville's name was first put on the coffeeshop map back in 1996, thanks to a cinnamon roll with a marked resemblance to Mother Teresa. The Nun Bun, as it was affectionately known, attracted the attention of CNN, David Letterman and even Mother Teresa herself. For years, the famous bun — brushed with gold dust and filled with all kinds of preservatives — drew crowds from around the world to its venerable home, Bongo Java. Then, sadly, on Christmas Day of 2005, some zealot fans (pure speculation) broke into the cherished coffeeshop and stole the famous bun. To this day, an outstanding reward of $5,000 waits for anyone with information leading to the location of the prized Nun Bun.
The Nun Bun may be gone, but its legacy lives on in the independent coffeeshops that now percolate every Nashville neighborhood. All give a nod to the atmosphere and ingredients that make Bongo Java a success: strong coffee, fresh food and an atmosphere that bends the lines between coffeeshop, restaurant, bar and music venue. If you want to feel the creative spirit and energy that is Nashville, try visiting one of these independent coffeeshops. This is where the songwriters, artists and thinkers in town can be found on any given day.
There is an art to a successful independent coffeeshop, and the city of Nashville has perfected the form. Why does this city seem to have more independent coffeeshops per capita than its Southern peers? Maybe this city just likes to relax and savor the moment. Maybe it appreciates a good 'ole cup of joe and a vegan muffin. Or maybe, the high number of artists creates a demand for a workspace with nonstop supplies of caffeine. Either way, there appears to be a few understood requirements when establishing a Nashville coffeeshop. First, the shop must be locally owned and make every attempt to use local or responsibly sourced products. You can find a Starbucks anywhere, and Nashvillians relish the spontaneity of a new experience. Second, fresh-baked breakfast and bakery items are a must. When splurging on a calorie-packed muffin or danish, you want it to be fresh and tasty, and not seen again on your next visit. Third, and most importantly, character, charm and quaintness need to ooze out of every element of the room and porches (this city is all about porches), from the walls (local art seems to work) to the furniture (comfy and worn or industrial) to the display case (handwritten signs and a wide variety of dietary concerns).
Bongo Java (Belmont)
Best for: Creative types and outdoor seating
The former stately home turned coffeeshop next to Belmont University in Nashville's trendy midtown area has been a haven for students, musicians, artists and intellectuals since the early 1990s. Walking into Bongo Java feels like entering a favorite relative's home. Worn wood floors, fireplaces, a library, hidden nooks for quiet working, comfortable and sturdy furniture and yummy smells invite you to linger. You have the standard coffeeshop fare: an alternative and slightly surly staff, breakfast items of the fresh-baked yet granola hippie-type and an environmentally conscious attitude toward waste, but the real show-stealer here is the coffee. Bongo Java serves only organic, fair-trade coffee sourced from around the world. Popular roasts include  "Hair of the Dog," "Charbucks" and "Made in the Shade." Brews change daily so you are sure to sample a different roast each time you go, and Bongo Java Roasting Co. supplies several restaurants in town so you may have already sampled their brews without knowing it.
Fido (Hillsboro Village)
Best for: Stargazing and weekend brunch
Its name being a tribute to the former pet store that occupied the shop's space, Fido is another hit from the Bongo Java group. Located less than a mile from Bongo Java, Fido serves the students from nearby Vanderbilt University, musicians from Music Row and downtown commuters. Fido now focuses as much on its food as its coffee, serving high-quality, gourmet fare with daily specials usually featuring a few fish offerings and fresh salads with local cheeses and vegetables. Breakfast staples like their famous bagel sandwiches and homemade muffins are still on the menu.
Just try to bypass the dessert case without splurging while you wait in line. Fido has become a prominent destination for locals and tourists alike, eclipsing the success of its predecessor. Both are worth a visit, and both serve the signature Bongo roasts, but be prepared to deal with lines at Fido. The word is out on this one and frequent visits from Taylor Swift and her boyfriends du jour have elevated this spot to the glossy pages of the tabloids.
Frothy Monkey (12th South)
Best for: Families or casual business meetings
If you are looking for a similar ambiance, but don't want to fight any crowds, an excellent alternative is The Frothy Monkey in Nashville's 12th South neighborhood. Nashville's main midtown neighborhoods are lined like bowling alleys converging toward downtown. Hillsboro Village (Fido), Belmont (Bongo Java) and 12th South (Frothy Monkey) are located on these named thoroughfares within blocks of each other. Located in a newer, bungalow style building, The Frothy Monkey provides a comfortable setting and excellent coffee. One of Gwyneth Paltrow's favorite spots while filming Country Strong, the Frothy Monkey is aiming for the all-day shop, even promoting themselves as "the breakfast through dinner coffeehouse." The food is your basic casual brunch menu, heavy on egg dishes, sandwiches and build-your-own salads with a focus on seasonal, local ingredients and dietary concerns such as gluten free and vegan. The coffee is always fresh, and Frothy Monkey uses locally sourced milk products. This is a great spot for taking a break from strolling the boutique stores dotting 12th South or grabbing a casual lunch.
Café Coco (West End/Downtown)
Best for: Late-night gatherings with friends or post-dinner dessert
One coffeeshop that has managed to stay below the radar but proven to have the staying power of Bongo's concepts is Café Coco. This coffeeshop, located close to downtown Nashville off Elliston Place, may go unnoticed because of its tucked-away, side street locale, but don't count this place out. A popular stomping ground for college students post bar closings, this coffeeshop is more about socializing into the wee hours of the morning and less about study. The real draw to the café is the fact that it is open 24 hours, and there is always a crowd, along with a sort of electric vibrancy to the air. The kitchen serves a massive menu with your usual suspects of hot and cold sandwiches, plus Italian fare with pizza, pastas and paninis all night. Coco offers the best cheesecake and baked goods selection in town; most are also available at their Italian Market nearby. On a nice night, the vast veranda and back screened-in porch offer ample outdoor seating for meeting friends for dessert and coffee (or a beer). More bar that doubles as a coffeeshop, the vibe here is much younger and a bit edgier.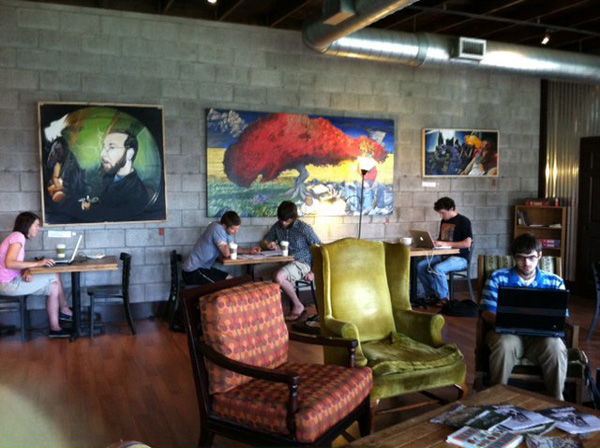 Portland Brew (East Nashville)
Best for: Quiet working and commuters
If you long for the artsy, eclectic feel of a Pacific Northwest coffeehouse, then you will feel right at home at Portland Brew. With locations in the 12th South neighborhood and East Nashville, this coffeehouse pays homage to the serious coffee connoisseur. The setting here offers a more industrial, loft space reminiscent of an urban coffeeshop found in Tribeca than the Southern charm of the aforementioned shops. Portland Brew is a great spot for serious students and writers looking for a quiet space where the hum of conversations will not get in the way of working. The coffee is outstanding, and the sandwiches will sustain you through that grueling project.
Barista Parlor (East Nashville)
Best for: Overall experience and people watching
Barista Parlor is a new venture hidden in an old car repair shop in the trendy and hipster-friendly East Nashville. This coffeehouse exudes cool from the moment you walk through the door. It's urban yet Southern, young yet mature and hip and upscale, yet comfortable. Caffeine is the star of the show, and it comes in two fine forms: coffee from around the globe and small batch chocolate. The waffle with shaved chocolate and whiskey maple syrup is not to be missed. Barista Parlor aims for the ultimate coffee experience, even serving its daily drip (of which there are typically six options) in a single-serving glass carafe and porcelain cup on a wooden tray. This is a unique, and welcome, approach to what a Nashville coffeeshop should look like. A second location will be opening soon in the Gulch neighborhood with the Black Keys' Dan Auerbach partnering on the project.
Eighth and Roast (8th Avenue)
Best for: Quick stops and a seriously good cup of coffee
Formerly known as Roast, this coffeeshop is a long overdue complement to 8th Avenue's antiquing district and underground music scene. 8th and Roast offers a variety of options from the basic drip cup of coffee (there is a self-brew station for those who want control over the process from the bean to the cup) to the amazing, and beautiful bottled iced coffee. Definitely try the slow-poured, which is barista-poured through an individual paper filter, offering a more robust flavor than a French press. Food options here are more limited than other shops, but the coffee is so good you won't even care. Best suited for a quick stop, but those who wish to linger will appreciate the recycling efforts in the repurposed wood community tables made from old bowling lanes from a former Nashville bowling alley.
Photo Credits: Barista Parlor by Andy Reale, latte art from Fido, Bongo Java exterior, bagel plate at Bongo Java, coffee at Frothy Monkey, inside Portland Brew and bottled iced coffee at Roast. 
A Nashville native, Sara Mitchell has been spoiled by the city's coffeeshop culture and can't travel anywhere else without longing for a Nashville coffeeshop. She is currently a lecturer in rhetoric and writing at the University of Arkansas at Little Rock and formerly worked in the communications department at the Nashville Chamber of Commerce. Her work has appeared in "Tales From the South."