Faulkner & Flannery Notes – Week 3
Spring 2014 Books & Film Class
Topic – Faulkner & Flannery: Exploring the Southern Gothic
Held Wednesdays through February 26 at UL Lafayette
Instructor: Dr. Mary Ann Wilson
Notes will be updated each Friday through February 28; comment to join in the discussion.
We moved on to the Faulkner portion in this week's class, with discussion on three of his short stories and a viewing of two films based on them. The stories included his most famous, "A Rose for Emily," "Barn Burning" and "That Evening Sun." Part of the reason I'm taking this class is to expand my reading and understanding of Faulkner. His short stories — and especially these three — are the perfect place to start.
"A Rose For Emily" is probably the best for showing how O'Connor was influenced by Faulkner. Southern Gothic and macabre to the max, it reads like a classic horror movie. In fact, there is a short film version of the story from 1983, starring Angelica Huston. The earliest of Faulkner's stories and the first to be published in a national magazine, "A Rose for Emily" has all of his typical themes: the relationship between parents and children, class divisions and a timeframe based on perception rather than actual passage.
"Barn Burning" and "That Evening Sun" incorporate these same elements, with "Barn Burning," which first appeared in Harper's in 1939, taking the class distinction to a fiery climax. This story also has a film version starring a young Tommy Lee Jones as angry sharecropped Abner Snopes and a screenplay by Horton Foote that I would definitely recommend to enhance the story. "That Evening Sun" masters the creation of suspense through dialogue and makes the reader privy to events the three children in the story cannot understand.
In all of his work, Faulkner challenges the reader to figure out what's really going on, keep track of time and see the larger picture of society he's trying to present. It's hard to believe that by 1944, all but one of his novels was out of print. If it weren't for The Portable Faulkner published in the 1950s, which revived his status as a writer, he could have been completely forgotten. Today, he has more criticism written about his work than any other modern writer and is second only to Shakespeare and Chaucer.
While Faulkner's novels are a challenge to read, his short stories are clear, concise and hold up extremely well in modern day. For readers who have felt intimidated by this giant in the past, the three stories discussed here are a good introduction to his craft. They also introduce characters like the Snopes family and Quentin Compson, who make return appearances in his novels. Faulkner was quoted as saying, "These people I figure belong to me and I have the right to move them about in time when I need them."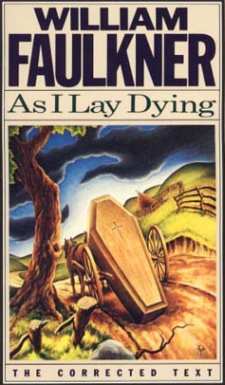 I feel better equipped to (once again) tackle As I Lay Dying for next week's class and maybe even follow up with The Sound and the Fury, or Absalom Absalom!, instructor Mary Ann Wilson's favorite of his work. And then there's James Franco's new version of As I Lay Dying out on Netflix for those who are looking for the Cliffs Notes version.
Next week's reading: As I Lay Dying
Related Material
Top 10 References to Faulkner in Pop Culture