Literary Friday, Edition 92
Notes on Faulkner & Flannery – Week 4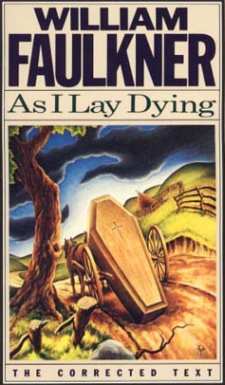 This week's class covered Faulkner's As I Lay Dying, both the novel and James Franco's recent film version. Next week's class is the final one, with discussion and viewing of Flannery O'Connor's Wise Blood planned. Get the notes here to follow along.
Literary News 
We have a review of Washed in the Water: Tales from the South by Nancy Hartney, which C.A. LaRue calls "a gathering of women that meanders like a slow, drunk river through the landscapes and religious and racial themes of the Old South."
Fans of "True Detective" may have been wondering just who The Yellow King is after watching last Sunday's episode. io9.com's The One Literary Reference You Must Know to Appreciate True Detective explains it all and will have you rethinking the entire show.
The latest podcast from 12 Minute Muse chats with David Armand, a Louisiana author whose recent novel is Harlow.
Mental Floss's 10 Literary Holidays includes National Tom Sawyer Days in Hannibal, Missouri, and Hemingway Days in Key West.
Architectural Digest goes inside the Daufuskie Island retreat of John Mellencamp, which includes a library and movie room, where the magazine says he "is notably partial to movies with screenplays by Tennessee Williams."
The Paris Review takes a look back at Georgia's first ever literature censorship board formed on February 19, 1953. Erskine Caldwell's God's Little Acre, described as "a scorching story of the Deep South" that sold 8 million copies, was the first book to be suggested for censorship.
#Southernlit Social 
Thanks to Turnrow Books in Greenwood, Mississippi, for tweeting us their good news this week. We're glad to hear about a Southern indie bookstore getting some national press!
Literary Events 
The 28th annual Texas Cowboy Poetry Gathering takes place today and tomorrow in Alpine and includes featured performers and a chuckwagon breakfast.
Sundress Academy of the Arts in Knoxville, Tennessee, is holding a Fiction & Firearms Workshop on Sunday. Participants will learn the basics of firearm safety and how to shoot several different types of guns, then incorporate the language of the process into their fiction.
Wiley Cash will be at the Barnes & Noble in our hometown of Lafayette this Sunday at 2 p.m. reading from This Dark Road to Mercy and signing books.
Dahlonega Literary Festival will take place March 8-9 with authors Kim Boykin, Joshilyn Jackson, Terry Kay, Cassandra King, Erika Marks, Charles McNair and more.
For fans of Carson McCullers, a marathon reading of The Member of the Wedding will take place March 22 in her hometown of Columbus, Georgia.
The Tennessee Williams/New Orleans Literary Festival released its full schedule recently. Save the date for March 19-23 in the New Orleans French Quarter.
The Southern Literary Festival takes place March 27-29 at The University of Mississippi in Oxford and coincides with Oxford Conference for the Book.
New in Southern Voice 
Man of the Gallant South, a story about a sheriff longing for the excitement of his youth inspired by Flannery O'Connor, by Merrill Shane Jones, and Driftwood, a poem about memories dispersed by the West Texas wind, by Darryl Willis.
To find out more about Southern authors' haunts and hangouts, download the Deep South Literary Trail App, available direct from iTunes and for Android.