At the Beach With Mary Kay Andrews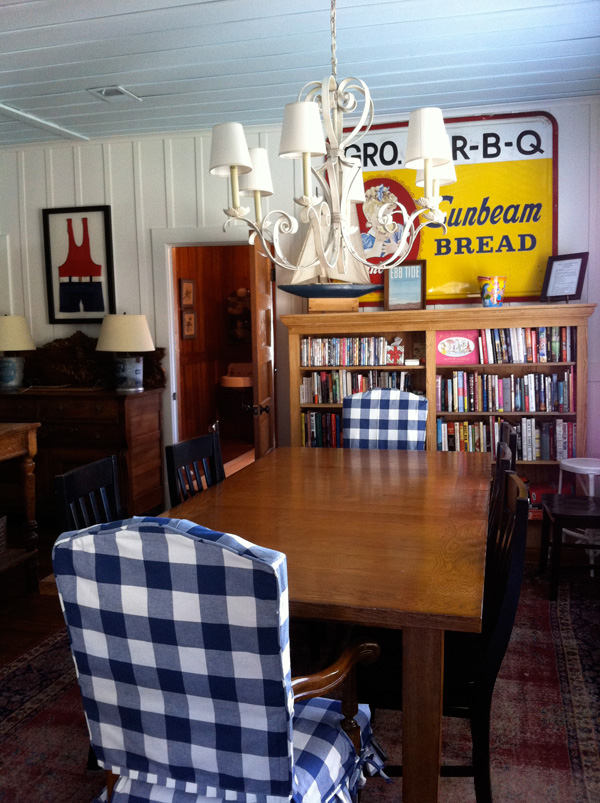 Spend a night (or a week) in the best-selling author's beach house on Tybee Island. 
In her 2011 book Summer Rental, Mary Kay Andrews brings best friends Ellis, Dorie and Julia to a beach house on North Carolina's Outer Banks. Named Ebbtide, the house is literally falling apart in some areas, but it's cheap, beachfront and has plenty of space for the three friends and the stranger who joins them. The only comparison between the Ebbtide in the book and Andrews' own Ebbtide is the name. In contrast to the ramshackle one, Andrews' beach house is meticulously redone to modern standards, while still maintaining its 1932 charm and board and batten wood paneling. With six bedrooms across two stories, three bathrooms, numerous porches and a spacious kitchen, the home has direct access to the beach and is filled with Andrews' junking treasures, from old quilts to framed bathing suits, four-poster beds, rattan chairs and a cast-iron vintage double sink.
Families, groups of friends like those in Summer Rental and couples traveling together will love Ebbtide — and feel just like the characters in one of Andrews' novels. Whether cooking fresh seafood in the refurbished kitchen, curling up in bed with a beach read or sipping a glass of wine on the porch, Ebbtide is the perfect escape from real life, a Mary Kay Andrews novel come to life. It also doesn't hurt that Tybee was just named one of America's Favorite Beach Towns by Travel + Leisure!
In March, Mermaid Cottages hosted me and Getaways for Grownups writer Hope Philbrick at Ebbtide. We spent a few nights soaking up the sun, writing on the porch and creating our very own Tybee Time cocktail. (Read Hope's review here.) Below is a tour of the house and some sights on the island, all accessible by flip flops and bicycle. To book your own stay at Ebbtide, see Mermaid Cottages listing here. The house is booked up for most of the summer, but September dates are available for $450 a night.
To find out more about Mermaid Cottages, Andrews' other beach house Breeze Inn and Paula Deen's Tybee beach house, read our story Mermaids on Tybee Island.
Exterior of Ebbtide
Modern kitchen with all the amenities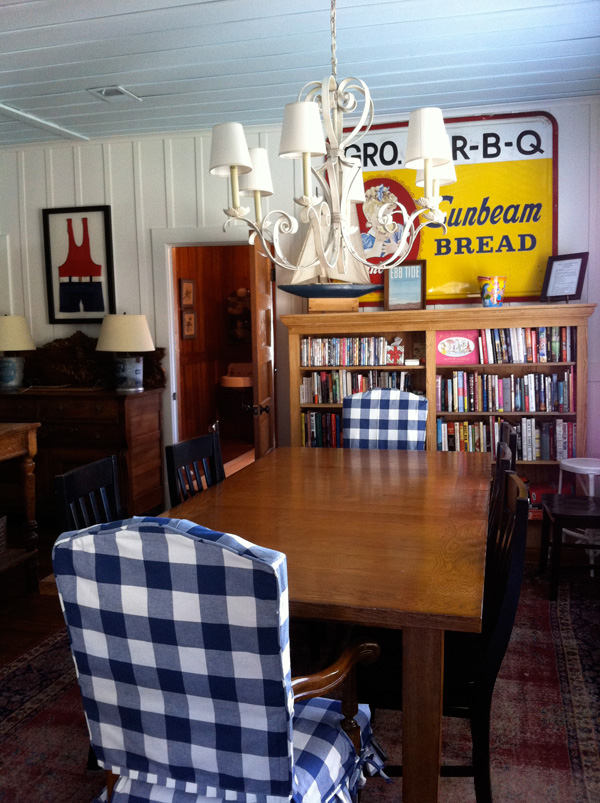 Dining room with an old Sunbeam Bread sign that came with the house and a library of books and DVDs
Spacious sunporch with plenty of room for lounging with a good book
Master bedroom with a private bath
Whimsical starfish bedroom
Third cozy bedroom upstairs with shared bath and private sink
Shared bathroom decorated with a framed vintage bathing suit
A painted beach scene and old dollhouse decorate the sunporch off the starfish bedroom
An old quilt with the initial "M" hangs from a chair in the living area
Wreath made of pages from Andrews' novel Savannah Blues in the hallway
Tybee Time cocktail created by Hope Philbrick of Getaways for Grownups. Get the recipe here. 
Beach boardwalk, just steps from Ebbtide 
Day at the beach
Talking about starfish and other sea creatures during a beach walk with the Tybee Island Marine Science Center
Tybee Island Social Club, just down the street from Ebbtide, is laid back for lunch, dinner or live music
Seafood nachos at Tybee Island Social Club
Tybee Island Light House and head keeper's cottage with a fresh coat of paint for the summer season
Buy your own junk from Andrews' stash at Seaside Sisters on the island
Andrews' books for sale at Seaside Sisters
Thanks to Mermaid Cottages and Tybee Tourism for hosting me in March. This trip, which also included Savannah, Beaufort, Hilton Head and Charleston, is tagged #DSGetaway. See all the pics and updates on Facebook and Twitter by searching for the hashtag.