Farewell To A Blue Dog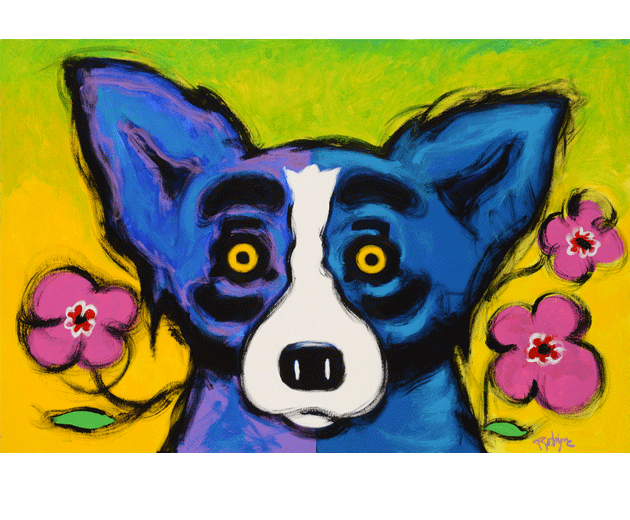 Where to find the Cajun classic now that its beloved artist has passed on.
There are few modern Southern artists as widely known and deeply loved as the late George Rodrigue. Rodrigue has received worldwide recognition for his iconic Blue Dog, a wide eyed, hauntingly beautiful dog based on the Cajun legend of the loup garou or werewolf. Often surrounded by scenes depicting Cajun life and culture, Rodrigue's Blue Dog manages to capture the true essence of joie de vivre in his art.
Rodrigue himself started from humble beginnings in New Iberia, Louisiana. Born in 1944, he grew up filling his childhood days drawing sketches of his surroundings. He further pursued his talent in his young adult years, attending art school at University of Southwest Louisiana (today  UL Lafayette) and later at the Art Center College of Design in Pasadena, California. After school, Rodrigue returned home, where he received local acclaim for his renditions of mossy oak trees and enchanting portraits of local celebrities, from politicians to authors and chefs.
It was not until the early 1990s that Rodrigue turned his attention to painting the infamous Blue Dog. His chosen subject had a Warhol-like appeal, which took it beyond the Southern art scene to become an international pop icon. Over the past 20 years, the Blue Dog has evolved with its creator and been portrayed in every way imaginable.
The scope of Rodrigue's work is truly impressive. He was still painting and receiving praise up until his death in December of 2013, when he passed away from lung cancer.
In remembrance, his three galleries in Lafayette, New Orleans and Carmel, California, are having memorial retrospectives through January 2015. "The retrospective is a big draw," says long-time friend of Rodrigue Dickie Hebert. "Many of these [works] are borrowed from collectors and not in possession of the family anymore. Many people come in to see his transition from early to mid-life to late-life."
The Louisiana State Archives in Baton Rouge will be showing a collection of Blue Dog artwork through June 30. For those visiting the Big Easy, further immerse yourself by stopping at the Sheraton Hotel on Canal Street for a peek at the 100-year-old Steinway "Blue Dog Piano." The hotel gallery is also featuring rare Blue Dog prints and an original Blue Dog painting on loan from the New Orleans Museum of Art in its George Rodrigue Gallery. Also in the city, the Ogden Museum of Southern Art has one of Rodrigue's most famous Cajun paintings "The Aioli Dinner" on display, while the New Orleans Museum of Art is featuring a three-dimensional Blue Dog sculpture in its outdoor garden.
If you're in the Lafayette area, head over to Jolie's Louisiana Bistro or Blue Dog Cafe, both filled with Rodrigue's work served up with a side of Cajun cuisine.
Photos from George Rodrigue Studio. Pictured from top is the posthumously released "Spring Adds Color to My Life," Rodrigue working on a Blue Dog in his studio and "Jolie Blonde" from 1974.