Jackson Gets a Lesson in Bivalves
Chef Jesse Houston debuts Saltine Oyster Bar in the historic arts district of Fondren.
The diverse, historical neighborhood of Fondren prides itself in letting the old and the new coexist. Part of the charm of the district is its melding of history with a creative and modern approach to Southern cuisine through restaurants like Saltine. Located in former schoolhouse The Duling School, the restaurant's décor honors the origins of its menu while also giving a playful nod to the past. Visiting Saltine is a bit like opening up a history book and exploring all the different stories that made the restaurant possible. Chef Jesse Houston shares these stories through his food and offers a culinary experience that takes diners around the world in a few slurps on the halfshell.
Houston grew up in Dallas, Texas, but his wife, Rachel, is native to Jackson and knew Fondren was the right location for their first restaurant. This funky neighborhood is home to more than two dozen owner-run restaurants, bakeries and coffee shops, many sporting a sixties vibe. After months of searching for the perfect location, the Houstons  found an empty space at the Duling School. Built as an elementary school in 1927, the building has become home to popular restaurant Babalu, the city's only record store, a salon and now an oyster bar.
From the outside, Saltine still resembles an early 20th century school, but inside, the wood-burning oven and large bar spanning the length of the dining room have transformed the old classroom into the perfect space for casual fine dining. Light streams in through a wall of windows, hitting the light grey walls and offering up views of historic Duling Avenue. Though the interior of the restaurant no longer resembles a school, nods to its schoolhouse history can be seen throughout the space. Chalkboards have been repurposed to showcase specials, and behind the bar, reclaimed lockers are used for storage. Guests might even hear the ring of an old schoolhouse bell while snacking on Skillet Cornbread or sopping up some Cioppino.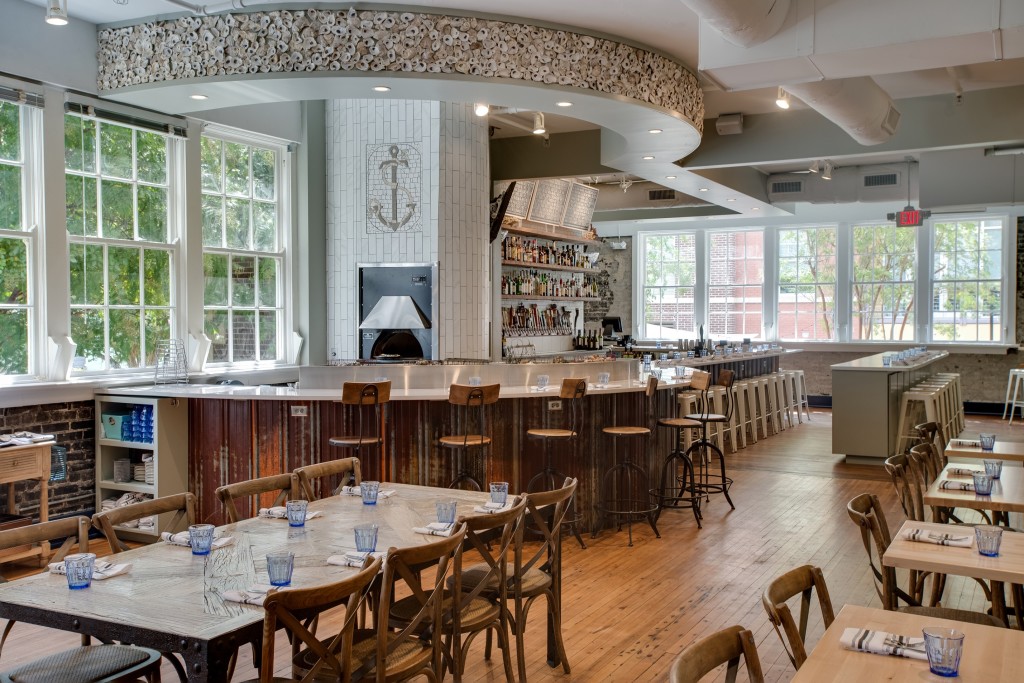 Rachel served as designer and chose light colors mixed with accents of navy to create a bright space. Touches of vintage maritime items can be found throughout the restaurant, and sitting on shelves above the bar are several books, including copies of Herman Melville's Moby Dick. The white tile behind the oyster bar is inspired by the iconic oyster restaurant Casamento's in New Orleans, which is covered with tile, floor to ceiling, inside and out. "It's like eating oysters in a big bathtub," says Houston. He loved that sensation and wanted the same feel for his own restaurant.
Saltine's menu reaches far beyond oysters, but the spotlight certainly belongs to the salty treat. On its first Saturday open to the public, Saltine sold all of its 1,500 raw oysters on hand. Those pulled from the waters of the east and west coasts, the Gulf of Mexico, Canada, Mexico and even New Zealand have been served on ice at the bar. While his oysters are international, Houston is passionate about supporting local farmers. Saltine partners with Lucky Town Brewing Company, Cooper Farms, Simmons Catfish and other local companies to offer fresh produce and local products on its menu. Every Mississippi brewery is represented among the 31 craft beers on tap. Daily drink specials, custom-infused beers and cocktails like the House Mai Tai and Classic Daiquiri give guests a variety of drink options.
Houston's playful, innovative dishes delight the tastebuds and evoke a sense of nostalgia. The menu at Saltine is an autobiography filled with the chef's stories, from perfecting his poboys, to his first Gulf coast fishing trip and honoring a lost friend. His dishes take diners to the bayou, the Big Easy and the briny oceans of faraway places.
One item on the menu, Craig's Oyster Stew, tells a special story. Fellow chef and friend Craig Noone brought Houston to Jackson to help open his restaurant Parlor Market in 2010. When Houston worked with Noone, the oyster stew was one dish Noone would always change. He was never quite satisfied with the finished product, so he would suggest either more salt, lemon juice or hot sauce. Shortly after Noone's hugely successful restaurant opened, he died in a tragic car accident. In honor of Noone, Craig's Oyster Stew (GET THE RECIPE) has a special place on Saltine's menu. It is always served with a side of salt, a wedge of lemon and a tiny bottle of hot sauce, giving diners the chance to perfect the dish to their liking.
Although Saltine just opened its doors in August, the restaurant has already created a buzz. USA Today, Southern Living, Taste of the South and other publications featured Saltine within days of its opening. Right now, Houston is excited about getting to know his customers and giving them food they will love. In the future, he would like to open additional locations across the South and continue creating stories to share on his menu. "I want to create specials and have fun with new dishes," he says,  "but first we want to figure out what people like."
Saltine is open for lunch and dinner Tuesday through Sunday from 11 a.m.-11 p.m. For reservations, call 601-955-4327.
Photo Credits: Houston's headshot by Aaron Phillips; food and restaurant shots by Mark Nardecchia.