Literary Friday, Edition 120
Fall Reading 
Fall is in the air (not quite in South Louisiana yet, but we hear the season has arrived for some of our neighbors further north), and that means we have a new reading list to debut. Filled with mysteries, thrillers, romances gone South and even a few YA picks, our Fall/Winter Reading List will take you through cozy nights by the fire and snowbound days at home. Subscribers to our newsletter will get a preview of the list on Wednesday, September 24, and it will go public on our site the following day. So, if you're not a subscriber yet, now's the time to become one. You can look forward to a repeat of all the fun things we did over the summer, like author interviews, guest posts and Twitter chats, with our fall list, along with plenty of book giveaways.
Food in Southern Lit 
Join us At The Southern Literary Table as we talk pickled peaches, greens, coconut cake and more foods that are essential to Southern literature, then read blogger Elyse Vincenty's post on Devouring Food in Literature. It's all in preparation for our live chat on October 4 at Pepper Place Market in Birmingham, Alabama, as part of the Birmingham Public Library's Eat Drink Read Write Festival. Join us on Twitter from 10-11:30 central that morning using the hashtags #EDRW and #southernlit to discuss more of our favorite food scenes in Southern literature
Literary News 
The New Yorker analyzes the latest crop of books on the lives of Scott and Zelda Fitzgerald, which it says aims to remake Fitzgerald into a pop artist and vindicate Zelda as an artist in her own right.
Flavorwire asks the question What Do This Year's Wildly Disparate National Book Award Longlists Mean? Notable for us is the inclusion of James A. Michener Chair in Fiction at the University of Texas Elizabeth McCracken's Thunderstruck and Other Stories.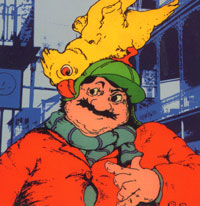 Atticus Finch, Holly Golightly and Ignatius J. Reilly all get nods in Flavorwire's list of 50 of the Greatest Characters in Literature.
Sundress Academy for the Arts is now accepting applications for Artist in Residency positions. Located on a working farm in Knoxville, Tennessee, residencies will be short term (ranging from one week to two months) in the areas of creative writing, visual art, film/theater and music. Click here to apply.
Headliners for the Savannah Book Festival in February have been announced as Janet Evanovich, P.J. O'Rourke and Anne Rice.
REMINDER: Entries for the eighth annual Ernest J. Gaines Award for Literary Excellence are due October 1. The award honors outstanding fiction from rising African-American writers with a $10,000 cash prize. Most recent winner is Attica Locke, author of The Cutting Season. 
Literary Events 
The Lafayette Public Library and the Ernest Gaines Center at UL Lafayette are co-sponsoring a series celebrating the work of writer Ernest J. Gaines through November. The schedule includes film screenings, book talks, readings and discussion, concluding with a reading by Gaines himself November 2.
An exhibit titled William Faulkner's Books: A Bibliographic Exhibit is on display on the third floor of J.D. Williams Library on the Ole Miss campus in Oxford through December 12.
At noon on September 24, the Scott and Zelda Fitzgerald Museum in Montgomery, Alabama will celebrate the 118th birthday party of F. Scott Fitzgerald with refreshments and an exhibition of a complete collection of original Esquire magazines from the 1930s that feature the author's work.
The Eat Drink Read Write Festival will take place in Birmingham, Alabama, October 3-10, featuring the area's best food and beverage offerings served up with a literary twist and including our own Editor Erin Z. Bass.
Close out the summer with Erika Marks, Kim Boykin and Barbara Davis at FoxTale Book Shoppe in Atlanta October 9.
The 26th annual Southern Festival of Books is scheduled for October 10-12 in Nashville, Tennessee. This year's theme is "A Celebration of the Written Word," and the extensive list of authors includes Pat Conroy, Joshua Ferris, Amy Greene, Lisa Howorth, Joshilyn Jackson, Frances Mayes, Marja Mills, Ron Rash and George Singleton.
The Texas Book Festival in Austin will take place October 25-26 with the largest lineup of authors in its 19-year history, including Martin Amis, Ziggy Marley, Joyce Carol Oates and Hector Tobar.
Save the date for the Louisiana Book Festival November 1 in Baton Rouge with authors Jill McCorkle, Natalie Baszile, Rick Bragg, James Carville, Laura Lane McNeal, Ernest Gaines and lots more. Five writing workshops will be held in conjunction with the festival October 31 with author-instructors Jill McCorkle, Mark Dunn, Ava Leavell Haymon, Barbara Slate and Earl Swift.
New in Southern Voice 
Young Blood, a poem for football season, by Mississippi poet P.S. Dean.
To find out more about your favorite Southern authors' haunts and hangouts, download the Deep South Literary Trail App, available direct from iTunes and for Android and perfect for those summer road trips.