11 Mysteries to Read in October
As the days get darker and Southern spirits come out to play, we suggest curling up with a good mystery, whodunnit or psychological thriller. 
Close to the B
roken Hearted
by Michael Hiebert
The sequel to Hiebert's deep and graceful evocation of the American South in Dream with Little Angels begins with the release of killer Preacher Eli, the man who shot and killed Sylvie Carson's baby brother. Now 22, the mother of a baby girl and still suffering from emotional problems, Sylvie is convinced the old preacher is stalking her. Leah Teal, mother of two, is the only detective in the small town of Alvin, Alabama. After initially dismissing Sylvie's claims, she begins to wonder if there actually might be some danger. As the situation unravels, Leah is forced to confront her own past. A story of justice and redemption, the danger is revealed to be not only in the secrets others keep, but in the secrets that corrupt us from within.
Compulsion: Heirs of Watson Island
By Martina Boone (Releases October 28)
Barrie Watson has dreamed of nothing but leaving the virtual prison of the house she lived in with her shut-in mother. When her mother dies, Barrie seizes her chance to venture into the world but finds herself in a new kind of prison at her aunt's South Carolina plantation — this one guarded by an ancient spirit. Long ago, the spirit cursed one of the three founding families of Watson Island and gave the others magical gifts that became compulsions. Stuck with the ghosts of a generations-old feud and hunted by forces she can't see, Barrie must find a way to break free of the family legacy and unravel her family's twisted secrets. (This is the first book in a trilogy.)
Dollbaby

By Laura Lane McNeal
When Ibby Bell's father dies unexpectedly in the summer of 1964, her mother unceremoniously deposits Ibby with her eccentric grandmother Fannie and throws in her father's urn for good measure. Fannie's New Orleans house is like no place Ibby has ever been — and Fannie, who has a tendency to end up in the local asylum — is like no one she has ever met. Fortunately, Fannie's black cook, Queenie, and her smart-mouthed daughter, Dollbaby, take it upon themselves to initiate Ibby into the ways of the South, both its grand traditions and its darkest secrets.
Gray Mountain
By John Grisham
Samantha Kofer is set on a fast track in her career at a huge Wall Street law firm. Then the recession hits. She gets downsized, furloughed and escorted out of the building, but she's a "lucky" associate. For one year without pay, she can work at a legal aid clinic in Brady, Virginia, for the smallest chance she could return to her old job. Mattie Wyatt is the head of the clinic and sets out to show Samantha how to "help real people with real problems." Samantha's firsts: preparing a lawsuit, seeing the inside of a courtroom, being scolded by a judge and receiving threats from locals. She discovers the small town hides some big secrets while delving into the world of coal mining and that violence is on its way as litigation turns deadly.
Nine Days

By Minerva Koenig
Julia Kalas, short, round and pushing 40, has been renovating historic buildings as a front to aid her husband's illegal arms business for 17 years. When the Aryan Brotherhood makes her a widow, witness protection ships her off to the middle of nowhere Azula, Texas. Julia figures she'll pick up where she left off with the vintage architecture begging to be rehabbed, but federal watchdog and police chief Teresa Hallstedt is not happy with a new felon in her jurisdiction. Teresa places her behind the bar at the local watering hole for safekeeping. When a dead body is found on the roof, the sheriff tries to pin the murder on bar owner Hector Guerra for personal reasons. Julia is convinced he's innocent and risks connecting with the outlaw underground to prove it.
The Casquette Girls
By Alys Arden
Adele Le Moyne and her father are some of the first to return to New Orleans after a mandatory evacuation for the storm of the century. Adele wants everything to return to normal, but normal may be beyond reach. The flood waters recede while the body count rises, as something other than the storm is draining life from the city's residents. Led by events that are too unnatural even for New Orleans, Adele discovers an attic sealed for more than 300 years. What gets unleashed threatens the lives of all and creates a hurricane of 18th century myths and monsters. Adele traces the web of magic to her own ancestors and wonders who can be trusted in a place where secrets are life and death, except for the immortal. "A slow-burning New Orleans-set vampire novel in the tradition of Anne Rice," says Rue Morgue Magazine.
The Cottoncrest
Curse
By Michael H. Rubin
The bodies of Col. Augustine Chastaine and his wife Rebecca are discovered on the staircase of their Louisiana plantation home. The couple's deaths are surrounded by the same mystery that clouded the colonel's father, who committed suicide at the end of the Civil War. Locals whisper about a curse, but Sheriff Raifer Jackson declares the situation a double homicide, with local peddler Jake Gold the prime suspect. Assisted by an overzealous deputy and the racist Knights of the White Camellia, Jackson conducts a manhunt through a village of former slaves, the swamps and the bordellos of New Orleans. Jake's chameleon-like abilities, his relations as a peddler and uncanny talent for languages keeps him ahead of the game as he races to uncover a secret at the heart of the curse.
The Forgotten Girl 
By David J. Bell (Releases October 7)
From the author of Cemetery Girl comes a new thriller about the awful truths that bind families together and the secrets that should be taken to the grave. The past has arrived uninvited at Jason Danvers's door in the form of his younger sister, Hayden, a former addict who severed all contact with her family as her life spiraled out of control. Now she's clean and sober but asks Jason and his wife to take care of her teenage daughter for 48 hours while she handles some business in town. But Hayden never returns. Her disappearance brings up more unresolved problems from Jason's past. When a body is discovered in the woods, the mysteries of his sister's life — and possible death — deepen.
The Ghost Will See You Now: Haunted Hospitals of the South
By Randy Russell
Russell suggests if you want to see a ghost: Visit a hospital. With all the deaths, suffering, isolation and trauma that goes on in hospitals, what better place to find the undead? His definition of a hospital ranges from the obvious to places like asylums and others used as makeshift surgery areas. The book is a state-by-state guide to hospital hauntings, including more than 40 stories and describing an additional 130 haunted locations. Calling himself a "ghostlorist," Russell is author of four other ghost-related books and has made appearances at various events as a ghost expert.
The Sil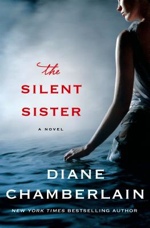 ent Sister
By Diane Chamberlain (Releases October 7)
Returning home to sell her father's house after his death, 25-year-old Riley MacPherson uncovers family secrets that could change her life. His sudden death will not have given him a chance to clean everything up and her father's attorney warns her against digging too deep, but Riley ignores him. Soon she discovers the sister she always believed had committed suicide by drowning herself at age 17 is alive and living under a false identity. What made her go on the run? After discovering her sister and father have been corresponding the entire time, Riley wonders what family secrets have been hidden all along and must decide what to do with this information and what it means for her future.
Zion
By Dayne Sherman (Releases October 30)
Set in the rural South of Baxter Parish, Louisiana, this literary thriller begins in 1964 and ends a decade later. It starts with a war fought over the killing of hardwoods, and the Hardin family — faithful members of Little Zion Methodist Church — will carry the scars for life. "Zion begins ballistic, turns tectonic and ends gothic," says author Tim Parrish. "The people of this fraught Louisiana town suffer both the shifts of history and the tribulations of their pasts. In Sherman's dark vision, wood kin burn and kin make hay, setting these troubled characters searching in a spiritual, and sometimes literal, wilderness to find and make right what they can. Get ready for a thrill ride that slams into modernity with Old Testament inevitability."