Literary Friday, Edition 122
Fall Reading 
Our 2014 Fall/Winter Reading List is out, and that means it's time for author interviews and chats. Last week we kicked off with author Natalie Baszile on her book Queen Sugar, and this week we have two more interviews. Get to know Vicki Salloum in our conversation with her about bookstores, dead writers and her new novel Faulkner & Friends. Then, learn about a love gone South in Alice + Freda Forever: A Murder in Memphis by Alexis Coe.
We also have a list of 11 Mysteries to Read in October so plan to curl up with a good whodunnit or psychological thriller as the days get darker.
Food in Southern Literature Chat 
We're on the road to Birmingham today for the Birmingham Public Library's Eat Drink Read Write Festival. As part of the festivities, Editor Erin Z. Bass will be chatting on Twitter with library staffer Hunter Murphy tomorrow morning from 10-11:30 a.m. about food in Southern literature. Join in and share your favorite fictitious food scene using the hashtags #southernlit and #EDRW. And if you're in Birmingham anytime between October 3-10, check out the festival's schedule of events and join us!
Literary News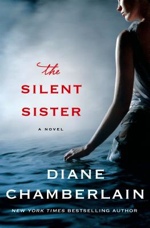 SheReads chats with The Silent Sister author Diane Chamberlain via Twitter on Monday at 8 p.m. EST. Join in using the hashtag #srbkchat.
Bad Feminist author Roxane Gay has been asked to head up a sister site to The Toast named The Butter. Gay says she will make a concerted effort to publish people of color and queer writers.
The New York Times has a review of Fire Shut Up in My Bones, a memoir by Charles M. Blow about his struggle with race and masculinity while growing up in rural Louisiana.
Set in New Orleans, Poppy Z. Brite's Exquisite Corpse makes The Huffington Post's list of 13 Absolutely Terrifying Serial Killers From Fiction.
James Seay writes about One Corner of Yoknapatawpha, Faulkner's fictional county that was the real-life land of his father, in The Oxford American.
Literary Events 
An exhibit titled William Faulkner's Books: A Bibliographic Exhibit is on display on the third floor of J.D. Williams Library on the Ole Miss campus in Oxford through December 12.
The Eat Drink Read Write Festival will take place in Birmingham, Alabama, October 3-10, featuring the area's best food and beverage offerings served up with a literary twist and including our own Editor Erin Z. Bass.
Close out the summer with Erika Marks, Kim Boykin and Barbara Davis at FoxTale Book Shoppe in Atlanta October 9.
The 26th annual Southern Festival of Books is scheduled for October 10-12 in Nashville, Tennessee. This year's theme is "A Celebration of the Written Word," and the extensive list of authors includes Pat Conroy, Joshua Ferris, Amy Greene, Lisa Howorth (pictured), Joshilyn Jackson, Frances Mayes, Marja Mills, Ron Rash and George Singleton.
The Delta Hot Tamale Festival in Greenville, Mississippi, will host a Literary/Culinary Mash-Up October 16-17 with a dinner and booksignings at the Burrus House (known for its role in Tennessee Williams' "Baby Doll") and a panel discussion with Roy Blount, John Currence, John T. Edge, Donald Link and more special guests.
The Texas Book Festival in Austin will take place October 25-26 with the largest lineup of authors in its 19-year history, including Martin Amis, Ziggy Marley, Joyce Carol Oates and Hector Tobar.
Save the date for the Louisiana Book Festival November 1 in Baton Rouge with authors Jill McCorkle, Natalie Baszile, Rick Bragg, James Carville, Laura Lane McNeal, Ernest Gaines and lots more. Five writing workshops will be held in conjunction with the festival October 31 with author-instructors Jill McCorkle, Mark Dunn, Ava Leavell Haymon, Barbara Slate and Earl Swift.
New in Southern Voice 
Coyote, a Florida story by Florida writer Michael Cuglietta.
To find out more about your favorite Southern authors' haunts and hangouts, download the Deep South Literary Trail App, available direct from iTunes and for Android and perfect for those summer road trips.