Literary Friday, Edition 124
The Silent Sister Readalong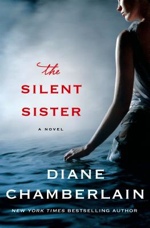 You may have heard that we're partnering with Tamara Welch of Traveling With T to do a readalong for Diane Chamberlain's new book The Silent Sister (one of our fall reads). We'll be discussing the book in three parts starting with part one today. Be warned, there will be spoilers so we suggest you wait until you've read the corresponding part to join in. We'll be discussing character, plot points, questions, etc. over the next three weeks and will end the readalong with an interview with Chamberlain in which she'll offer insight into the book and explain why she tortured us with so many secrets. Don't have a copy of The Silent Sister? There's a chance to win one this week by clicking here.
Literary News
Leading up to his appearance at the Louisiana Book Festival, we talk with author Gary Stewart whose search for his biological father led him to the infamous Zodiac Killer, a story he shares in his New York Times bestselling book The Most Dangerous Animal of All.
Vampira author and Charleston historian Scott Poole relays a history of Southern scares, including Bloody Bones and Raw Head, who've been terrifying lowcountry children for centuries.
We have news on Jackson, Mississippi's planned Welty Biennial, a 12-week celebration this spring that will honor the author's work through her love of myth, astrology, music and literature.
There's still time to enter the Compulsion for Southern Lit giveaway and win a set of seven classic Southern reads from authors like Rebecca Wells and Pat Conroy.
Writer Nicola Miller raves about the literature of the American Deep South on her blog in a post titled "Kudzu Girl."
The Southern Lit Lovers group on Goodreads made a big announcement this week: The group will chat with author Sarah Addison Allen on November 4 and is also giving away three advanced reading copies of her latest novel First Frost.
The release of Gray Mountain next week may not go quite as planned after John Grisham's controversial comments about men imprisoned for child pornography. You can read Grisham's apology on his website here.
Gawker has a response from clowns upset over the portrayal of killer clown Twisty on "American Horror Story: Freak Show" that dates bigoted portrayals of the performers back to Edgar Allen Poe's 1849 short story "Hop-Frog."
Literary Events 
See Jodi Picoult in Nashville at Ingram Hall on October 21 as part of Parnassus Books' Salon@615 series.
The Texas Book Festival in Austin will take place October 25-26 with the largest lineup of authors in its 19-year history, including Martin Amis, Ziggy Marley, Joyce Carol Oates and Hector Tobar.
Save the date for the Louisiana Book Festival November 1 in Baton Rouge with authors Jill McCorkle, Natalie Baszile, Rick Bragg, James Carville, Laura Lane McNeal (pictured), Ernest Gaines and lots more. Five writing workshops will be held in conjunction with the festival October 31 with author-instructors Jill McCorkle, Mark Dunn, Ava Leavell Haymon, Barbara Slate and Earl Swift.
The Festival of Words will take place in Grand Coteau, Louisiana, November 6-8 with literary readings by nationally recognized authors, creative writing workshops, a community stage for open mics, drive-by poetry and more.
Save the date for signings at Square Books in Oxford in November, including Rick Bragg on November 17 and Ron Rash on November 20.
Wiley Cash visits Foxtale Book Shoppe in Woodstock, Georgia, November 17 for the paperback release of This Dark Road to Mercy.
New in Southern Voice 
The Day the Wind Was Silent, a chilling story about a missing girl and a fisherman who finds crab pots filled with body parts, by Charleston native Grant McClure.
To find out more about your favorite Southern authors' haunts and hangouts, download the Deep South Literary Trail App, available direct from iTunes and for Android and perfect for those fall road trips.