Literary Friday, Edition 129
Literary News 
Lauren Moriarty has a review of Laird Hunt's Neverhome, one of our Fall/Winter Reads that introduces us to the alluring Ash Thompson, a woman who leaves home to fight in the Civil War.
It was announced this week that "Tinker Tailor Soldier Spy" writer Peter Straughan will adapt The Goldfinch, Donna Tartt's Pulitzer Prize winning novel.
Laura Lane McNeal's Dollbaby made it to the final round of Goodreads' Choice Awards in the Best Historical Fiction of 2014 category. Voting is open through November 24.
Bastard Out of Carolina by Dorothy Allison and Flannery O'Connor's A Good Man is Hard to Find are included in Flavorwire's list of 50 Great Dark Books for the Dark Days of Winter.
See rejected covers for a redesign of Kate Chopin's The Awakening, now available with a new introduction by Barbara Kingsolver.
Janet Maslin reviews Ron Rash's Something Rich And Strange in The New York Times, calling it "a major short-story anthology that can introduce new readers to this author's haunting talents and reaffirm what his established following already knows."
We suggest reading some of Rash's work before the movie version of Serena comes out this spring. Here's the trailer:
Literary Events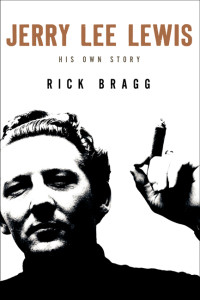 See pics from Rick Bragg's November 18 booksigning for Jerry Lee Lewis: His Own Story at TurnRow Books in Greenwood, Mississippi, here.
The annual Ernest Gaines Lecture at the Gaines Center on the UL Lafayette campus will be held November today at 1 p.m. with Dr. John Lowe speaking about "The Achievement of Catherine Carmier."
Today has also been designated as a Day of Giving to Andalusia, Flannery O'Connor's farm in Milledgeville, Georgia. Multimedia campaign Fund Flannery's Farm asks the public to raise awareness and financially support her home.
The Gulf Coast Writer's Association will have a workshop tomorrow at the Long Beach Library on the topic of how to produce a professional novel with Michael Garrett, who was Stephen King's first editor.
Sean Brock will be in conversation with Jason Isbell at Parnassus Books in Nashville December 3.
See Virginia Willis December 7, Rick Bragg December 9 and save the date for the launch of Colleen Oakley's launch party for Before I Go at Foxtale Book Shoppe in Woodstock, Georgia.
Save the date for a booksigning with Natalie Baszile for Queen Sugar at Square Books in Oxford, Mississippi, January 30.
New in Southern Voice 
Boar's Head, a short short inspired by the entrance to a North Carolina restaurant, by Susan Harlan and Parable of the Sewer, a poem about the loss of a Singer, by C.N. Bean.
To find out more about your favorite Southern authors' haunts and hangouts, download the Deep South Literary Trail App, available direct from iTunes and for Android and perfect for those fall road trips.