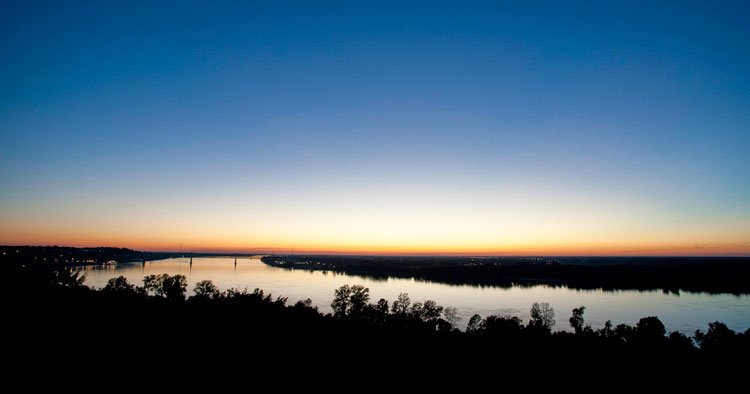 A guest post by travel photographer and writer Gayle Harper. 
When I learned that a raindrop falling into the headwaters of the Mississippi River in Minnesota would reach the Gulf of Mexico 90 days later, I knew in that moment that I had met the project of a lifetime. I knew that I would make a 90-day roadtrip, following our greatest river through the heart of our land, while keeping pace with an imaginary raindrop that I would call "Serendipity."
After 23 years as a travel photographer and writer, I knew from experience that the world is filled with remarkable people in fascinating places. What I didn't know, couldn't have imagined, is how this wandering, free-spirited adventure would seduce me to fall in love, utterly and unreservedly, with my homeland and her people.
The Mississippi River touches ten states on its nearly 2,400-mile journey from source to sea, and it grows from a fragile stream into a massive force of nature. The changes in climate, geography, cultures, accents, foods and lifestyles through which it passes are astounding. What does not change, however, is the beautiful open-heartedness of the people I encountered. From the Northwoods, through the Heartland and into the Deep South, people invited me into their lives. They offered lodging, took me home to dinner and out on their boats, they introduced me to neighbors and family and included me in birthday parties and backyard barbeques. They shared their culture and heritage and told me their stories; they opened doors and created opportunities that I could never have scripted.
In Minnesota, I harvested wild rice from a canoe, where the baby Mississippi is less than twelve feet wide and I found myself alone for a weekend in a 30-room mansion. In Wisconsin, I met a pixie-like nun beside a cemetery and end up celebrating her birthday. In Iowa and Illinois, I went on a geode hunt and I spent 24 hours onboard a working barge. In Missouri, I was invited to a grandchild's birthday party and an Oktoberfest. And, in Tennessee, where the River is a mile wide, I paddled it in a sea kayak and held on for dear life as the wake from a passing barge rolled toward us.
Then comes the South, with its endless seas of cotton, its hot tamales and its soul-stirring Blues and, beyond that, the sugar cane fields, jambalaya and plantation mansions of Louisiana. The South is the land of storytellers, where conversation is an art form, like dancing. Again and again, I am enraptured by tales of colorful characters and hilarious events that, in other voices, might seem mundane.
In Clarksdale, Mississippi, in the studio of internationally-acclaimed portrait artist, Marshall Bouldin, III, we explore the mysterious nature of creativity, which we can receive but never claim. In Greenville, Mississippi, at a back-room party at Doe's Eat Place, I understand a whole new definition of "home." In Leland, Mississippi, Bluesman Pat Thomas sings to me and then gives me some hoodoo magic to keep me safe. In Natchez, Mrs. Mary Ann Brandon Jones touches my heart with her story and photo of "The Garter Girls," her girlfriends since the 1940's.
There's Randy, the sugar cane farmer, who invites me to ride his tractor, and Judy, the tour guide at Houmas House Plantation, who sings a heartfelt song into my recorder. There's the crew of "The Sophie," a cargo ship from Myanmar on its way to Baton Rouge, where I am reminded that making a happy connection does not require speaking the same language. All of them are the soul of this adventure.
By the time the raindrop and I arrive at the Gulf of Mexico, my heart has been split wide open. I have driven 7,400 miles in my wandering, looping way, with no plan or agenda. I have immersed body and soul into diverse cultures and made friendships that will last a lifetime. I have learned many of the ways of this great River and feel deeply the mysteries that remain.
The Mississippi River is one of America's greatest treasures and is the aorta of our country in every way. It is inextricably intertwined with our history and our very identity as Americans. The story of the River and her people is our story, wherever we live.
You are invited to have your own experience of this journey of a lifetime. Roadtrip With a Raindrop: 90 Days Along the Mississippi River has just been released. It is a luscious hard cover edition with nearly 200 full-color photographs. In a series of 55 vignettes, each complete with its photographs, with Serendipity as your guide, you will discover America as it truly is — a diverse and beautiful land filled with playful, loving souls. You may find yourself, as I did, falling head-over-heels in love.
Update: Roadtrip with a Raindrop: 90 Days Along the Mississippi River by Gayle Harper has been named an award winner in Foreword Review's "Book of the Year" INDIEFAB competition in June 2015.
Photos by Gayle Harper.