Mississippi Literary Road Trip, Part One
On the road to Faulkner country in Oxford, with stops at Rowan Oak, Square Books, John Currence's culinary empire and Ole Miss. 
One of our suggested resolutions for 2015 is to take a literary road trip. All of the Southern states have their sites dedicated to writers, but a great place to start an exploration of Southern literature is in Mississippi. Not only is the state home to Faulkner, but Tennessee Williams and Eudora Welty's influence also loom large, not to mention all the present-day writers the state is still churning out.
In August, I hit the road with BBC television producer in South Wales Cerith Mathias for a week of literary exploration. I picked her up in New Orleans and we spent a night in Tupelo before heading to Oxford, one of the most literary cities you'll find anywhere and site of Faulkner's Rowan Oak.
 Katie Kaiser, Erin Z. Bass and Cerith Mathias in Oxford 
We went first to the visitors center a few blocks down from the square for a driving tour at the helm of Katie Kaiser. She offered to help us get our bearings and drove us through downtown, the University of Mississippi campus and even did a quick drive by Rowan Oak. Knowing we had a tour of the home scheduled for the next morning, we asked her to drop us off back downtown at Square Books.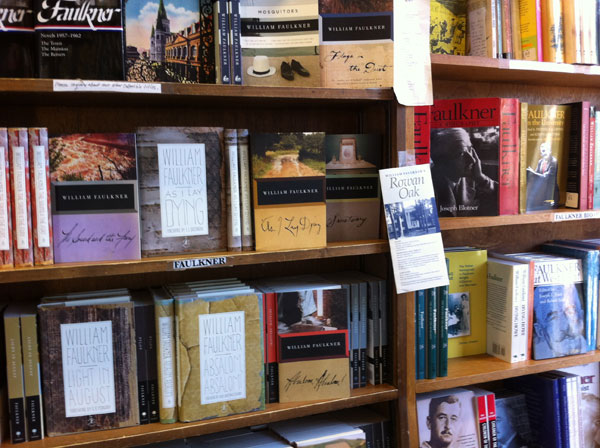 Faulkner section at Square Books and bargain lit at Off Square Books
What can only be compared to as the Empire State Building or Sears Tower of literary landmarks, Square Books is two stories of reading material, including all the latest in fiction downstairs, with classics, local and Southern authors and topics like science fiction and philosophy upstairs. After ogling the stacks and stacks of books — we told ourselves we'd return later to purchase — we checked into the Hampton Inn Conference Center on Ed Perry Boulevard.
The hotel was a bit far from Square Books and downtown, but future travelers to Oxford can look forward to many more hotel options on the way. We heard about at least six new lodging options going up — one right next door to the visitors center — that will hopefully help solve what has been a lack of places to spend the night in town. We did find a back way through a neighborhood from the hotel to Lamar Boulevard that passes by Faulkner's grave, so for touring purposes the out-of-the-way location worked out.
We were due at John Currence's Snackbar at 7 p.m., his newest establishment right next door to Big Bad Breakfast. Small plates and cocktails with names like "Bless Her Heart" and "The Classy Gent" were perfect after our day of traveling.  We even spotted foodie John T. Edge at the bar with his son while we were munching on fried boudin balls and Fattoush salad. (We were later told that he often hangs out there and helps his son with homework after school.)
With Faulkner on our minds and breakfast at Bottletree Bakery the next morning, we managed to find our way back to the comfortable hotel in the dark. On Van Buren just off the square, Bottletree has a funky vibe, along with excellent coffee and the largest bagel I've ever seen (pictured below). But we had a date with Faulkner to make.
Although Rowan Oak feels like it's out in the forest and is situated on land known as Bailey's Woods, today Faulkner's home is just off the main drag in Oxford tucked back in an affluent neighborhood. The dirt road leading in and parking area off the main house do require a short hike. Catching glimpses of Rowan Oak's white columns through the tall pines is a magical experience for any fan of Southern literature, no matter how much Faulkner you've actually read. And you'll want to take just as much time for roaming the grounds as you do for exploring the house.
Rowan Oak is modest by today's standards and has undergone three renovations since Faulkner purchased the home in 1930. He claims to have written Sanctuary, published in 1931, purely for profit, and the book's success allowed him to buy up more land around the house and add a bedroom for his wife, Estella. He later added his study and an extra bathroom with his Nobel Prize money. While the home is meticulously maintained and the bedrooms kept as period vignettes, perhaps the best way to learn more about Faulkner and his life is a walk through his study and a chat with the guide on duty.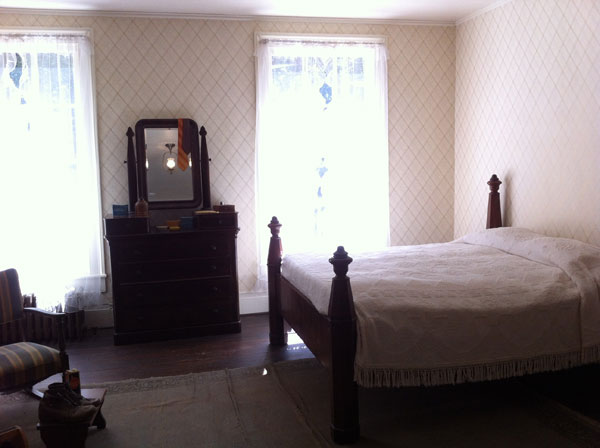 Faulkner's bedroom and A Fable outline printed on the wall of his study
An exhibit of his work, including handmade books and drawings, maps of Yoknapatawpha County and images of films based on his books, surround the entrance to his study. What might be described as a "man cave" today was a respite for Faulkner containing his typewriter, golf clubs, a twin bed, pair of Adirondack chairs and his notepad, a.k.a. the walls. He wrote the day-by-day outline for National Book Award winner A Fable (pictured above) here in graphite and red grease pencils after the fan blew away his first one taped to the wall. It's an extremely personal expression by a writer who's too often seen as a god.
Not knowing much about Faulkner's personal life before our visit, Cerith and I had a few questions for guide Amelia Brock, a graduate research assistant at the university. What was Faulkner's wife like? Estelle was from Oxford and dated Faulkner while in college but another man proposed to her before he did. She went to Japan with her husband but came back divorced with two children. She and Faulkner got married in the late 1920s when he was about 30 years old and lived in an apartment in town before he bought Rowan Oak.
Faulkner's home of Rowan Oak 
What did Estelle think of his work? Of course, she wanted him to write another bestseller after Sanctuary, but he told her "Jesus only died once on the cross." Does he have other family in town? His daughter Jill died in 2008, but his nephew's daughter lives in town and his beloved niece Dean's son stopped by Rowan Oak right before our visit with "True Detective" writer Nick Pizzolatto. Three other houses in town — Maud Butler Falkner House, J.W.T. Falkner Jr. House and Trigg-Doyle-Falkner House — belonged to his father and uncle. The Trigg House on Buchanan Avenue is known as his childhood home.
Brock says the home gets anywhere from 80-150 visitors a day, which adds up to more than 30,000 a year. The 32 acres of Rowan Oak are free to visit and open from dusk to dawn every day, but the home hours vary by season and admission is $5. University of Mississippi students get in free.
After taking a walk around the grounds and soaking in as much Faulkner lore and fresh air as we could, we drove over to the Ole Miss campus for a bit of exploration. Katie from the visitors center had pointed out Ventress Hall, the college's first library and notable for its Romanesque design and turret. There's a story that Faulkner painted the steeple back when he did odd jobs around town. The university's current library is down the way from Ventress behind the Lyceum. J.D. Williams Library contains the William Faulkner Collections available to researchers, along with an exhibit on Faulkner's books that will remain up through the end of the month. See 20 cases of his works (pictured), including Sanctuary, Mosquitoes, As I Lay Dying and one of only six copies of "The Marionettes," a play Faulkner penned in 1921, hand-bound and illustrated. (While there, you may also want to check out the Grisham Law Library and Blues Archive.)
Having worked up an appetite, we headed back downtown for lunch at Ajax Diner on the square. A local dive, this restaurant serves salads, sandwiches and plate lunches. With our dinner reservation at City Grocery that night in the back of our minds, we ordered a pair of salads, including the Ajax Salad with smoked catfish, toasted pecans, crumbled blue cheese, blackeyed peas and corn — basically Mississippi in a bowl.
This seems like as good a time as any to address some of the food stereotypes about the state. Someone told me before I left that catfish would be on every menu and even if it didn't always sound appetizing, it would probably be the best thing to order. The first part is true. Catfish farming is a big industry and there's no shortage of the fish on menus, but it's not the only food Mississippi has to offer. All of the catfish we did have was delicious, but we also found a diverse amount of both upscale and home cooking.
A better prediction would have been you won't leave Oxford without eating in at least one of John Currence's restaurants. Most likely, you'll visit more than one as the chef does have a bit of a monopoly in Oxford.
We stopped in at Square Books Jr. and Off Square Books, then had a glass of wine at new downtown hotspot The Wine Bar before going back to the hotel to freshen up for dinner. We also made an executive decision and called a cab to chauffeur us around for the evening. After all, book blogger Tamara Welch was joining us and we saw a few cocktails in our future.
Shrimp and Grits at City Grocery in Oxford 
Our group started upstairs at the bar over City Grocery before moving downstairs for dinner. With all the hype over Currence's best known restaurant, I wasn't sure what to expect, but I was pleasantly surprised. The shotgun space with booths lining the walls is cozy and comfortable and, while more upscale, the menu is innovative and accessible. It changes by season, so what was on the menu in August is no longer there, but I enjoyed a delicious carrot soup and went for the catfish — served with a Creole-style red sauce and a side of fried okra. Tamara ordered the Shrimp and Grits, a house special that's always on the menu and served with mushrooms and Big Bad Bacon.
We all shared a slice of Bourbon Pecan Pie before heading back upstairs and snagging a spot on the balcony. As we continued catching up on all things book related, I know at least I pretended to be back in college enjoying a night out on the town, soaking up the summer breeze and taking in the view of the courthouse belltower on the square.
The next morning, we continued our tour of Currence establishments at Big Bad Breakfast. "Eggs in Purgatory" was on special, but I couldn't resist ordering The Secret History Omelet. Named for former Ole Miss student Donna Tartt, who Barry Hannah called "a literary star," the omelet isn't that exciting with herbs, tomatoes, shallots and Swiss cheese, but I took one for the Southern lit team. With other names like The Pel "Egg" Can Brief (John Grisham) and Burgsalom, Burgsalom! burger (Faulkner) on the menu, it's hard to resist a literary meal here, but you really can't go wrong with a biscuit and some grits at BBB.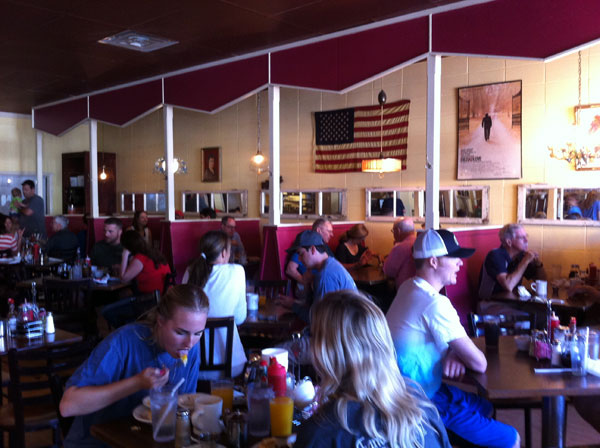 Inside John Currence's Big Bad Breakfast 
Big Bad Breakfast concluded our Currence tour; we missed Boure, which also has a balcony on the square, but there's always next time. Tamara headed back to her home in Vaiden, and Cerith and I set out to check a few more Faulkner sites off our list before leaving town. First up was Faulkner Alley on Van Buren, which is easy to miss, but just pop into tiny shop Amelia and they'll point you in the right direction. There's also Faulkner's statue in front of City Hall and his gravesite in St. Peter's Cemetery to see.
We parked a little ways down from the cemetery on Elliott Drive and hiked back toward his grave, which bears a green historical marker telling you he's buried 20 steps east. You'll see "Faulkner" carved at the bottom of a set of steps and the raised headstone with a pair of columns marking the family plot. William Cuthbert Faulkner is buried next to his wife Estelle Oldham Faulkner, but it's clear the offerings left by fans are for the writer. Two bottles of Pabst Blue Ribbon and two small bottles of whiskey sat on the headstone the day we were there, and a folded up piece of paper was lying in the dirt at the head of Faulkner's grave.
Faulkner's grave marker and family plot 
We couldn't help but pick it up. It was a letter to Faulkner from a fan. At this point, the intrusion started to feel too personal, so we folded the paper back up, set it down on the ground and left the gravesite the way we'd found it. We weren't going to come between others on a pilgrimage like ours and their right to pay homage to Faulkner through the written word.
Extras: 
Gems from Square Books – I came home with a first edition of Erskine Caldwell's The Last Night of Summer and a paperback of Truman Capote's A Tree Of Night and other stories, a first edition published by Signet and in excellent condition. I also picked up a signed copy of Square Books owner Lisa Howorth's Flying Shoes.
Must-see at Rowan Oak – Faulkner's mint julep cup. Look for it in a glass case in the upstairs hallway at Rowan Oak. His recipe was whiskey, 1 teaspoon of sugar, ice and mint served in the traditional metal or silver cup.
Regrets – Not hiking in to Rowan Oak from the rear of the University Museum. A 1/4-mile trail leads through Bailey's Woods to Faulkner's home.
Thanks to Mary Allyn Hedges and Katie Kaiser at Visit Oxford for creating our itinerary and taking such good care of us. We knew we could pop into the visitors center at any time for assistance, and Hedges even took time out of her busy schedule to have breakfast with us at BBB. 
Photo Credits: All photos by Deep South, except for Shrimp and Grits from City Grocery Facebook page.
Stay tuned for part two of our Mississippi Literary Road Trip when we travel on to Clarksdale and meet the director of the Mississippi Delta Tennessee Williams Festival, snoop around shuttered writers hangout Uncle Henry's Place on Moon Lake and make a pitstop in Jackson to get scoop on the upcoming Welty Biennial.