Fall For Literary Savannah
Uncover Savannah's literary greats among graceful architecture, oak-lined parks and a few lingering spirits. 
Called the Hostess City of the South, Savannah, Georgia, is known for things like its St. Patrick's Day celebration, cobblestoned riverfront and the Savannah College of Art and Design. But tucked in among the city's many festivals, historic homes and art museums are some literary landmarks that deserve a hop off the trolley.
Perhaps the most well known is Flannery O'Connor's Childhood Home. Rising three levels on East Charlton Street, this house museum has been restored to the Depression-era and records O'Connor's life from her birth in 1925 until she left home in 1938. Guided tours are available from 1-4 p.m. Friday through Tuesday and include a collection of rare books and reference materials by and about the author, along with the chance to explore the garden where a 6-year-old O'Connor famously taught a chicken to walk backwards.
Unfortunately, the home was not open when we visited last year and a note on the website apologizes for recent changes in hours due to maintenance and the loss of a tour guide. The museum expects to expand its hours in the coming months, but if you're planning a trip and want to be sure they'll be open, send an email at least a week in advance to [email protected].
In our case, we just spent more time in the Cathedral of St. John the Baptist across the square from O'Connor's home. The proximity brings a better understanding of the religious themes in her work, as she had a view of the cathedral's spires outside her window and needed only to walk across Lafayette Square to attend Mass. Savannah's first church parish, St. John was built in the French Gothic style in 1876. The cathedral was restored from 1998-2000, complete with a decorative paint scheme, murals, stained glass and the Stations of the Cross. Mass is held daily, with a Latin Mass on Sundays at 1 p.m., but the building is otherwise open for tourists and photos.
Until the sun slipped finally behind the tree line, Mrs. Turpin remained there with her gaze bent to them as if she were absorbing some abysmal life-giving knowledge. At last she lifted her head. There was only a purple streak in the sky, cutting through a field of crimson and leading, like an extension of the highway, into the descending dusk. She raised her hands from the side of the pen in a gesture hieratic and profound. A visionary light settled in her eyes. She saw the streak as a vast swinging bridge extending upward from the earth through a field of living fire. Upon it a vast horde of souls were rumbling toward heaven." – Flannery O'Connor's "Revelation"
Another church with literary roots is First Baptist next to Chippewa Square a few blocks away. The feather that opens the movie version of "Forrest Gump" (based on the book by Winston Groom) took flight off the church steeple and floats down over the square to land right next to Forrest's foot. The bench he's sitting on was located in the square but has been moved to the Savannah History Museum. Plenty of people still visit the spot — easily found by the location of the brown park sign.
It's worth noting that Savannah's 22 historic squares are a tour in themselves. All shaded by huge live oaks and many with fountains, the squares serve not only as public green spaces, but also as ways of designating where to find city landmarks. A trolley tour reveals that in the old days, the city fire bell would ring the number of times of the square the fire was closest to so that firefighters could find it. Savannah has lost only two square over the years as a result of city development, one of them to Ellis Square, which has been redesigned as a public space with restaurants, retail and the Inn at Ellis Square, a comfortable Days Inn property in an excellent location.
Savannah's largest and most recognizable green space is Forsyth Park, coming in at more than 30 acres and named for former Georgia Governor John Forsyth. Modeled after those in Peru, Forsyth Fountain is a must-see especially when it turns green around St. Patrick's Day. Just two blocks from Forsyth Park on Bull Street is perhaps Savannah's most famous house. Immortalized in John Berendt's 1994 book Midnight in the Garden of Good and Evil, the Mercer Williams House (pictured) is open for tours daily and filled with lore, art and a few mementos from the movie version.
Restored by one of Savannah's earliest and most dedicated restorationists Jim Williams, the house on Monterey Square features 18th and 19th century furniture, drawings from the 17th century and his collection of Chinese export porcelain, but it's not necessarily these tourists are there to see. Anyone native to Savannah or having read Berendt's book, which aired much of the genteel city's dirty laundry, remembers the accusation of murder against Jim Williams in 1981. After shooting his lover Danny Hansford in the home's study, Williams withstood four murder trials and was finally acquitted, only to die a year later.
On the tour, you'll walk through the study and see photos of Kevin Spacey (who played Williams in the movie) with Dr. Dorothy Kingery, Williams' sister who is the current owner of the home. Clint Eastwood is also pictured in a silver frame, and the story goes that he had copies of the home's art and antiques made to be used during filming so that the originals wouldn't be damaged. He left a set of paintings in the study as a thank you. No photos are allowed inside the house, but plenty can be found in the pages of the book.
We were sitting in the living room os his Victorian House. It was a mansion, really, with fifteen-foot ceilings and large, well-proportioned rooms. A graceful spiral stairway rose from the center hall toward a domed skylight. There was a ballroom on the second floor. It was Mercer House, one of the last of Savannah's great houses still in private hands. Together with the walled garden and the carriage house in back, it occupied an entire city block. If Mercer House was not quite the biggest private house in Savannah, it was certainly the most grandly furnished." – Chapter 1 "An Evening In Mercer House" from Midnight in the Garden of Good and Evil
In case you're wondering about the Mercer part of the house's name, it was originally designed for Hugh W. Mercer, great grandfather of songwriter Johnny Mercer. Mercer wrote the lyrics to more than 1,500 songs, and his hometown does a great job of celebrating his legacy and incredible talent. Toast him with a beer at Moon River Brewing Co. on West Bay Street, attend a show at the Johnny Mercer Theater or pay tribute at his gravesite in Bonaventure Cemetery.
Located outside of the historic district on 100 acres that used to be a plantation, Bonaventure feels like a land all its own. This cemetery was also made famous in Midnight in the Garden of Good and Evil — so much so that the Bird Girl statue featured on the book's cover and in the movie had to be moved to the Telfair Museum, where it can be found on the third floor landing.
If you're looking for the embodiment of Southern Gothic, then a drive or walk through Bonaventure Cemetery is it. Graves lie beneath huge oaks draped with moss that sways in the breeze, and all the famous Savannahians are buried here. There's poet Conrad Aiken, best friend of T.S. Eliot, owner of the Savannah Morning News John H. Estill, Marie Scudder Myrick, the first woman in the South to edit a daily newspaper, and Josiah Tatnall III, credited with the phrase "blood is thicker than water."
Johnny Mercer's family plot is in section H and features a marble bench printed with his accomplishments, most famous works and sketch of his profile. His grave itself is printed with "The Angels Sing" and included offerings of a rose, rocks and a penny the day we visited. Though not buried there, Oscar Wilde was inspired by the setting of Bonaventure during a visit to Savannah in the 1870s.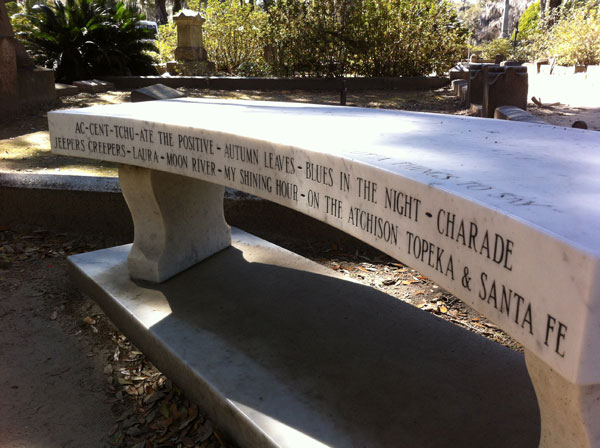 It's difficult not to be inspired in such a peaceful spot roaming with literary spirits. In fact, most of Savannah's historic district feels that way and you may find yourself compelled to sit down on a bench in a square, take out a notebook and start writing. Whether it's a song, poem or novel you're composing, Savannah is happy to play muse.
Where To Stay
Inn at Ellis Square – This Days Inn property is located in a historic building known as the "Grand Lady on Bay Street" just steps from the riverfront in one direction and revamped Ellis Square with restaurants, retail, an outdoor park and trolley stop in the other.
Hamilton-Turner Inn – If you want to stay as close to Flannery O'Connor's Childhood Home as you can, then this is the place to rest your head. This bed and breakfast has 17 guest rooms, including those named after O'Connor, Johnny Mercer and Conrad Aiken. The Flannery O'Connor Room has a carriage house feel with French doors that open to a courtyard and a whirlpool bath.
Where To Eat
The Olde Pink House – Located in Savannah's only 19th century mansion, is a historic favorite on Reynolds Square. Their She Crab Soup is some of the best, and fried green tomato, shrimp and grits and "Southern Sushi" appetizers are a great way to get a taste of Savannah.
The Florence – Recently opened on Victory Drive by Chef Hugh Acheson, this Italian-focused restaurant is named for Savannah's "Waving Girl" statue of Florence Martus and is open for dinner Tuesday-Sunday, with a coffee shop open for breakfast and lunch.
The Public Kitchen & Bar – A low-key spot to grab a sandwich after exploring Forsyth Park and the Mercer Williams House, The Public is a Daniel Reed restaurant with fresh salads, a great veggie burger and entrees like Thai Coconut Red Curry and Frogmore Oyster Stew.
Leopold's Ice Cream – No trip to Savannah is complete without a stop at this ice cream institution. The new location on Broughton Street was designed by Academy Award-nominated designer Dan Lomino and is filled with move posters, props and of course plenty of frozen treats. Order a cone of Johnny Mercer's favorite flavor Tutti Frutti, salute the Girl Scouts with Savannah Smiles or wait until the Savannah Book Festival rolls around and order a scoop named after a visiting author.
Other Bookish Sites 
Savannah Book Festival – Happening this weekend (February 12-15), this festival is held in three of the city's squares and presents authors likes Mary Kay Andrews, Karen Abbott, Mary Alice Monroe and Greg Iles. Author presentations and signings on Saturday are free and open to the public, and a closing address with Anne Rice on Sunday is $15.
E. Shaver Bookseller – Located on Madison Square behind the DeSoto Hilton Hotel, this bookstore has 12 rooms of hardbacks and paperbacks on topics from architecture to regional history, cookbooks and children's books.
Books on Bay – A vintage bookshop specializing in a wide range of topics, from the Civil War to mystery and scouting, Books on Bay is located near the water and open daily.
All photos by Deep South except for Inn at Ellis Square. 
Special thanks to Erica Backus with Visit Savannah and the Inn at Ellis Square for arranging our stay in Savannah last March. We can't wait to return!
Find out more about what's new in Savannah over at Getaways for Grownups.