10 Spring Festivals to Help Say Goodbye to Winter
It's been a cold winter, especially for us heat-loving Southerners, but the end is in sight. With warmer days, spring flowers and green trees come festivals to help usher in the season and get us outdoors again. We've rounded up some of the best, celebrating everything from local seafood to blooms, music and even a state vegetable.
Hilton Head Island Seafood Fest
March 1-7
Hilton Head Island, South Carolina
Attention seafood lovers: This weeklong event kicks off with a Fish Fry and Oyster Roast and ends with a daylong family friendly celebration of local seafood, live music and games. Hilton Head's Seafood Fest is not only the best way to get your local seafood fix, but it also helps a great cause. Proceeds from the festival benefit the Island Recreation Scholarship Fund, the MD Anderson Cancer Research Center and the American Cancer Society. Find the full schedule of events here, with tickets to each event being sold on the festival's website.
46th Annual Historic Home Tour
March 13-14
Mobile, Alabama
The theme for this year's home tour is "Private Spaces, Sacred Place," a nod to the interesting mix of historic homes and churches that will be on display. Four homes, three churches and the Spring Hill Graveyard highlight this year's tours, held from 10 a.m.-4 p.m. Tickets are $25 through March 12 and $30 starting March 13. All proceeds from the Historic Homes Tour will go toward the Historic Mobile Preservation Society.
Macon Cherry Blossom Festival
March 19-April 4
Macon, Georgia
Originally a sleepy Southern town, Macon has now become a bustling center of beauty and international friendship, as well as the Cherry Blossom Capital of the World. Macon's Cherry Blossom Festival was born in 1982 to celebrate the beauty of the Yoshino cherry trees that are now found all over town. During the festival, there are events going on throughout Macon, including an indoor/outdoor live music pub crawl featuring local and regional bands, a parade for the whole family and many other amusements and shows. Tickets can be purchased at Macon's Grand Opera House or online.
Selma Pilgrimage
March 20-21
Selma, Alabama
This year, the Selma Pilgrimage is celebrating the 50th anniversary of the Selma-to-Montgomery Voting Rights marches and the 150th anniversary of the Civil War Battle of Selma. Spring Pilgrimage offers visitors a chance to experience hands-on history through guided tours of antebellum homes, museums and more. Tour homes and churches where Martin Luther King Jr. and others planned strategies and led Civil Rights rallies, where Civil War generals set up headquarters and savvy Southern Belles saved silver and jewels. Tickets, both package and individual, can be purchased at the Vaughan-Smitherman Museum from 8:30 a.m.-4:30 p.m. both days.
North Carolina Azalea Festival
April 8-12
Wilmington, North Carolina
Founded in 1948, the Azalea Festival has emerged as Wilmington's premire event and is the largest festival of its kind in the state. Each event is a celebration, beginning with the traditional arrival of Queen Azalea at the official opening of the five-day event. From the Spring Soiree to garden tours, concerts from Alan Jackson and Nelly, a street festival and parade, this festival is both a celebration of the spring flower and local culture.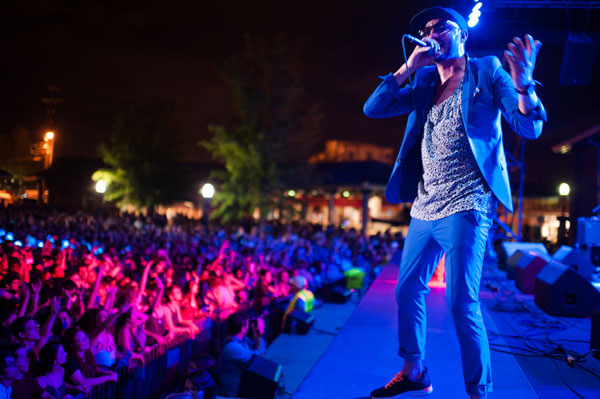 Festival International de Louisiane
April 22-26
Lafayette, Louisiana
Celebrating the cultural heritage of South Louisiana, primarily a combination of French, African, Caribbean and Hispanic influences, Festival International de Louisiane has produced this annual visual and performing arts festival for 29 years. In addition to the music by artists from all over the world, this free event also features workshops, theater, cooking demonstrations, street performers and children's programming.
Vidalia Onion Festival
April 23-26
Vidalia, Georgia
Check out why Georgia's Official State Vegetable, the internationally known Vidalia Sweet Onion, is deserving of its place on the pedestal at this four-day event. Featured on The Food Network, this festival is packed with fun activities that offer something for everyone, including a carnival, the Golden Onion Culinary Competition, airshow featuring the U.S. Navy Blue Angels and World Famous Onion Eating Contest, just to name a few. See the full events schedule for more.
Artfields Art Competition
April 25-May 2
Lake City, South Carolina
The South's biggest art competition, Artfields will showcase original works in 50-plus venues that include historic buildings, shops, cafes and offices for locals and visitors to enjoy. Artists from 12 southeastern states will compete for more than $110,000 in prize money. This competition, now in its third year, has helped transform the old tobacco town of
Lake City into a thriving artistic community. The nine-day festival also features a 5K color run through downtown, a craft brews event, artists market, sanctioned South Carolina Barbecue Association cookoff, symphony concert, children's art workshop, portrait contest and more. Check out all of the events and ticket information here.
22nd Annual Blind Willie McTell Blues Festival
May 9
Thomson, Georgia
This festival in eastern Georgia has been celebrating great roots musicians and blues players for over two decades. Its namesake Blind Willie McTell was an early 20th century pioneer on the 12-string guitar and played a variety of musical styles, including blues in the Piedmont style, ragtime and gospel. Tickets are on sale for $30 in advance and are $40 the day of the festival. Great regional food will again be featured along the food court, with the gates opening at 11 a.m. and music from the likes of Marcia Ball and John Hammond beginning at  noon.
Spoleto
May 21-June 7
Charleston, South Carolina
For 17 days and nights each spring, Spoleto Festival USA fills Charleston's historic theaters, churches and outdoor spaces with performances by renowned artists as well as emerging performers in opera, theater, dance and music. Now in its 39th season, Spoleto is internationally recognized as America's premier performing arts festival. This year's shows include "Romeo and Juliet" and "Sleeping Beauty," as well as Westminster Choir and the Scottish Ballet's "A Streetcar Named Desire." Tickets are available for individual events, but ticket packages and specialty packages are also available and can be bought online, by phone or in person.
Photo credits, from top: Shrimp dish courtesy of Hilton Head Island Seafood Fest; Macon Cherry Blossom Festival by William Haun; Festival International de Louisiane courtesy of Festival International; and Scottish Ballet's "A Streetcar Named Desire" by Andrew Ross.