Latest & Greatest in Charleston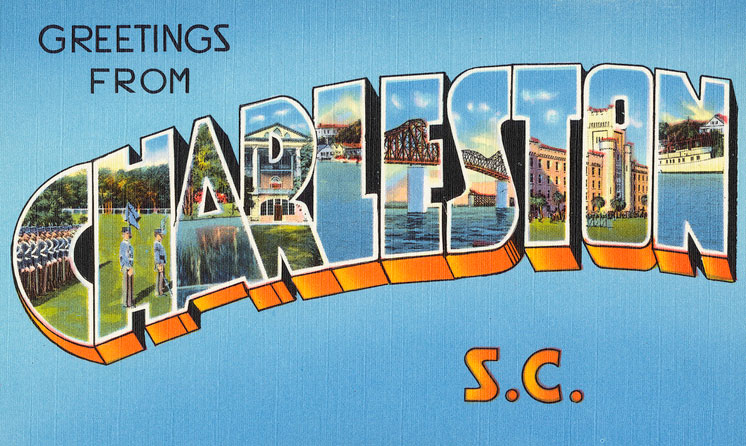 What to eat, drink, experience and take home during a visit to the No. 1 city in the country this year. 
You can't open a magazine these days without seeing Charleston, South Carolina, touted as a great travel destination. In 2014, the city earned high accolades, including No. 1 city in the U.S. and Canada from Travel + Leisure World's Best Awards. The Holy City was also designated the No. 1 top U.S. city and No. 2 top city in the world by Condé Nast Traveler's Choice Awards.
Known for its rich history, well-preserved architecture, coastal location, a celebrated restaurant community and mannerly people, Charleston has it all. If you're planning a visit to the Southern city this year, you'll want to balance all that history and architecture with brand-new restaurants, shops, experiences and events — and be sure to take home a souvenir in the form of a product direct from Charleston.
EATS & SIPS 
Charleston's culinary scene is filled with unique eateries and bars that contribute to its charming atmosphere. The city was named Outstanding Culinary Destination during the 2014 Saveur Culinary Travel Awards.
In the Kitchen with Chef Bob Waggoner
164-A Market St.
Former executive chef of Charleston Grill and a James Beard Award winner, Chef Bob Waggoner offers intimate cooking classes in his downtown showcase kitchen. Chef Waggoner's high-end classes, which began in January, teach kitchen tips and techniques while guests prepare a seasonal tasting menu.
Minero
155 East Bay St.
Noted Southern Chef Sean Brock of Husk and McCrady's expanded his culinary empire to bring Mexican street food to East Bay Street in October 2014. Named after Mexican miners who wrapped explosives in paper and called them tacos, Minero offers a casual setting with house-made authentic corn tortillas and bold menu items (pictured) such as shrimp and masa grits and charcoaled chicken tacos.
Motobar
487 King St.
A motorcycle-themed establishment on upper King Street, Motobar opened in November 2014 serving vegetarian and vegan dishes for breakfast and lunch. Juices and smoothies lead into custom sandwiches and salads for lunch, shared plates and cocktails in the evening, plus Sunday brunch.
The Daily
652 King St.
An extension of Butcher & Bee, a well-known sandwich shop on upper King Street, The Daily offers a corner store experience with quality provisions, including prepared foods, Stumptown coffee, cold pressed juice, beer and wine. The restaurant, which opened in November 2014, also regularly hosts pop-up markets with the city's purveyors of produce, fish and meats.
West Side Deli
237 Fishburne St.
After its much-anticipated winter 2015 opening, West Side Deli will bring a bodega-style market to Charleston's peninsula, serving Boar's Head brand sandwiches, bagels, cheesecake and coffee.
Palmetto Brewing
289 Huger St.
The first brewery in the state of South Carolina, Palmetto Brewing is considered the "founding father" of Charleston's craft beer movement. After more than a year of construction, the brewery reopened in August 2014 for tastings and tours. The newly renovated space includes an outdoor courtyard and 14-tap tasting room pouring four classic brews: Amber Ale, Pale Ale, Espresso Porter and Charleston Lager, along with special seasonal releases.
Striped Pig Distillery
225-A Old School Dr.
Since its launch in November 2014, Striped Pig Distillery has expanded its offerings. In addition to vodka, rum and moonshine, the distillery now stocks Striped Spiced Rum, Striped Gin and Striped Whiskey, all crafted with locally grown ingredients. Visit the operation and tasting room Thursday through Saturday and be sure to say hello to resident pig Jackson.
TAKE HOME
You should never return home without a souvenir, and Charleston has plenty to choose from, whether cocktail, food or fashion related.
Launched in June 2014, Bittermilk's line of cocktail flavoring products has steadily grown. No. 4 New Orleans Style Old Fashioned Rouge and No. 6 Oaxacan Old Fashioned are the company's latest products, but mixes like No. 2 Tom Collins and No. 5 Charred Grapefruit Tonic make it difficult to choose just one. Bittermilk is sold in a variety of stores in Charleston, including Charleston Cooks, Caviar & Bananas and Two Boroughs Larder. A complete list of locations is available here.
Candlefish
71 Wentworth St.
The first retail location from Rewined Candle Company — the Charleston-based candle maker renowned for its use of recycled wine bottles — Candlefish opened in October 2014. Set up like a library, the shop stocks the company's Produce and Rewined candles as well as other curated gift items, and customers can also try their hand at candle-making classes.
Jack Rudy Cocktail Company's Elderflower Tonic
Jack Rudy Cocktail Company has been offering a wide selection of quality drink mixers since August 2014. The company's latest formula, Elderflower Tonic, was created by mixologist Brooks Reitz. The concentrated syrup is formulated with dried elderflowers and quinine — a recipe designed to take Gin & Tonic drinking into the winter months. Products are available at The Cocktail Club, Heirloom Book Company and Bull Street Gourmet. The complete list is available here.
Le Creuset Boutique
112 North Market St.
Planters Inn is the new global cookware partner of Relais & Châteauxhome, boasting the world's first Le Creuset Boutique. Opened in October 2014, the shop features cast iron and stainless steel pieces, upholding the company's reputation as the world's leading manufacturer of enameled cast iron cookware. The boutique keeps its offerings fresh by introducing new colors and themes seasonally.
MOSA
420 1/2 King St.
MOSA opened in October 2014, making it the newest arrival on upper King Street. The store boasts a high-end shopping experience for men and women, taking its name from the mimosa, an orange juice and champagne cocktail. While shopping in the boutique, customers can buy a prepaid card and serve themselves mimosas, beer and wine.
The Eyebrarian
194 King St.
This stylish shop opened in September 2014, forever changing the fashion world by pairing fashionable books with handmade, fashion-forward sunglasses and eyewear. The Eyebrarian carries stylish shades from names like The Row and Super, meticulously crafted eyewear from Berlin's Lunette Kollektion, vintage sunglasses and a boatload of readers.
STAY
Historic hotels and inns abound in the city, but two brand new options offer both style and convenience.
The Vendue
19 Vendue Range
A boutique hotel that reopened in May 2014 after closing for renovations, The Vendue now sports architectural and operational updates as well as updated rooms. The only historic property dating to the 1780s that is dedicated to the arts, the hotel has more than 300 original pieces installed throughout the building. And guests don't need to worry about finding a suitable restaurant. Three dining options are available on site, including The Press, The Drawing Room and The Rooftop.
The Hilton Garden Inn
45 Lockwood Dr.
Located in downtown Charleston neighboring the Ashley Marina, this waterfront hotel opened in May 2014 and offers three meeting spaces, onsite catering, a fitness center, pool and complimentary wifi. Catch a ride to nearby destinations on the hotel shuttle and get assistance with tickets and tours.
EXPERIENCE
Tour the city like an insider with a new food tour, stories immersed in the city's heritage and special weekend celebrating everything Charleston.
Chow Down Charleston Food Tours
This three-hour walking tour is a great way for visitors of Charleston to get a taste of historic downtown. On the tour, participants sample items from local favorites Christophe Paume, Brown Dog Deli, Gaulart & Maliclet Fast & French, Queen Street Grocery, Kitchen 208 and Lowcountry Olive Oil, while strolling through beautiful neighborhoods.
Charleston Tells: Storytelling Festival
March 13-14, 2015
Wragg Square
Now in its third year, this storytelling festival is deeply immersed in Charleston's rich heritage. Charleston Tells finds inspiration in the city's history and routinely brings together more than 40 of the nation's storytellers and entertainers under moss-draped oaks who engage audiences with the spoken word.
Time Inc. Charleston Insiders Weekend
May 1 -3
The Charleston Area Convention & Visitors Bureau has partnered with five Time Inc. lifestyle publications, including Travel + Leisure, Coastal Living, Southern Living, Departures and Food & Wine, for the first-ever Charleston Insiders Weekend. Participants will be able to interact with participating magazines' editors and partake in more than 20 one-of-a-kind local experiences celebrating Charleston's epicurean scene, shopping, history, culture and lifestyle—all from an insider's point of view. Tickets are available at southernliving.com/Charleston.
While this list focuses on new offerings in Charleston opened in the past year or so, there are still plenty of old favorites that shouldn't be missed during a visit to the city. The King Charles Inn remains a storied location along the "Museum Mile" (Edgar Allan Poe spent weekends on site while writing "The Gold Bug") restaurants The Macintosh, which has one of the best veggie plates we've ever tasted, SNOB and Circa 1886 are always good dining choices, and taking home a sweetgrass basket or package of benne wafers is never a bad idea.
Photo credits, from top: Greetings from Charleston postcard from Boston Public Library on Flickr Creative Commons; tacos at Minero and Palmetto brew courtesy of Polished Pig Media; Bittermilk bottles from Bittermilk Facebook page; The Eyebrarian courtesy of Charleston CVB; and The Vendue from thevendue.com.