Richmond's Poe Museum Displays its Strangest Artifacts
"Poe's Cabinet of Curiosities" focuses on the unusual, the unseen and the uncanny items in the museum's 93-year collection.
People coming from all 50 states and no fewer than 30 countries pay homage to the great American author at the Poe Museum in Richmond, Virginia. Since 1922, the museum has garnered an an extensive collection of pictures, relics, manuscripts, letters and personal affects all belonging to or celebrating Edgar Allan Poe.
"The Poe Museum is the kind of place people from around the world make pilgrimages to see," says Curator Chris Semtner, who has worked there for 15 years. "A few have Poe t-shirts and tattoos, but almost all of them, regardless of the language they speak, know Poe's work. We have visitors who've never heard of Thomas Jefferson, but they read Poe in school in Korean or Russian or French. I remember one guest from South Korea tell me he learned English by reading Poe's works."
Located in the Old Stone House blocks away from Poe's first home in Richmond, the museum has earned a reputation of being "a little different" than the other museums around town. Richmond Magazine gave it an award for "Best Off-Beat Museum," and one year TIME magazine named it the "Most Authentic American Experience in Virginia."
The Poe Museum owes some of its most unusual pieces to its quirky repute. Just a few years ago, a guest donated a framed flower arrangement made entirely of human hair. "She told me she had no idea what to do with it but thought maybe the Poe Museum would appreciate it because it was a little weird," Semtner recalls.
The human hair artwork is by far not the only unusual artifact in the museum. Many people have donated seemingly random and strange objects over the years. Sparked by the number of uncanny items in the museum's repertoire, Semnter wanted to present an exhibit this summer displaying some of these artifacts, many of which have never been seen by the public.
"Usually, I begin with an educational theme for the exhibit and try to make sure it relates to the Virginia Standards of Learning," Semnter says. "But this time, since school groups don't visit as often in the summer, I wanted to just have a show of random weird stuff people have donated to the museum over the years. I made a list of all my favorite artifacts, and our membership coordinator polled the membership to get suggestions for things to include."
The result is "Poe's Cabinet of Curiosities," on display through August 23. Some of the items, like an album of literary autographs, have been at the museum since 1928, while others were more recently acquired within the last year. Most focus on certain Poe stories or aspects of the author's life, but this show's primary concentration is the act of collecting.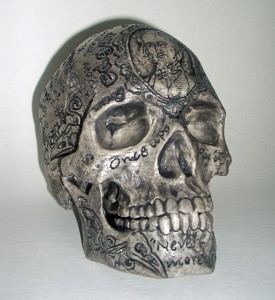 Artifacts on display include a pressed flower picked from John Keat's grave in 1854 by Poe's friend John R. Thompson, a portrait of Poe painted in blood by Ryan Almighty (pictured above), a replica skull engraved with verses from the "The Raven" (pictured left), a life mask of Vincent Price and a fabricated gold bug installed on the ceiling that pays homage to Poe's short story.
If you don't get a chance to see the exhibit before it closes, Semtner promises there is much more to look forward to this fall. "Buried Alive: Premature Burial in Poe's Time" opens August 27. Another current exhibit, "Madness: Insanity in the Works of Edgar Allan Poe," will remain on display until September 20, and "The Cask of Amontillado" opens on October 22. (The museum also devotes three buildings to permanent exhibits.)
"The Poe Museum boasts the world's largest collection of Edgar Allan Poe's personal items," Semtner concludes. "A visit to the Poe Museum is the closest you'll come to meeting Edgar Allan Poe in the flesh."
All photos courtesy of the Poe Museum.