Beef Sliders with Jalapeno Bacon and Beer Sauce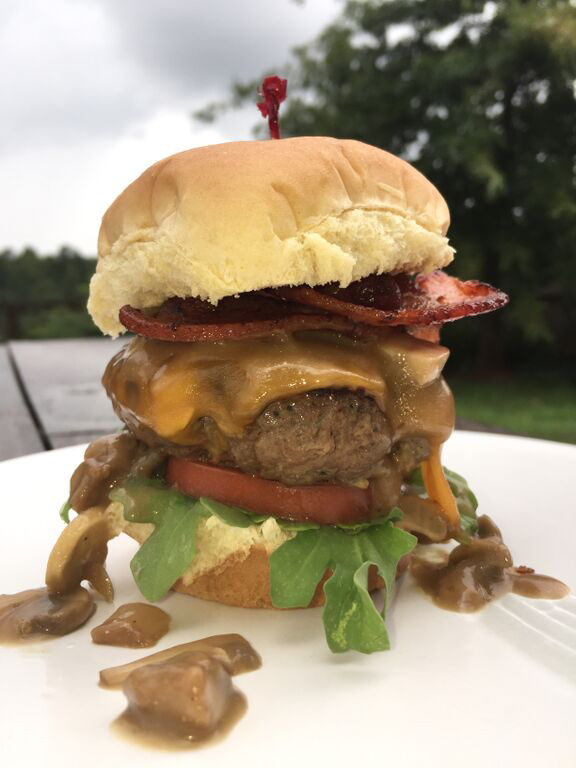 Mississippi Chef Linkie Marais is ready for tailgating season, and you can be too with her collection of recipes easy to transport and serve on game day. These bite-sized sliders travel well from home with waxed paper placed between the patties and can be thrown on the grill when it's time to eat.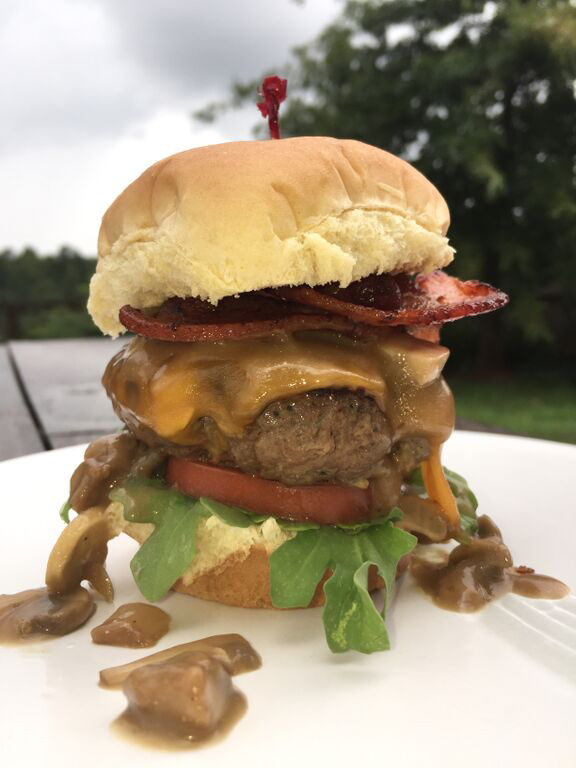 For the sauce:
1.5 cans beer
3 Tbsp. flour
3 Tbsp. butter
1 onion, chopped
1 Tbsp. olive oil
1 small package mushrooms, chopped
1 1⁄4 tsp. salt
1⁄2 tsp. ground pepper
For the Jalapeno Bacon:
2 jalapenos
10-12 slices bacon
For the beef sliders:
2 lbs. ground beef
2 cloves garlic, chopped
1 tsp. salt
1⁄2 tsp. ground black pepper
1/8 tsp. cayenne pepper
1⁄2 tsp. mustard
1 tsp. Worcestershire
1 tsp. onion powder
1 tsp. basil flakes
10-12 slices cheddar or Monterey Jack cheese
10-12 tomato slices
Bibb lettuce or arugula
10-12 slider buns (could be brioche)
For the sauce, heat the grill to 350 degrees. Make a roux in a cast iron skillet or small Dutch oven by melting the butter and then stirring in the flour until smooth. Remove from the cast iron skillet and set aside. Sauté the onions in oil until translucent. Add the roux back into the skillet and stir while adding the beer slowly. Add the rest of the ingredients and cook until the mushrooms are tender and the sauce is thicker. If the sauce is too thick, add a few more tablespoons of beer. Note: This sauce also be made on a stovetop.
For the Jalapeño Bacon, slice the jalapenos lengthwise and remove the seeds carefully. Rub each piece of bacon with jalapenos, then cook until crispy.
For the sliders, reheat the grill to 450-500 degrees. Mix the first nine ingredients together in a stainless steel bowl. Form sliders into rounds and grill for 4-6 minutes on each side or until desired doneness is achieved. Right before done, place a slice of cheese on each slider. Assemble sliders by starting out with a piece of lettuce, then the slider, then the beer sauce, then the tomato and bacon. Skewer each slider to stay assembled.
Recipe and photo courtesy of Linkie Marais.