5 Artsy Southern Towns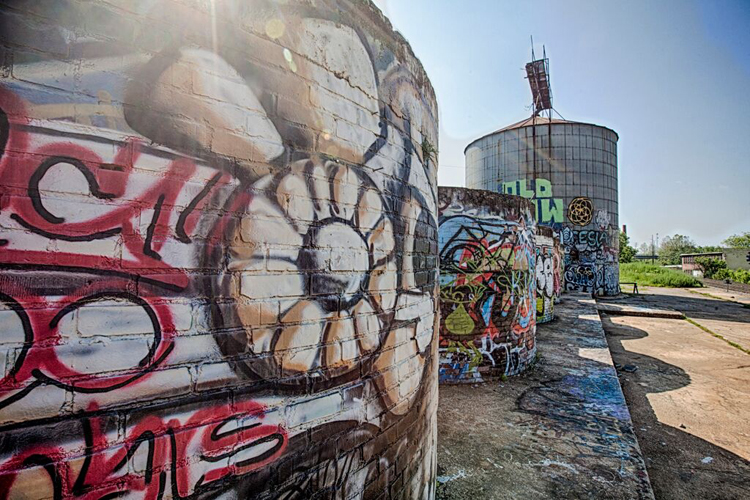 Combine art with fall foliage in these towns where creativity reigns. 
In the South, we have no problem celebrating the strange and quirky. Travelers often plan stops around weird roadside attractions, and no trip is complete without taking home a memorable souvenir. You could probably find a talented artist in almost any Southern town, but we rounded up a few known for their unusual shops, galleries, street art and cultural events. From the mountains to the coast, these Southern towns are meccas for any art lover — especially this fall.
1. Asheville, North Carolina
Situated within the Blue Ridge Mountains, Asheville is the quintessential Southern town for an artsy and alternative experience. Among a long stream of accolades, Asheville was ranked the No. 1 "Quirkiest Town" in the United States by TravelandLeisure.com in 2014. Known nationwide for its stunning fall foliage, the city is home to an assortment of unusual shops, like Olive and Kickin' — dedicated solely to olive oils and balsamic vinegars — and the French Broad Antique Mall. Stop over at Grovewood Gallery to leave with a piece of furniture that doubles as a work of art, or visit the famous Woolworth Walk, where you can browse an expansive gallery of local art, eat at a traditional lunch counter and even tap into a restored soda fountain. But don't miss the River Arts District, a collection of working studios in 22 former factories and historical buildings along the French Broad River.
2. Athens, Georgia
Athens is arguably Georgia's ultimate art town. Home to a blossoming music scene, it was noted by Fortune in 2006 as "Best Place to Recapture Your Youth," a sentiment which still rings true today. Among the multitudes of coffee shops and art galleries, you can find such gems such as Avid Bookshop, The Grit and The Tree That Owns Itself, a white oak possessing legal ownership of itself and the land around it at the intersection of Dearing and Findley streets. It's at night that Athens truly comes alive though. Countless bands and musicians, including winners of Athen's own "Flagpole Awards," can be seen performing at venues like 40 Watt Club and the Georgia Theater. On top of that, quirky nightlife establishments like Go Bar known for its experimental music are just as much a part of Athen's indie scene.
3. Chattanooga, Tennessee
Situated on the Chickamauga and Nickajack lakes, Chattanooga is often overlooked as an artsy getaway. Boasting a multitude of galleries showcasing established and emerging artists, the city has an entire section – the Bluff View Arts District and NorthShore – dedicated to local art. Don't miss Hunter Museum of American Art situated on an 80-foot bluff. Chattanooga Market was named one of the "Top Ten Markets in America" by Frommers, making it an ideal destination for artists, musicians and foodies alike. One can visit the Tivoli Theatre to see the Chattanooga Symphony and opera perform or see the River Gallery Sculpture Garden where, since 1993, a new art exhibit has been displayed every year, with sculptures available for public purchase.
4. Ocean Springs, Mississippi
If you find yourself in this cloistered downtown area of the Gulf Coast enveloped by rows of oak trees, look for an assortment of art galleries and ethnic restaurants to pore through. The seat of Jackson County experienced a reformation after the Biloxi Bay Bridge was decimated by Hurricane Katrina in 2005 when, before its 2007 reconstruction, the bridge's ruins became a popular spot for painters and photographers to document and depict the magnitude of the storm's power. Ocean Springs has flourished in its memory. Tourists can visit the Walter Anderson Museum of Art, where the present running exhibit "Feathers and Fins" is comprised of work by Anderson himself. Art walks are a regular event downtown (with one coming up on September 5), and November brings the 37th annual Peter Anderson Arts and Crafts Festival, where you can see the winners of the annual Blue Moon Art Project Contest.
5. Arnaudville, Louisiana
Formerly known as La Jonction, or "The Junction," Arnaudville is the perfect intersection of Louisiana culture and geography. In a state full of great art and music destinations, this rural town hides some of the most authentic gems. Every December brings the Fire and Water Rural Arts Celebration, where arts and craft demonstrations are accompanied by numerous concerts showcasing the Cajun French music of the area at NuNu Arts and Culture Collective. A must-visit is the Little Big Cup, a restaurant and coffeehouse where you can enjoy espresso and steak on a garden patio overlooking Bayou Fuselier. Every quirky town needs a signature brewhouse, and Bayou Teche Brewing has Arnaudville's resident brewmasters, who craft beer specifically to compliment the Cajun and Creole fare of the region. Keep an eye out for monthly events like a potluck social, French-speaking table, needlepoint group and a short story book club.
Photo credits, from top: Featured photo of the River Arts District courtesy of ExploreAsheville.com, Georgia Theatre by Elliott Anderson courtesy of VisitAthensGA.com, Hunter Museum of American Art/Bluff View From North Shore courtesy of Chattanooga Convention & Visitors Bureau, Walter Anderson Museum of Art from museum Facebook page and NuNu Arts and Culture Collective in Arnaudville from NuNu Facebook page.