2015 Fall/Winter Reading List
Twenty-six of the latest mysteries, short story collections, fiction & debut novels from the South.
OUT IN SEPTEMBER 
A Cherry Cola Christmas
by Ashton Lee 
Christmas is coming to the small town of Cherico, Mississippi. Unfortunately, so has hard times and as the holidays approach, Cherico's economy is struggling. Beloved local stores have closed, many jobs have been lost, and there's even a mysterious crime spree afoot. Amid the gloom, local librarian Maura Beth Mayhew decides what the community needs is a healthy dose of Christmas cheer, which means a special meeting of the Cherry Cola Book Club. In an effort to get the townspeople's spirits up, newlywed Maura Beth invites the town to a potluck to share food — and their most uplifting stories.
A Clear View Of The Southern Sky
by Mary Hood
Women are like snowflakes. No two are entirely the same. Each one is uniquely beautiful and delicate in their own way. But don't let the snowflake metaphor fool you. The women in Mary Hood's 10 tales are unable to fit in the tropes commonly found scattered in literature. These women feel pain, joy, heartache, trauma, love and everything in between. Hood carefully weaves a world that breaks boundaries, nails, speed limits and possibly a law or two along the way. As Lee Smith puts it, "These stories are fiercely original, fiercely intelligent, fiercely honest … Mary Hood could be the spiritual love child of Flannery O'Connor and Barry Hannah, or maybe she's simply Mary Hood, not only one of the most unique Southern writers ever, but a true American treasure."
Above the Waterfall
by Ron Rash
Not for the faint of heart, Ron Rash has crafted a poetic yet eerie glimpse into a small North Carolina town. Masterfully switching from the perspective of the jaded sheriff on the brink of retirement and a park ranger haunted by her traumatic past, Above the Waterfall digs deep into a small Appalachian town ravaged by crystal meth and a poisoned water source. What starts as a simple mystery that forces these two narrators together reveals itself to be bigger than either of them expected. Both are taken above the waterfall and possibly over the edge …
The Art of Crash Landing
by Melissa DeCarlo
Mattie Wallace has hit rock bottom. With no money in the bank and a bun in the oven, she has nowhere to turn and only six trash bags of belongings to her name. Mattie is haunted by the ghost of her late mother, an alcoholic who never met a bad choice she didn't make. News of a possible inheritance from a grandmother she never knew gives Mattie a feeling of hope, but as with most things in life, the inheritance doesn't come free or unearned. As she prepares for motherhood —and drives nearly a thousand miles away to her mother's hometown in Oklahoma — Mattie realizes that discovering what made her mother into the damaged woman that raised, no matter what cost, may be the only thing that can save her from her own downward spiral.
Deep South
by Paul Theroux
From the travel writer who has spent 50 years crossing the globe, Deep South is an ode to a region both vivid and haunting. Paul Theroux has decided to go somewhere deeper than his previous nine books as he documents the rich culture and cuisine of the South, as well as the startling contrast of some of the country's poorest housing and schools. Visiting gun shows and small-town churches, laborers in Arkansas and parts of Mississippi where they still call the farm up the road "the plantation," Theroux interviews mayors, reverends, farmers and everyone in between to shed much-needed light on the South's unsung heroes.
The Gates of Evangeline
by Hester Young
The first in a new series by debut author Hester Young, The Gates of Evangeline has been called "a powerful and haunting examination of a mother's grief and her long road to recovery" by author David Bell. Young's story of Charlotte "Charlie" Cates, a divorced magazine editor reeling from the death of her young son, was inspired by her own dreams foreshadowing a local tragedy. After a little boy in a boat appears to Charlie asking for help, she finds herself in Chicory, Louisiana, entangled in a 30-year-old missing child case at Evangeline Plantation. While probing the dusty facts of the case, Charlie is challenged at every turn by key players in the mystery who are not what they appear to be. Can her visions help her uncover long-buried secrets of love, money, betrayal and murder?
The Headmaster's Darlings
by Katherine Clark
Do you remember the teacher who changed your life with something as simple as a kind word of encouragement? Katherine Clark's debut novel is a social satirical view of a man striving to be that kind of teacher. We find morbidly obese Norman Laney caught between trying to save his students and himself after the principle suddenly demands his resignation, with no explanation. Laney's wit and generosity toward his students never ceases as he struggles to get to the bottom of who wants him gone and why. But will solving the mystery hurt or help him save his job? And will he even be able to solve it in time?
Miss Dreamsville and the Lost Heiress of Collier County
by Amy Hill Hearth
In her followup to Miss Dreamsville and the Collier County Women's Literary Society, Floridian Amy Hill Hearth shows how closely tied each of us is to our sense of home — and the conflicts that can arise when our idea of that home becomes threatened. Narrator Dora Witherspoon returns to Collier County to assist in a land battle between her ex-husband and developer Darryl Norwood and Robbie-Lee, who grew up along the tidal river with his striper turned alligator hunter mother Dolores Simpson. An old land deed, dramatic court hearing and reappearance of the Ghost of Seminole Joe are just a few of the highlights in this story called a "delightful ride" by author Lisa Wingate.
My Sweet Vidalia
by Deborah Mantella 
On July 4, 1955, in rural Georgia, an act of violence threatens the life of Vidalia Lee Kandal Jackson's pre-born daughter. Despite the direst of circumstances, the spirit of the lost child refuses to leave her ill-equipped young mother's side. For as long as she is needed — through troubled pregnancies, through poverty, through spousal abuse and agonizing betrayals — Cieli Mae, the determined spirit child, narrates their journey. Serving as a safe place and sounding board for Vidalia's innermost thoughts and confusions, lending a strength to her momma's emerging voice, Cieli Mae provides her own special brand of comfort and encouragement, all the while honoring the restrictions imposed by her otherworldly status.
The Sea Keeper's Daughters
by Lisa Wingate
Struggling to keep her business afloat and away from a hostile takeover, restaurant owner Whitney Monroe is not having a great couple of months. When she inherits a local hotel, Whitney thinks this may be the key to solving all of her problems. But running a hotel turns out not to be such the walk in the park she imagined. Whitney finds herself forced to deal with her estranged stepfather and rambunctious clients, while searching through her newly inherited family heirlooms for anything that can get her quick cash. What she finds instead is an old necklace and an older love story that could change everything …
Sea Lovers
by Valerie Martin
Valerie Martin's collection of her best short stories to date is "rife with the unspoken cracks between people, and leaves a haunting, lingering impression," according to Publisher's Weekly. From heartache to obsession and everything in between, Martin brings to life a transfusion of real and otherworldly characters and emotions that will fill your heart and break it — within the same page. Martin embraces the tension of everyday life and explores what it means to different people, in a way that makes each character dreamy yet relatable. From painters to centaurs, Martin explores what it really means to be human.
The Scribe
by Matthew Guinn
Matthew Guinn's historically accurate and poetic novel takes a closer look at the sins and fears of tradition and present day. Disgraced and disgruntled former detective Thomas Canby is forced to return to Atlanta to help catch a serial killer. This particular killer has been targeting wealthy black citizens and marking each body with a letter of the alphabet. Paired with the city's first African American officer, Canby must deal with his own prejudices if he wants to solve the case. Set on the eve of Atlanta's 1881 International Cotton Exposition, The Scribe has Canby rushing against the clock in an effort to shield the city's celebration of New South industry.
My Southern Journey
by Rick Bragg 
From celebrated New York Times bestselling author and winner of the Pulitzer Prize, Rick Bragg, comes a collection of essays about life in the South. Bragg's dry sense of humor is laced throughout the pages, giving a comical twist to everything entailed in Southern life — from college football to mayonnaise. Featuring essays representing a decade of writing, Bragg's storytelling travels from his native Alabama to Cajun Country and the Gulf Coast exposing Southern truths about home, place, spirit and table.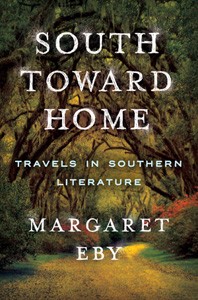 South Toward Home: Travels in Southern Literature
by Margaret Eby
Part biography and part critique, South Toward Home has Margaret Eby delving into the literary South. What about the South made writers like Harper Lee and William Faulkner so transfixed that they were able to create works of literature about such a tiny part of the world yet received international critical acclaim? Eby journeys across the states where so many famous authors not only wrote about, but lived in an attempt to answer this question. From Georgian peacock feeders to New Orleans hot dog vendors, she examines what about these people and places inspired so many beloved novels and works of literature.
Where the Souls Go
by Ann Hite
Ann Hite's latest novel set in Black Mountain, North Carolina, is another piece of the Pritchard family puzzle. In this third installment, 10-year-old Annie Todd is surrounded by loneliness. That is, until she encounters ghosts and secrets that both distract and intrigue her from her familial struggles. Uncovering secrets about herself and her family may have started as a hobby, but Annie soon learns the burden of these pieces of information is a full-time job. Read more about Hite's Black Mountain and her first two books here.
OUT IN OCTOBER 
Carrying Albert Home
by Homer Hickam
The long-awaited prequel to to the award-winning memoir Rocket Boys is the story of a classic love triangle. Homer (the author's father) loves Elsie, and Elsie loves Albert. Simple, except for one big difference. Albert is an alligator. Elsie and Homer were high school classmates in the West Virginia coalfields, but when Homer proposed marriage, Elsie instead headed to Orlando. There, she had a brief romance with famed actor Buddy Ebsen but eventually found herself back home married to Homer. She knows she's meant for something more and is reminded of Buddy every day through his wedding gift: Albert. Homer eventually gives Elsie an ultimatum, and she decides to carry Albert home to Florida.
Crosscurrents and Other Stories
by Gerry Wilson 
The 11 stories in seventh-generation Mississippian Gerry Wilson's debut collection span three generations of women —wives, mothers, daughters, sisters, friends. Starkly real yet sometimes mystical, these stories portray women who persevere through betrayal, loss and heartbreak. "I always wondered what lurked behind the pink fence at the Wild Animal Park. How I longed for seating in that tattered, empty Italian restaurant with its ancient candles and bombastic opera!" says author Steve Yates, describing these stories as "crackling with life."
The Do-Right
by Lisa Sandlin
Delpha Wade has served 14 years of prison time for killing a man who was raping her. She'd wanted to kill the other one too, but he got away. Out on parole, it's hard to find a decent job, but Delpha's persistence pays off. She lands a secretarial job with Tom Phelan, an ex-roughneck turned neophyte private eye. Delpha is smart, prison-wise, and together the two stumble into the dark corners of Beaumont, Texas, a blue-collar, Cajun-influenced town dominated by "big oil." A mysterious client plots mayhem against a small petrochemical company, Phelan uncovers the weird lair of a serial killer, and Delpha — on a weekend outing — looks into the eyes of her rapist, the one who got away. The novel's conclusion is classic noir, full of surprise, excitement and karmic justice.
Duck Thief and Other Stories
by David Langlinais
Written in a genre that could be described as Bayou Noir, David Langlinais uses the Southern landscape to tell his stories, resulting in a blend of satire, sadness and suspense. A fishing trip that turns dark, late-night voyeur and little boy who discovers what goes on behind his neighbors' closed doors make up the 13 stories in this debut collection. Langlinais's characters are searching for human connection in the bayous and magnolia trees of Louisiana, along with the big cities of Texas. Will they find what they're looking for?
The Early Stories of Truman Capote
by Truman Capote 
Recently rediscovered in the archives of the New York Public Library, these short stories provide an unparalleled look at Truman Capote writing in his teens and early twenties, before he penned such classics as Other Voices, Other Rooms, Breakfast at Tiffany's and In Cold Blood. This collection of more than a dozen pieces showcases the young Capote developing the unique voice and sensibility that would make him one of the twentieth century's most original writers. Here, we see Capote's powers of empathy developing as he depicts his characters struggling at the margins of their known worlds. Young women experience the joys and pains of new love, urbane sophisticates are worn down by cynicism, and children and adults alike seek understanding in a treacherous world.
The Gorge
 by David Armand
In his latest literary thriller, David Armand weaves together the stories of an eccentric cast of dark, frighteningly realist characters, each under suspicion of murdering young girl Amber Varnado, whose body is found hidden in a deep gorge at the opening of the novel. Set in southeast Louisiana, the novel follows the colliding lives of Tuller, the murdered girl's boyfriend and prime suspect; Amber's father John Varnado; Grady, a young man dwarfed by rickets who prowls the night to feed his strange desires; and Euwell, a man who lives in an old shack near the gorge. Armand's story explores the universal themes of desperate love and the pitfalls of false assumptions woven into the tenuous threads of coincidence that connect people in a small town, creating a "vivid and memorable world," according to Jill McCorkle.
Pretending to Dance
by Diane Chamberlain
This North Carolina author's 24th novel is as riveting as last year's The Silent Sister, again examining secrets from a women's childhood past. At age 14, Molly Arnette's safe world in the Blue Ridge Mountains is crafted by her adoring father and adopted mother. But that world crumbles when she becomes aware of a plan taking shape within her family that threatens her father's life. An adult living in San Diego, present-day Molly and her husband are trying to adopt a baby. When the social worker asks Molly about her parents, she tells her they died, but the truth is her mother murdered her father and may still be alive. A former social worker herself, Chamberlain mined her therapy background to inform Molly's family of "pretenders" and examine the fine line between parents and children. Chat with Diane Chamberlain on Twitter October 2! 
See Me
by Nicholas Sparks 
Colin Hancock is giving his second chance his best shot. With a history of violence and bad decisions behind him and the threat of prison dogging his every step, he's determined to walk a straight line. Maria Sanchez, the hardworking daughter of Mexican immigrants, is the picture of conventional success with a degree from Duke Law School and a job at a prestigious firm in Wilmington, North Carolina. And yet Maria has a traumatic history of her own, one that compelled her to return to her hometown and left her questioning so much of what she once believed. A chance encounter on a rain-swept road will alter the course of both Colin and Maria's lives, challenging deeply held assumptions about each other and ultimately, themselves.
OUT IN NOVEMBER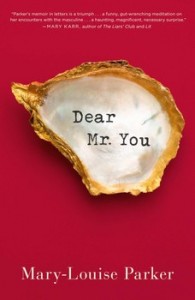 Dear Mr. You
by Mary-Louise Parker 
This literary debut from award-winning actress Mary-Louise Parker renders the singular arc of a woman's life through letters she composes to the men, real and hypothetical, who have informed the person she is today. Beginning with the grandfather she never knew, the letters range from a missive to the beloved priest from her childhood to remembrances of former lovers to an homage to a firefighter she encountered to a heartfelt communication with the uncle of the infant daughter she adopted.
OUT IN DECEMBER 
House of the Rising Sun
by James Lee Burke
In his new novel, the bestselling author tells the story of a father and son separated by war and circumstance — and whose encounter with the legendary Holy Grail will change their lives forever. From its opening scene in revolutionary Mexico to the Battle of the Marne in 1918 to the bordellos and saloons of San Antonio during the reign of the Hole-in-the-Wall Gang, House of the Rising Sun is an epic tale of love, loss, betrayal, vengeance and retribution that follows Texas Ranger Hackberry Holland on his journey to reunite with his estranged son, Ishmael, a captain in the United States Army.
OUT IN JANUARY
Fallen Land
by Taylor Brown 
Taylor Brown's debut novel is set in the final year of the Civil War, as a young couple on horseback flees a dangerous band of marauders who seek a bounty reward. Callum, a seasoned horse thief at 15-years-old, came to America from his native Ireland as an orphan. Ava, her father and brother lost to the war, hides in her crumbling home until Callum determines to rescue her from the bands of hungry soldiers pillaging the land, leaving destruction in their wake. Ava and Callum have only each other in the world and their remarkable horse, Reiver, who carries them through the destruction that is the South.
OUT IN FEBRUARY
The Opposite of Everyone
by Joshilyn Jackson 
Born in Alabama, Paula Vauss spent the first decade of her life on the road with her free-spirited young mother, Kai, an itinerant storyteller who blended Hindu mythology with Southern oral tradition to reinvent their history as they roved. But everything, including Paula's birth name Kali Jai, changed when she told a story of her own — one that landed Kai in prison and Paula in foster care. Separated, each holding secrets of her own, the intense bond mother and daughter once shared was fractured. These days, Paula has reincarnated herself as a tough-as-nails divorce attorney living in Atlanta. While she hasn't seen Kai in 15 years, Paula discovers she has a sibling and sets out on a journey to find her mother.
We will be scheduling additional Twitter chats with authors on the list throughout the fall. Unless otherwise noted, all chats will be held from 1-2 p.m. CST (11 a.m.-noon PST & 2-3 p.m. EST) using the hashtag #southernlit. 
Illustration by Dean Lewis, design editor at Wales Arts Review. Follow him on Twitter @olderThanevil.