Literary Friday, Edition 168
Fall/Winter Reading List is Here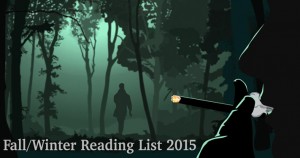 Our new reading list went live to subscribers yesterday, so we're ready to celebrate fall reading and discuss the books all day today. Twenty-six titles make up the list, ranging from mysteries to short story collections, fiction and author debuts. We have some familiar names like Ron Rash, Diane Chamberlain, Truman Capote and Joshilyn Jackson, along with newcomers Hester Young, David Armand and Lisa Sandlin.
So far, we have one Twitter chat with Diane Chamberlain for Pretending to Dance scheduled for October 2, with more to come. You can also look forward to author interviews, book reviews and giveaways through the winter, starting with a review of Ron Rash's Above the Waterfall today.
Finally, we want to thank Dean Lewis for the custom fall reading illustration, which calls to mind classic noir and makes you wonder who's lurking in the shadows as the days get shorter.
Happy reading — and happy fall!
Literary News 
Traveling With T was one of several bloggers to help reveal the cover of Kristy Woodson Harvey's next book Lies and Other Acts of Love this week. You can also find out about a new Cajun Country mystery series on her site.
Fall reading author David Armand blogs about his summer at Sewanee Writers' Conference over at Fiction Southeast.
Read an excerpt from Margo Jefferson's Negroland on the politics of skin, hair and ballet on Flavorwire.
The National Book Award Long List for Fiction was announced this week and includes T. Geronimo Johnson's Welcome to Braggsville and Nell Zink's Mislaid.
(Non)Required Viewing 
New comedy "Life in Pieces" airs on CBS September 21 with Kentucky-born writer Kirker Butler producing. Butler is also the author of our summer read Pretty Ugly and an Emmy-nominated writer for "The Family Guy." Starring James Brolin and Dianne Wiest, "Life in Pieces" is a family comedy told through the stories of different members.
Literary Events 
Sarahfest pairs art, music, film and literature with guests like Megan Abbott and Neko Case in Oxford, Mississippi, through September 27.
Sundress Academy for the Arts in Knoxville, Tennessee, offers an Urban Legend and Ghost Story Workshop September 26.
The Fitzgerald Museum will host a day of Writers Workshops with author Mary Jo Tate September 24 in Montgomery, Alabama, to celebrate the 119th birthday of F. Scott Fitzgerald.
The Eat Drink Read Write Festival October 3-9 in Birmingham, Alabama, will be structured around a four-course dinner and include mentorship sessions, food stories, a presentation by the owners of New York City's BAKED and Bards & Brews Poetry Slam.
The 27th annual Southern Festival of Books, scheduled for October 9-11, will include Kimberly Belle, Rick Bragg, Pat Conroy, Lauren Groff, Ann Hite and lots more.
Scheduled for October 17-18, the Texas Book Festival in Austin has released its lineup of a record 300 authors, including Margaret Atwood, Elizabeth Strout, Chuck Palahniuk, Lauren Groff and Attica Locke.
Save the date for the Louisiana Book Festival October 31 at the State Capitol in Baton Rouge with authors Ellen Gilchrist, Susan Gregg Gilmore, Molly Antopol, David Armand, Kim Boykin, Rick Bragg, M.O. Walsh, Jamie Kornegay and many more.
Milton, Georgia, is holding a Literary Festival November 13-14 with native author Karen White, plus Kimberly Brock, Raymond Atkins and Renea Winchester.
New in Southern Voice 
Head Over Heels, a story that travels from North Carolina to New York City by Moriah S. Webster, and Marriage Gothic, a poem by Tiffany Decou.
To find out more about your favorite Southern authors' haunts and hangouts, download the Deep South Literary Trail App, available direct from iTunes and for Android and perfect for those summer road trips.