Pretending With Diane Chamberlain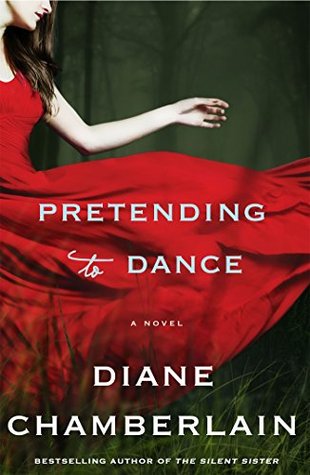 The Silent Sister author returns to the theme of family secrets in her new novel Pretending to Dance. 
Scroll down for Twitter chat & giveaway details for Diane Chamberlain! 
Molly Arnette is good at keeping secrets. She learned how from her own family and ran away from them 20 years ago after a shocking event left her devastated and distrustful. Now she's married and trying to adopt a baby amid the many secrets she's keeping from her husband. If the truth about her North Carolina childhood comes out, it could ruin her chances to have a child and even her happy marriage. As she tries to make peace with her past and move forward, Molly realizes she doesn't even really know what happened in her family all those years ago.
Diane Chamberlain explored the havoc long-kept secrets in a family can wreak in last year's The Silent Sister. More drama and less mystery, this fall's Pretending to Dance (available October 6) is another compelling story about a young girl coming of age. Chamberlain uses her own background as a social worker and psychotherapist to create the character of father Graham, who is suffering from multiple sclerosis and not sure how much longer he wants to live. She also draws on her experience working with adolescents to show the effects of Graham's illness on both a young and adult Molly, who is trying to figure out how much of her childhood was real — and how much was her family just pretending.
Chat with Diane Chamberlain about Pretending to Dance Friday, October 2, from 1-2 CST (11 a.m.-noon PST, 2-3 EST) using #southernlit. Also follow the HT for giveaway details for a book bundle including both The Silent Sister and Pretending to Dance!
EZB: Your new novel is about a "family of pretenders." Explain what that means, especially in terms of your therapy background.
DC: I loved the idea of Graham creating pretend therapy and based it on cognitive behavioral therapy, where you identify thinking that's getting in your way and change your behavior to what you want to have, and it turns out to be who you really are. When Graham says if you want to be a brave person, pretend to be a brave person and you will be. I've used it in my own life and am very big on that type of therapy. With regard to the whole family being a group of pretenders, every family and every person is pretending to a certain degree, especially in situations when you feel like you can't be honest with whatever's going on with you. In Molly's family, they're pretending to an extreme degree.
EZB: Molly lives on an idyllic family compound outside Asheville where she feels safe and secure. How does this setting factor into your plot and the secrets her family is keeping from her?
DC: I often put a bunch of people together in a situation where they have to deal with each other. I don't do it intentionally, but looking back I see how often I've done that. I put the extended family all together in a 100-acre plot of land and made them deal with each other. Molly does grow up with this wonderful, safe haven of people around her, but as the story progresses you become aware of the history between these people and some of the hostilities and anger and discomfort in their relationships. Molly, being 14, is now beginning to come aware of these discomforts, and it's beginning to rock her world.
EZB: This book could be called a "coming of age" novel, because we're watching Molly grow up, have her first kiss and mature as the story evolves. Have you worked with a lot of teenagers and did you find it easy or difficult to write from this point of view?
DC: I did have a lot of experience and worked as a hospital social worker in adolescent medicine and had a private practice with teenagers, so teenagers often worm their way into my stories. With Molly, the things she gets into for a 14-year old are pretty sophisticated. I borrowed from my own adolescence in imaging what it was like for her to move from this really safe fantasy land with New Kids on the Block and Johnny Depp and then suddenly be faced with reality in the form of real older boys. Only Molly takes it farther than I ever took it …
EZB: You talked about the destructive nature of secrets in The Silent Sister, and this book has a similar theme. Why do you think you keep coming back to that?
DC: I think that goes back to my days as a therapist and just becoming aware of the secrets in practically every family I dealt with and how those secrets come out over time. I have a fascination with secrets and the damage they can do to individuals in a family.
EZB: Molly grew up with so many secrets that she fled from her family and hasn't spoken to them since, but the adult Molly is filled with secrets herself. How did you go about creating her adult character and determining how adolescent Molly would have turned out?
DC: I tried to think about Molly in terms of her childhood and what that would make her be like as an adult, and I think that Molly is very unself-aware. She has cut off her childhood to such a degree, any time she would think about it she would shut those thoughts down. She's never really examined how her adulthood is tied to her childhood, and I think she becomes aware of that through this story and aware of the fact she's going to have to go back and deal with the things in her childhood to deal with her future. It's her husband Aidan who says she has got to deal with it once he becomes aware of how volatile the events of her childhood were. That's what she has to do in order to move forward.
EZB: Without giving too much away, the underlying theme in this book is the idea of being able to choose when you die and the ethics surrounding that decision. What are your thoughts on that?
DC: Graham's character is inspired by my sister Joann. She has the form of multiple sclerosis that he has, and it's incredibly debilitating. She lives with a 24-hour aide and she is still a really vibrant person. He was still very invested in his books and his practice right up until the time he no longer wanted to be invested. My sister is very interested in end of life issues, because she wants to know that there's a way to do that if she wants to do that. Graham is very much like that in that he wants to know there is a way out, if he ever wants a way out.
I turned to my sister for a lot of the information I was writing about Graham to get the physical and emotional part as accurate as I could. My one concern about writing about the type of MS he had was that it would be upsetting to readers who have MS. He was based on my sister's experiences and his desire to know there was a way out. I think that is very real for a lot of people in that kind of situation, whether they act on it or not.
I did hear from somebody today who wrote review for Goodreads and has MS, and was concerned the MS was presented in such a grim fashion. I do pay attention to what my readers say. Just about every book, I wish I could go back and change one thing, but I'll be interested to hear how other people who are dealing with MS feel about the book.