Into 'The Gorge' With David Armand
The Louisiana writer uses a real-life cave and 1980 murder case to set the scene in his latest literary thriller. 
David Armand has been hard at work putting pen to paper. With two books out this fall and a memoir forthcoming in the spring, he's anticipating the next couple months to be a rollercoaster of promotion, emotion and hopefully good reviews. Up first was a chapbook titled The Deep Woods from Blue Horse Press in September. Armand's first collection of poetry was written in the downtime between novels as an exercise in being concise.
"I was thinking about fiction when I was writing the poems, and all the poems that I've written are just like little stories in verse form," he says. "A lot of writers, like Raymond Carver, when he was in between longer projects he would always just write poems. It is a pretty good exercise for the writer to just kind of take a break and there is that instant gratification."
Armand also admires Ron Rash's ability to work in different genres, spanning from poetry to short stories and novels. He never planned to write a memoir, but that's what happened when he began an essay about his mother, a schizophrenic he met much later in his life. Written as a sort of tribute to her and catharsis for him, My Mother's House is due out in the spring from Texas Review Press.
Following his previous books The Pugilist's Wife and Harlow, his latest novel The Gorge (out October 1 from Southeast Missouri State University Press) is set on his home turf around Franklinton, Louisiana. The idea for the story came to Armand while he was walking through what's known as Fricke's Cave in Bogue Chitto State Park with his family. "I'd never seen anything like that in Louisiana before," he says about the delicate sandstone structure. "It's a pretty steep gorge and so we were walking through that, and I saw this image of a body being hidden there in the brush and so I started asking myself why it would be there, who put it there, what happened, and the story kind of unfolded."
It seemed as though the earth had suddenly dropped off and the trail was gone from before them. Across from where they stood, the flashlight's weak beam limned a row of pine trees, broken-up oaks, and then some trash trees about twenty yards on the other side of what looked from here to be a giant crater." – The Gorge 
After he'd already started writing The Gorge, Armand happened to pick up the book Dead Man Walking by Sister Helen Prejean. He discovered that Robert Lee Willie — the inmate Prejean meets and spiritually advises until his execution — was on death row because of the kidnap, rape and murder of an 18-year-old girl in Fricke's Cave.
"I was careful to not put details in there to make people think there was a direct connection instead of a coincidence," he explains about the book. "Maybe there was something in my subconscious, like I had heard that before and I just didn't remember it."
Armand's own story centers around the murder of young girl Amber Varnado. Her boyfriend Tuller is the prime suspect, but Armand introduces us to a cast of shady characters that leave no one entirely innocent in this novel. At the heart is Grady, a young man dwarfed by rickets who prowls the woods at night in an attempt to satisfy his inner demons.
Then one night in the ditch of midnight when the hour was none, the manchild crawled from his sagging drawer after his mother had gone to sleep and he sneaked out past her into the open air of the night. He prowled the woods like some gangled leprechaun looking for something that would finally slake his lust." – The Gorge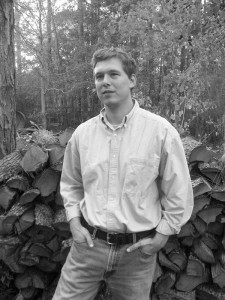 The Gorge reads almost like a character study and is quietly thrilling in its own way — showing not telling the reader about the dangers that lurk in the woods after dark. Armand (pictured) says he grew up hearing stories about people in the woods, especially supposed satanic cults in the 1980s, most of them devised to scare off teenagers.
"I didn't want it to be a horror novel, but I was kind of thinking of that genre, like thriller, mystery, horror and kind of doing something literary with those different modes," he says. "I really wanted to retain this sense of mystery. I was thinking a lot about 'Twin Peaks,' and the whole series revolving around who killed this girl Laura Palmer."
Armand also started out with a much longer novel, more characters and more explicit explanation, but his editor challenged him to cut about half of the material out. His mastery of imagery remained, but compared to his other books, The Gorge is a much shorter, concise and, possibly, accessible novel. Armand is concerned about readers perceiving a lack of resolution at the end, but Grady rises to the surface as such a terrifying character that The Gorge is hard to forget — even for the author.
In real life, the bad guy — Robert Lee Willie — was executed for his crime and not able to haunt the woods around Fricke's Cave any longer. But in The Gorge, Grady remains on the loose contemplating his next victim.
It was as though he had been swallowed up by the woods. Indeed he was a part of them." – The Gorge 
"He kind of took over in a way in the book," says Armand, "so I think that I might return to him at some point, where I left him wandering around at the end."
See David Armand at the Louisiana Book Festival October 31.