Meet Flossie Hamm, a seamstress and dressmaker who decided to own her heritage by making Underground Railroad Quilts. 
by Rona Simmons
With permanent exhibits to honor three of Georgia's most famous authors — Alice Walker, Flannery O'Connor and Joel Chandler Harris — the Georgia Writers Museum promotes the state's literary heritage. At a recent book festival, I had the opportunity to meet John Dennis, president of the museum. He mentioned a new item on display, not so much a literary artifact, but an artistic symbol of the Underground Railroad.
Documented in interviews, oral histories and books on quilting, "Underground Railroad Quilts" are said to have been signals displayed by sympathizers as a form of communication. A quilt with one pattern hanging on a clothesline, for example, indicated the house was a safe haven; another tacked to a wall outside a barn indicated the direction to the North, and others how to prepare for and travel the Underground Railroad.
Dennis's mother, Flossie Hamm, discovered the history of these quilts and set out to make her own. In fact, she's determined to make as many as she can to preserve her heritage and inspire those around her. Presumably, "everyone" knows about the Underground Railroad of the 1800s — not an actual railroad, but a loose association of people across the United States that assisted slaves in escaping their bondage, traveling to and resettling in places where they hoped to attain freedom. Though the number of participants in the network is unknown, the number of slaves the "railroad" helped free reaches well over 100,000. Still, despite these successes, many slaves perished along the journey.
Hamm's original quilt is on display at the Georgia Writer's Museum through the end of May. I spoke with her about how she became aware of these mysterious quilts, why she felt it was her duty to make one and what she plans to do with her newfound hobby in the future.
RS: You mentioned until about a year ago, you had never heard of an Underground Railroad Quilt. Tell me how you discovered this relatively unknown piece of Americana.
FH: About a year ago, I stopped working as a seamstress and dressmaker, something I'd done my whole life. For years, my children had been begging me to come back to Putnam County to be closer to family and to where I was born. I gave in and moved and though I continued to do small jobs as a seamstress, I also took a part-time position as a home health care worker.
One day, a client whom I was caring for showed me her book on Underground Railroad Quilts. After thumbing quickly through the book containing a bit of the history and everything anyone wanted to do to make one, my client's husband walked me through their home to see the quilts his wife had made. The quilts decorated every room, some hanging on the walls, some lying across the foot of a bed, or folded on a chair. The quilts included many made in the patterns illustrated in the book of Underground Railroad Quilts.
RS: How did seeing those quilts affect you?
FH: At first, I was embarrassed — for me as a black woman to have never heard of the quilts. I was shocked too. Here was one white woman who had written a book about Underground Railroad Quilts and another who had made one of the quilts for every room in her home. I thought both women were doing my job, preserving my heritage.
I borrowed the book and studied it from cover to cover. When I closed the book again, I can't explain exactly what happened, but a thought crossed my mind, that I should be the one to preserve my heritage. It was as if I heard a voice say, 'You must make these quilts.'
And then, the more I thought about the quilts, the more memories came back, memories from my childhood watching my mother make a quilt. I remembered her working on a quilt block with a star pattern and asking her what it was and what it meant. She said it was the North Star, the star slaves followed to freedom. I really didn't understand and soon the memory just faded into the back of my mind.
RS: At this point, all you knew was you were going to make an Underground Railroad quilt, something you'd never done before — an ambitious undertaking were it not for your knowledge of sewing.
FH: Yes, I'd been a seamstress all my life. My mother taught me to sew, though she did not sew professionally — she sewed to keep her 12 children in clothes. But she taught me everything from the basics to embroidery, all by hand. She was very talented, and somehow found time to grow all our food and keep a garden full of flowers. I went on to become a seamstress doing a wide variety of jobs.
RS: What did you like best about the work?
RH: The creative parts. The thing I didn't like was doing alterations. It was just redoing other peoples' work, tearing it out and putting it back. I would rather take the whole thing apart and make something new. I'd rather cut a thousand pieces of pattern out than put in a zipper or even hem a skirt or pants leg.
RS: The quilt you made incorporates a number of traditional patterns that some say were a code. What are the patterns and what do they mean?
FH: My quilt is a lap quilt that has 16 blocks, each a different symbol of the Underground Railroad. It's actually quite small, just two feet by five feet. Each of the blocks measure only about six to seven inches wide and high.
(Note: From my reading, I found this type of quilt to be a sampler quilt, not one displayed as a signal, but one that captures all of the traditional blocks, each a code to the Underground Railroad. The quilt makers would then sew, based on what they wanted to communicate, a quilt containing one or more of the symbols to hang in plain sight of passersby.)
RS: But you didn't stop there, did you?
FH: I finished the quilt in three weeks. I'm pretty determined. I work only three or four days a week and, though I travel on weekends with my church's gospel choir, I spend most of my free time sewing. When I finished this quilt, I decided to make a quilt for each of my children and grandchildren, that will be 11 quilts. And then, when that is done, I want to take the message of the Underground Railroad to a broader audience.
I want to make a quilt for every black church across the United States. I want each of them to have a quilt to tell the story of our heritage, not focusing on slavery or the difficulties our people had, but of their strength and determination. Strength and determination to do anything to attain freedom and to make something of their lives. Many of our people gave their lives for freedom. There's no excuse for not accomplishing something with your life. It's a message I've told my children and grandchildren over and over.
RS: What do you have to say to the "naysayers," that is to those who say Underground Railroad Quilts are just folklore.
FH: I've read some of the articles and seen several programs about the quilts on television. Some say there is no proof, no documents to be found. Of course there's no proof. The Underground Railroad was a secret at the time, and stories of it were largely word of mouth.
RS: So, where is your original quilt now?
FH: It is on display at the Georgia Writers Museum until the end of May. After that, I'll enjoy it for a bit and then offer it for sale. (Scroll down for a description of the 16 blocks in her sampler quilt.)
About the Georgia Writers Museum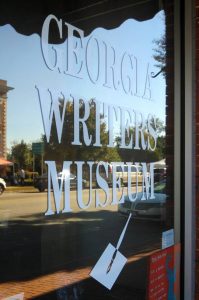 The Georgia Writers Museum hosts permanent exhibits to honor Alice Walker, Flannery O'Connor and Joel Chandler Harris, thee of the state's most famous authors. Both Walker and Harris were born in Eatonton, where the museum is located, and O'Connor spent most of her writing life in Milledgeville, just 30 minutes away. Of the 46 authors in the Georgia Writers Hall of Fame, nine hail from within 30 miles of Putnam County, and their works and artifacts are exhibited on a rotational basis. The museum and its members are committed to the revival and promotion of the arts in Eatonton and Putnam County and offer classes, writing competitions and a writers colony consisting of writers guilds, book clubs, publishers, independent authors and ghost writing agencies from around the state. To learn more or contribute to the Georgia Writers Museum's outreach efforts, visit the Museum at 109 S. Jefferson St. in Eatonton.
Inside the Quilt: 
The 16 blocks in Flossie Hamm's "sampler" quilt are from left to right, top to bottom:
Row 1:
Underground Railroad – tracks marking the path of the railroad
Monkey Wrench – gather tools and prepare for the journey
Wagon Wheel: pack belongings that can fit into a cart to travel
Row 2:
Carpenter's Wheel – skilled crafts useful and alternative meanings
Bears Paw – follow the footsteps of the bear over the Appalachian mountains or alternatively, beware of bears along the trail
Basket – carry enough food for the journey
Row 3:
Crossroad – a point reached at which a change of route
Log Cabin – indicated a safe house
Shoofly – a person who would help escaping slaves
Row 4:
Bow Tie – dress to disguise, a sympathizer would offer clothes to blend into the community
Flying Geese – follow the flight of migrating geese north
Birds in the Air – follow the flight of birds in the air
Row 5:
Drunkard's Path – follow a staggered path to elude discovery
Sailboat – take a boat across a lake
North Star – follow the star to go north
Rona Simmons is the author of two novels published by Deeds Publishing of Athens, Georgia, both written after retiring from a 30-year career in corporate America. She has also acted as ghostwriter, written magazine articles and essays and published a collection of short stories. In giving back to the community, Simmons hosts writing-related events for nonprofit organizations and the Virtual Village Book Festival featuring local authors. On a pro bono basis, she helped launch the City of Milton's Literary Festival and served as a grant review panelist for the Georgia Council for the Arts.