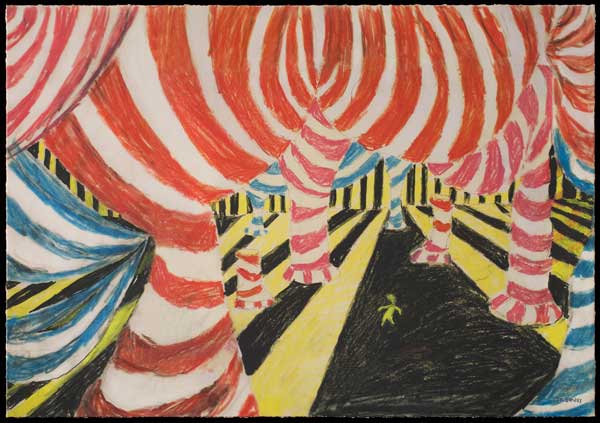 "Oh, the Places You'll Go!" exhibition opens at The Striped Hat gallery in celebration of 25 years since Dr. Seuss's final book.
Congratulations!
Today is your day.
You're off to Great Places!
You're off and away!
Dr. Seuss's classic Oh, the Places You'll Go! was published in 1990. For his final book, Ted Geisel, aka Dr. Seuss, gathered his favorite unpublished sketches, pinned them up on the walls of his studio and then tried to connect the dots. The result was one of his most powerful graphic works filled with swirling colors, hot air balloons, mountains and castles. His wife, Audrey, confirms that Dr. Seuss is indeed the boy in his pajamas illustrating his life's voyage for generations of readers to enjoy.
This summer, Seuss fans can travel to New Orleans to see the premiere presentation of "Oh, the Places You'll Go!" opening on May 27 at The Striped Hat gallery in the French Quarter. On display will be nine of the original sketches (created before the final graphics for the book) and the story written in Dr. Seuss's own handwriting (pictured below). A photo of Geisel with the sketches pinned up behind him further proves the inspiration behind this story, and finally fans can see a letter from his widow describing the importance of this final book.
While Dr. Seuss himself grew up in Springfield, Massachusetts, and doesn't have a connection to New Orleans, gallery owner Angela King says it's the perfect city in which to showcase his whimsical work. Becoming an authorized gallery to show Dr. Seuss is no small feat. "It is a very selective process between Seuss Enterprises and Chase Publishing," says King. "They don't want to overexpose in the market, so they stick with established galleries who can exhibit Theodore Geisel in the prestigious way his work deserves."
Until 1997 — six years after his death — Dr. Seuss artwork wasn't even available to the public other than by flipping through his books. With the launch of The Art of Dr. Seuss project, for the first time collectors were able to see and acquire fine art prints and sculpture reproduced from Geisel's original drawings and paintings. All of these original works were created by Geisel during his lifetime, but were never published.
King started showing Dr. Seuss in her main Angela King Gallery in 2005 and decided to open The Striped Hat, devoted solely to his work, in 2011. Since then, they have brought four national traveling exhibits to New Orleans and are excited to bring Dr. Seuss's message of hope with "Oh, the Places You'll Go."
The nine sketches along with companion material (pictured below) will be on sale for $8,900 unframed, but the gallery also carries prints from many of his other works. Most people come to see the beloved Cat in the Hat, but it's a collection of Seuss's lesser known work that King cites as her favorite.
"I especially love his unorthodox taxidermy, which are sculptures he made as a young man from the shed animal parts his father brought home from the zoo," she says "Additionally, his mother brought him to the zoo with his sketch pad so he could sketch the animals, which later in life would become trademark images."
Geisel's father served as Springfield's superintendent of parks so he had behind the scenes access to the city zoo. A young Dr. Seuss made sculptures out of them that were later cast and recreated in resin with names like Turtle-Necked Sea-Turtle, Goo-Goo-Eyed Tasmanian Wolghast and Carbonic Walrus. Only 17 of these sculptures are in existence, with 16 already released, so fans can also look forward to the final Unorthodox Taxidermy release later this year.
"Oh, the Places You'll Go!" opens May 27 and runs through June 26 at The Striped Hat gallery at 716 Bienville St. in New Orleans, Louisiana. 
Photos courtesy of Angela King Gallery.