Georgia Locations for Netflix's 'Stranger Things'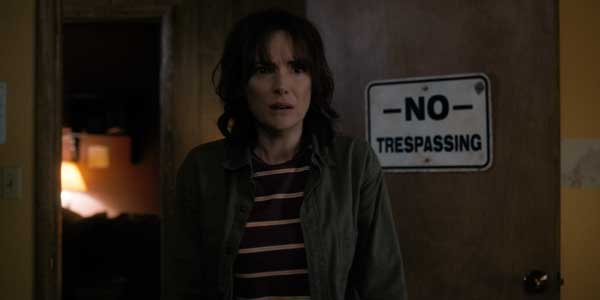 Filmed outside of Atlanta, Netflix's summer hit "Stranger Things" has viewers hooked with its storyline and soundtrack straight out of the 1980s. 
The Duffer Brothers originally wanted to call "Stranger Things" "Montauk" and set it on Long Island, but Atlanta couldn't quite pass for a beachside setting, so they went with Indiana instead. Georgia's small towns outside of Atlanta, including Douglasville, Conyers, Jackson, Winston and Fayetteville, easily pass for the Midwest, and Jackson's intact downtown isn't a far stretch from 1983 Hawkins on film. According to news site Dacula Patch, filming helped revitalize downtown Jackson, with the show's crew painting buildings and employing locals.
"Atlanta was actually quite the perfect location to play Hawkins because of its similar topography as well as the treasure troves of set décor we discovered at estate sales," says Production Designer Chris Trujillo in the show's production notes. "We'd freak people out. We'd find these amazing homes that look like time capsules from the late '70s and early '80s and go in and basically buy everything, including what was in the junk drawers."
Georgia still has one of the most competitive tax incentives for television and film. We used a variety of research to identify "Stranger Things" film locations in order of their appearance in the show. Not all of the locations below are open to the public, but most can at least be viewed from the road, so remember to be respectful if visiting.
Co-Creator Matt Duffer has said they wanted the show to feel like a big movie, but that doesn't mean there won't be a second season. "… there's a bigger mythology, and there's a lot of dangling threads at the end. We could explore it if Netflix wanted to continue," he said during a Television Critics Association press tour in Beverly Hills.
"Stranger Things" has garnered a massive following since its initial Netflix premiere in July 2016, and has been nominated for over thirty Emmy Awards and four Golden Globe Awards. Season 2 premiered in October 2017, and Season 3 premiered on July 4, 2019. According to Netflix, 40 million household subscribers have already been streaming the third season, making its viewership numbers "higher than any other film or series in its first four days." 
Most of the filming has remained in Georgia, and the second and third seasons have introduced some new locations for the gang, most notably a sprawling arcade and a giant shopping mall that are sure to incite 80s nostalgia. 
Note: We tried to keep spoilers to a minimum, but if you aren't up to date on the show, you may want to wait and read this guide when you're done. 
Hawkins Labs: 
One of the most compelling aspects of "Stranger Things" is its child actors, and Millie Bobby Brown breaks out as "Eleven," a young girl who's been subjected to scientific experiments by her "Papa," who runs Hawkins Laboratory for the U.S. Department of Energy. She's on the run and scared to death when she meets the gang of boys trying to find their missing friend Will Byers. As she attempts to communicate with them and with Will, she experiences flashbacks of the lab and things she was forced to do using her telekinetic powers.
Emory University's Continuing Education Department is located at the Briarcliff Campus and stands in for the exterior of Hawkins, which the show's production notes describe as Cold War-era looking. The campus is located in Building B at 1256 Briarcliff Road NE Atlanta and is open seven days a week.
Lab interior shots were filmed at Screen Gem Studios in Atlanta.
Hawkins High/Middle School: 
The shuttered Patrick Henry Academy at 109 S. Lee St. in Stockbridge is a perfect spot for the "Stranger Things" kids to attend middle and high school. Both exterior and interior shots of the school are used, and it's here that Mike and his friends are bullied, attend a memorial service for Will, try to contact him using the Ham radio and battle the monster in the end. Jonathan Byers, Nancy Wheeler, her missing friend Barb, and bad-boy boyfriend Steve all attend high school.
Police Station:
Former Douglasville City Hall at 8485 Courthouse Square serves as both the interior and exterior of Hawkins police station, where Sheriff Hopper strolls in hungover and bleary-eyed, where Joyce first implores him to find her son, and where the boys are taken for questioning after Will disappears.
Located 20 miles from downtown Atlanta, Douglasville has had more than 20 film productions come to town. A walking tour of the Historic Commercial District is a good way to learn about this "New South" railroad town.
Hopper's House: 
It's obvious that after losing his own daughter at a young age, Hopper still hasn't recovered. He lives as a bachelor in a rundown trailer with Schlitz beer cans, cigarettes and dirty clothes littering the area around the sofa where he sleeps. The real-life location for his home is located on private property in Atlanta. According to a sheet of fun facts on the show compiled by Netflix, his trailer was purchased by the art department for $1.
Note: The Wheelers and Byers homes were created at Screen Gem Studios in Atlanta.
The Woods:
A lot happens out in the woods on this show. The town and police start by searching for Will in the woods, Nancy sees the strange creature she thinks took Barb out in the woods behind Steve's house and finds the portal while searching the woods with Jonathan. The kids also spend a lot of time riding their bikes through the woods looking for their friend.
Georgia International Horse Park at 1996 Centennial Olympic Pkwy.in Conyers is where some of the woods shots were taken. This 1,400-acre park held all of the equestrian events for the 1996 Centennial Olympic Games and has mountain bike and horse trails and a nature preserve open to the public year-round from sunrise to sunset.
Downtown Hawkins: 
As we mentioned in the intro, the city of Jackson offered up its downtown for filming, and crew painted buildings and set the scene to take us back to the 1980s. As Joyce drives into town, we see the historic courthouse on the right and row of shops on the left. She makes a left and parks in front of the general store where she works. Once inside, she tells her boss she's not there to work and buys a new phone and later her Christmas lights to communicate with Will there.
The exterior of the library building is also visible downtown, just across from the Hawk theater where Nancy has slander written about her on the marquee. It's in this same area that Joyce and Jonathan have their fight in the street about Will's funeral after visiting the morgue. The octagonal building they pass is the Butts County Water & Sewer Authority. The courthouse is visible behind them.
Library:
Hopper visits the library with one of his officers to research Hawkins Labs. He's met with resistance from the librarian for never calling her after they spent the night together, but after strolling through Microfiche discovers that Hawkins has been up to some shady stuff over the years involving experiments and allegations of abuse. Joyce and Hopper also visit an "upside down" version of the library in the final episode.
Old East Point Library at 2777 McGee Way in East Point serves as the library interior, with Butts County Probate Court at 25 3rd St. in Jackson as the library exterior. According to an East Point city newsletter, the production company made improvements to the library for the show, resulting in interest from other film scouts.
The Quarry:
Will's body — or is it Will? — was found floating in the local quarry. His friends arrive on their bikes after hearing the sirens just in time to see him pulled from the water. "Walking Dead" fans might recognize this scenic location as the survivor's campus from season one of the show, and it was also featured in the first "Hunger Games" movie. We see it again in "Stranger Things" when the bullies try to make Mike jump in the water, but Eleven saves him.
Bellwood Quarry was purchased by the city of Atlanta in 2006 and will eventually be open as a public park as part of the Atlanta BeltLine. It's not currently open to the public, so the best way to see it is on a bus tour or by following this mostly legal guide.
Update: The quarry is not currently a stop on the Atlanta BeltLine bus tour because of the demolition work being done to connect the quarry with the Chattahoochee. 
Movie Theater:
After purchasing monster hunting equipment at the hardware store, Nancy and Jonathan cross the street and see the Hawk theater marquee. Someone has written "starring Nancy The Slut Wheeler" above "All the Right Moves," which released in October of 1983. She knows it's the work of Steve and his friends and confronts them in the alley where a fight breaks out between Jonathan and Steve.
The theater location is at 2 N. Oak St. in Jackson. There is no real theater downtown, so the marquee was added to a furniture store for the show.
Telephone Booth:
When Hopper makes the call to get Terry Ives' address, it's from a rural telephone booth. He's just told Joyce that he believes her about Will's body not being real and that he saw a child's room at Hawkins Labs. He realizes he may have been looking for the wrong child this whole time.
The telephone booth was set up at Dogwood Trail and Flower Road in Fayetteville, which also boasts a historic downtown square and courthouse.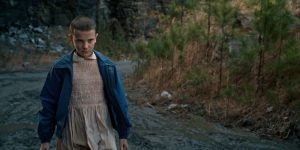 Train Tracks, Pond & Woods:
When following their compasses north to try and find the gate into the other dimension, the boys walk along the train tracks. El eventually gets scared and causes them to go in a circle, which makes Luke turn on her. El disappears and we see her waking up in the woods the next morning. She stares into a pond of water at her reflection with the blonde wig on and then takes it off.
More shots of the woods and the pond are from Stone Mountain Park at 1000 Robert E. Lee Blvd. in Stone Mountain. One of Georgia's most popular attractions, the 3,200-acre park has an adventure course, train ride around the mountain, skyride aboard a cable car, museum and lots more. Hours vary by season.
Bradley's Big Buy
After leaving the boys and spending a night in the woods alone, El makes her way to a grocery store where she steals several boxes of Eggo waffles. She breaks the glass doors on her way out, and the boys later see the destruction and police in front of the store. This store is located at 504 Center St. in Palmetto.
Gas Station:
Steve and his friends get into a fight about Nancy at the Fair Mart, located at 7703 Hwy. 78 in the unincorporated community of Winston.
Hospital:
In the final episode, almost everyone ends up at the hospital. We won't give too much away about the ending for those of you who are still watching, but the hospital exterior is East Point First Baptist Church at 2813 East Point St. in East Point.
Arcade: 
One of the second season's most iconic locations is the Palace Arcade, a flashy video arcade where Dustin, Lucas, Mike and Will first learn of the mysterious "Mad Max." The Palace Arcade is located at 6501 Church St. in Douglasville. 
Pumpkin Farm:
Early on in season two, Hopper is called to investigate some mysteriously rotted pumpkins. This Powder Springs pumpkin farm doubles as a Christmas tree farm in the winter. Sleepy Hollow Farm is located at 628 Sleepy Hollow Road in Powder Springs, Georgia. 
Community Pool:
Season two's hunky bad boy Billy is back for season three and working as a lifeguard at the Hawkins Community Pool, much to the delight of many neighborhood moms. The crowded summer hotspot is an operational swimming pool in Atlanta. South Bend Pool is located at 2000 Lakewood Ave. SE. 
Shopping Mall: 
Most of the action in Stranger Things 3 takes place at the Starcourt Mall, where Steve Harrington works at a nautical-themed ice cream parlor, Scoops Ahoy. Production designers used a derelict shopping center located in Duluth to bring Hawkins' swanky new mall to life. The production team gutted and rebuilt nearly 40 stores and restaurants, while other areas of the mall remained open to the public. The result is a sprawling set that may as well have been catapulted through a time machine from 1985. Gwinnett Place Mall is located at 2100 Pleasant Hill Road in Duluth, Georgia. 
Want to live in a "Stranger Things" house? Trulia took a look at what it would cost to live in three of the iconic homes from the show.
All photos courtesy of Netflix except for Bellwood Quarry and downtown Hawkins from georgia.org.