24 of the latest beach reads, thrillers, literary fiction, memoirs and a brand-new biography. 
OUT NOW 
Ernest Hemingway: A Biography
by Mary V. Dearborn
The first full biography of Ernest Hemingway in more than 15 years; the first to draw upon a wide array of never-before-used material; and the first written by a woman. Mary V. Dearborn offers a revelatory look into the life and work of the greatest living American novelist and short-story writer, winner of the 1953 Pulitzer Prize for Fiction and the Nobel Prize in Literature in 1954. This new biography gives the richest and most nuanced portrait to date of this complex, enigmatically unique American artist, whose same uncontrollable demons that inspired and drove him throughout his life undid him at the end, and whose seven novels and six-short story collections informed—and are still informing—fiction writing generations after his death.
Extra-Ordinary Adventures
by Daniel Wallace
Edsel Bronfman works as a junior executive shipping clerk for an importer of Korean flatware. He lives in a seedy neighborhood and spends his free time with his spirited mother. Things happen to other people, and Bronfman knows it. Until, that is, he gets a call from operator 61217 telling him that he's won a free weekend at a beachfront condo in Destin, Florida. But there's a catch: the offer is intended for a couple, and Bronfman has only 79 days to find someone to take with him. The phone call jolts Bronfman into motion, initiating a series of truly extraordinary adventures as he sets out to find a companion for his weekend getaway. Open at last to the possibilities of life, Bronfman now believes that anything can happen. And it does.
The Fact of a Body
by Alexandria Marzano-Lesnevich
This genre-defying memoir "is about a murder, it is about my family, it is about other families whose lives were touched by the murder. But more than that, it is about how we understand our lives, the past, and each other." When she applied to Harvard Law School, Alexandria Marzano-Lesnevich wrote her admissions essay about her staunch opposition to the death penalty. So when she finds herself at her first summer internship at a New Orleans firm that is working on the re-trial of death-row convicted murderer and child molester Ricky Langley, she feels ready to begin her life's work. But when she watches the tape of Ricky's confession, she realizes she wants him to die. As she pores over the details of the trial and complicated narrative of Ricky's childhood, she is forced to face her own story.
Gradle Bird
by J.C. Sasser
Fifteen-year-old Gradle Bird has lived her entire life with her Grandpa, Leonard, at a seedy motel off Georgia's I-16. But when Leonard moves her to a crumbling old house rumored to be haunted by the ghost of Ms. Annalee Spivey, Gradle is plunged into a lush, magical world much stranger and more dangerous than the one she came. Here she meets Sonny Joe Stitch, a Siamese fighting fish connoisseur overdosed on testosterone, a crippled, Bible-thumping hobo named Ceif "Tadpole" Walker, and the only true friend she will ever know, a schizophrenic genius, music-man, and professional dumpster-diver, D-5 Delvis Miles. As Gradle falls deeper into Delvis's imaginary and fantastical world, unsettling dangers lurk.
Hopscotch
by Steve Cushman
Hope can come in many forms, and in Steve Cushman's new novel, it comes in the form of a hopscotch board drawn on the sidewalk leading to the entrance of a hospital in Greensboro, North Carolina. Despite the hospital cleaning crew's efforts to remove the board, it mysteriously reappears every day. Eventually physicians, hospital employees and patients, including Emily, an 8-year-old fighting cancer, and Stan, an Iraqi War veteran, are drawn to this hopscotch board. "What a beautiful story of the human spirit and how our arbitrary lives sometimes intertwine without notice," says Celeste Fletcher McHale, author of The Secret to Hummingbird Cake.
In the Shadow of Alabama
by Judy Reene Singer 
Rachel Fleischer has good reasons not to be at her father's deathbed. Foaling season is at hand and her horses are becoming restless and difficult. Her critical mother and grasping sister could certainly handle Marty Fleisher's resistance better without her. But Malachi, her 80-something horse manager—more father to her than Marty has ever been—convinces Rachel she will regret it if she doesn't go. When a stranger at her father's funeral delivers an odd gift and an apology, Rachel finds herself drawn into the epic story of her father's World War II experience, and the friendships, trauma, scandal, and betrayals that would scar the rest of his life—and cast a shadow across the entire family.
The Lost Order
by Steve Berry
The Knights of the Golden Circle was the largest and most dangerous clandestine organization in American history. It amassed billions in stolen gold and silver, all buried in hidden caches across the United States. Since 1865, treasure hunters have searched, but little of that immense wealth has ever been found. Now, 160 years later, two factions of what remains of the Knights want that lost treasure—one to spend it for their own ends, the other to preserve it. Thrust into this battle is former Justice Department agent Cotton Malone, whose ancestor was a Confederate spy named Angus "Cotton" Adams and whose story holds the key to everything. From the backrooms of the Smithsonian to the deepest woods in rural Arkansas, The Lost Order is a perilous adventure into our country's dark past, and a potentially even darker future.
Mockingbird Songs: My Friendship with Harper Lee
by Wayne Flynt
An intimate and candid portrait of Harper Lee, told through a collection of letters between one of the world's most beloved authors and one of her closest friends, the historian and author Wayne Flynt. Documenting decades of friendship, beginning with their first meeting in 1983 and lasting until Lee's death in 2016, the pair swapped insightful and humorous letters in which they shared stories, information and opinions on topics both personal and professional. Though their earliest exchanges began formally—"Dear Dr. Flynt"—as the years passed and their mutual admiration grew, they became more intimate and emotional, opening with "Dear Friend" and closing with "I love you, Nelle." Beautifully written, intelligent and telling, this remarkable compendium of their letters offers an incisive and compelling look into the mind, heart and work of one of the most beloved authors in modern literary history. – Cerith Mathias
The Night the Lights Went Out
by Karen White 
Recently divorced, Merilee Talbot Dunlap moves with her two children to the Atlanta suburb of Sweet Apple, Georgia. It's not her first time starting over, but her efforts at a new beginning aren't helped by an anonymous local blog that dishes about the scandalous events that caused her marriage to fail. Sweet Apple is a place where reserved old-timers like town matriarch Sugar Prescott, who rents Merilee a cottage, coexist uneasily with the wealthy school moms in their tennis whites and shiny SUVs, epitomized by Heather Blackford. Merilee knows that no life is perfect, especially her own. But just how dangerous that deception can be will shock all three women …
One Good Thing
by Wendy Wax 
Wax continues her Ten Beach Road series as her female cast of characters becomes embroiled in a battle to regain control of their renovation-turned-reality TV show, Do Over. Maddie, Avery, Nikki and Kyra find themselves holding tight to the frayed ends of their friendship and relationships. Maddie must face the realities of dating a rock star once again topping the charts and deal with her hapless ex-husband, while Avery is caught up in family drama. Put on bedrest, a hugely pregnant Nikki can't quite believe love can last, or trust in her own maternal instinct. And Kyra, who has secretly put Bella Flora at risk in an attempt to salvage Do Over, must decide whether to accept a desperately needed bailout from her son's famous father that comes with far too many strings attached. Can these women keep their dreams from crumbling?
Pearl Weaver's Epic Apology
by Rachel Keener
Pearl Weaver is obsessed with stories. When loss leaves her reeling, Pearl seeks peace from the lessons of her father, a brilliant Southern writer. If you don't like something, he taught, cross it out and choose a better plot. Although his lesson was intended for ink and paper, Pearl uses it to choose a new life for herself, straight from the pages of classic literature. Soon she discovers that what's perfectly poised within a masterpiece is disastrous in the real world. Pearl flees to the ends of the earth, only to find that some stories are impossible to escape. Facing terrifying consequences, Pearl must choose her next plot. Will she recreate herself once again? Or will she learn that freedom doesn't have to be fictional?
Slightly South of Simple
by Kristy Woodson Harvey
With a charming, coastal Southern setting, Harvey's start to an all-new series is a heartfelt story about the universal themes of love, loss, forgiveness and family. Caroline Murphy swore she'd never set foot back in the small town of Peachtree Bluff. But now that her marriage to a New York high society heir has fallen apart in a very public, very embarrassing fashion, a pregnant Caroline decides to escape the gossipmongers with her nine-year-old daughter and head home to her mother, Ansley. Ansley has always put her three daughters first, especially when she found out that her late husband left her with next to nothing. Now the proud owner of a charming waterfront design business and finally standing on her own two feet, Ansley welcomes Caroline back with open arms. But when her second daughter Sloane, whose military husband is overseas, and youngest daughter and successful actress Emerson join the fray, Ansley begins to feel like the piece of herself she had finally found might be slipping from her grasp.
OUT IN JUNE
Before We Were Yours (June 6)
by Lisa Wingate
Based on one of America's most notorious real-life scandals—in which Georgia Tann, director of a Memphis-based adoption organization, kidnapped and sold poor children to wealthy families all over the country—Lisa Wingate's riveting, wrenching, and ultimately uplifting tale reminds us how, even though the paths we take can lead to many places, the heart never forgets where we belong. Memphis, 1939. Twelve-year-old Rill Foss and her four younger siblings live a magical life aboard their family's Mississippi River shantyboat. But when their father must rush their mother to the hospital one stormy night, Rill is left in charge—until strangers arrive in force. Aiken, South Carolina, present day. Born into wealth and privilege, Avery Stafford seems to have it all, but when she returns home to help her father weather a health crisis, a chance encounter compels her to take a journey through her family's long-hidden history, on a path that will ultimately lead either to devastation or to redemption.
Grief Cottage (June 6)
by Gail Godwin
After his mother's death, 11-year-old Marcus is sent to live on a small South Carolina island with his great aunt, a reclusive painter with a haunted past. Aunt Charlotte, otherwise a woman of few words, points out a ruined cottage, telling Marcus she had visited it regularly after she'd moved there 30 years ago because it matched the ruin of her own life. The islanders call it "Grief Cottage," because a boy and his parents disappeared from it during a hurricane 50 years before. Their bodies were never found, and the cottage has stood empty ever since. During his lonely hours while Aunt Charlotte is in her studio painting and keeping her demons at bay, Marcus visits the cottage daily, building up his courage by coming ever closer, even after the ghost of the boy who died seems to reveal himself. Full of curiosity and open to the unfamiliar and uncanny given the recent upending of his life, he courts the ghost boy, never certain whether the ghost is friendly or follows some sinister agenda.
How to Survive a Summer (June 6)
by Nick White 
Camp Levi—nestled in the Mississippi countryside—is designed to "cure" young teenage boys of their budding homosexuality. Will Dillard, a Midwestern graduate student, spent a summer at the camp as a teenager and has since tried to erase that experience from his mind. But when a fellow student alerts him that a slasher movie based on the camp is being released, he is forced to confront his troubled history and possible culpability in the death of a fellow camper. As past and present are woven together, Will recounts his "rehabilitation," eventually returning to the abandoned campgrounds to solve the mysteries of that pivotal summer and to reclaim his story from those who have stolen it.
The Shark Club (June 6)
by Ann Kidd Taylor 
Fans of Sue Monk Kidd will want to read her daughter's first foray into fiction with a novel about taking second chances—in life and in the sea. One summer day on the beach in Florida, two extraordinary things happen to Maeve Donnelly. First, she is kissed by Daniel, the boy of her dreams. Then, she is bitten by a blacktip shark. Eighteen years later, Maeve has thrown herself into her work as a world-traveling marine biologist discovering more about the minds of misunderstood sharks. But when Maeve returns home to the legendarily charming and eccentric Hotel of the Muses where she was raised by her grandmother, she finds more than just the blood orange sunsets and key lime pies she's missed waiting for her. A chance meeting with a little girl leaves Maeve at a crossroads: should she rekindle a romance with Daniel or indulge in a new romance with her colleague, Nicholas, who turns up in her hometown to investigate an illegal shark-finning operation?
The Weight of Lies (June 6)
by Emily Carpenter 
Reformed party girl Meg Ashley leads a life of privilege, thanks to a bestselling horror novel her mother wrote decades ago. But Meg knows that the glow of their very public life hides a darker reality of lies, manipulation and the heartbreak of her own solitary childhood. Desperate to break free of her mother, Meg accepts a proposal to write a scandalous, tell-all memoir. Digging into the past—and her mother's cult classic—draws Meg to Bonny Island, Georgia, and an unusual woman said to be the inspiration for the book. At first island life seems idyllic, but as Meg starts to ask tough questions, disturbing revelations come to light … including some about her mother. The Burying the Honeysuckle Girls author returns with another Southern Gothic family drama. Chat with Emily Carpenter on Twitter June 16!
Beach House for Rent (June 27)
by Mary Alice Monroe
Two women from different generations are bound together by a beloved beach house. Cara Rutledge, 50, rents her quaint beach house on Isle of Palms to Heather Wyatt, 26, for the summer. Heather's anxiety keeps her indoors with her caged canaries until the shorebirds—and a man who rescues them—lure her out to the beach. As the summer progresses and Heather's heart opens to the rhythms of the island, Cara's life reels with sudden tragedy. When their worlds shift like the sand under their feet, these two very different women come together to discover their common bonds and unique strengths. So at summer's end they, like the migrating shorebirds that come to the island every summer, too, can take flight.
OUT IN JULY 
The Almost Sisters (July 11)
by Joshilyn Jackson 
Joshilyn Jackson is back with another emotionally packed novel set in the Deep South. This time she takes us to small-town Alabama, where graphic novelist Leia Birch Briggs returns to take care of her 90-year-old grandmother, Birchie, who's been hiding her dementia. At 38, Leia is pregnant with a baby boy, the result of one tequila-soaked night at a comics convention when an anonymous Batman swept her off her barstool. But before Leia can break the news of her single-motherhood (including the fact that her baby is biracial) to her conventional Southern family, her stepsister Rachel's marriage implodes and Birchie sends her church congregation into an uproar. Leia plans to return to Alabama and sort everything out, but things only get worse there when she finds out Birchie has another secret tucked away in the attic. Will Leia be able to hold her family—and herself—together?
The Bookshop at Water's End (July 11)
by Patti Callahan Henry
Where a tidal river meets the ocean sits the house that shaped Bonny Blankenship's most treasured memories—of the summers spent with her best friend, Lainey McKay. Known as the Summer Sisters, they read, swam and wished for happy-ever-afters amid the sand dunes and oak trees draped with Spanish moss. . . until the night that Lainey's mother disappeared. Now, in her early fifties, Bonny is desperate to clear her head after a tragic mistake threatens her career as an emergency room doctor, and her marriage crumbles around her. With her troubled teenage daughter, Piper, in tow, she goes back to the beloved river house, where she is soon joined by Lainey and her two young children. During lazy summer days and magical nights, they reunite with bookshop owner Mimi, who is tangled with the past and its mysteries. As the three women cling to a fragile peace, buried secrets and long-ago loves return like the tide. Chat with Patti Callahan Henry on Twitter July 7! 
Fierce Kingdom (July 11)
by Gin Phillips
Fans of The Well and the Mine will want to read this Alabama novelist's latest about the primal and unyielding bond between a mother and her son. The zoo is nearly empty as Joan and her four-year-old son soak up the last few moments of playtime. They are happy, and the day has been close to perfect. But what Joan sees as she hustles her son toward the exit gate minutes before closing time sends her sprinting back into the zoo, her child in her arms. And for the next three hours—the entire scope of the novel—she keeps on running. Suddenly, mother and son are as trapped as the animals. Joan's intimate knowledge of this place that filled early motherhood with happy diversions—the hidden pathways and under-renovation exhibits, the best spots on the carousel and overstocked snack machines—is all that keeps them a step ahead of danger.
Pretend We Are Lovely (July 18)
by Noley Reid
Detailing a summer in the life of the Sobel family in 1980s Blacksburg, Virginia, seven years after the tragic and suspicious death of a son and sibling, Mark Childress calls this novel "funny and heartbreaking in equal measure." Wife Francie Sobel dresses in tennis skirts and ankle socks and weighs her allotted grams of carrots and iceberg lettuce. Semi-estranged husband Tate prefers a packed fridge and secret doughnuts. Daughters Enid, 10, and Vivvy, 13, are subtler versions of their parents, measuring their summer vacation by meals eaten or skipped. But at summer's end, secrets both old and new come to the surface and Francie disappears, leaving the family teetering on the brink.
OUT IN AUGUST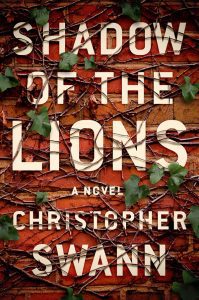 Shadow of the Lions (August 1)
by Christopher Swann
In the middle of his senior year at the Blackburne School in Virginia, Matthias Glass's roommate and best friend Fritz Davenport runs off into the woods after the two boys have an argument—and vanishes without a trace. Ever since, Matthias has felt responsible, thinking that their fight, about a betrayal of the school's honor code, led to Fritz's disappearance. A decade later, after an early triumph with his first novel, followed by too much partying, Matthias realizes he has stalled out and become a failure as a writer, a boyfriend, a man. So when he is offered a job at Blackburne as an English teacher, he sees it as a chance to put his life back together. But once on campus, Matthias gets swiftly drawn into the past and is driven to find out what happened to Fritz. Along the way he must reckon with Fritz's complicated and powerful Washington, D.C., family and the shocking death of a student—and begin to understand his own place in the privileged world of Blackburne.
The Other Girl (August 22)
by Erica Spindler
A horrific crime. One witness—a 15-year-old girl from the wrong side of the tracks, one known for lying and her own brushes with the law. Is it any surprise no one believed her? Officer Miranda Rader of the Harmony, Louisiana, PD is known for her honesty, integrity and steady hand in a crisis—but that wasn't always so. Miranda comes from the town of Jasper, a place about the size of a good spit on a hot day, and her side of the tracks was the wrong one. She's worked hard to earn the respect of her coworkers and the community. When Miranda and her partner are called to investigate the murder of one of the town's most beloved college professors, they're unprepared for the brutality of the scene. Just when Miranda thinks she's seen the worst of it, she finds a piece of evidence that chills her to the core. Then another man turns up dead, this one a retired cop. Two murders, two very different men, two killings that on the surface had nothing in common—except Miranda.
For more great beach reads, skip on over to Traveling With T's list here.